November 11, 2004


After a three-hour rain delay, play resumed today without any other problems, though the delay caused some temper flare-ups from the already tense players. As the year winds down so do the chances to earn spots at the top of the ITF Junior World Rankings and the pressure is on.
There was an endless array of great matches today, but two of the boys singles ones stood out among the rest. Lucky loser Michael Sroczyinski did it again, but today it was Clint Bowles that faced the big serve and volley for hours. In the end Michael just barely squeezed it out -- 6-7(1),7-6(2),6-4. The only match to take longer was the ninth-seeded Jean Yves Aubone's fight against Michael Venus which brought screaming and racquet throwing before Jean's 6-3,6-7(4),7-6(4) win. Unseeded Davey Sandgren continued to make news here, this time by defeating the second-seeded Kei Nishikori, 6-3,6-4.
Even Chris Evert came out to watch the excitement (and arguing over calls) between Jonathan Boym and Giorgi Khrikadze which looked much closer than the 6-3,6-3 score. The top-seeded Ryan Sweeting survived his scare today when No. 13 Sergio Rojas brought him to 4-6,6-3,6-2. Jonathan, Ryan and Davey also advanced in their doubles teams -- with a lot less fanfare.
It was along day for Chelsey Gullickson. After waiting out the rain delay and finally getting her court, Chelsey faced a major challenge from Caitlin Whoriskey before she upset the No. 12 seed, 6-3,0-6,6-4. The day was just beginning for her, however, since she still had to team up with partner Valeria Pulido for doubles. The pair had some great -- though long -- play in front of them before they defeated Cristala Andrew and Krista Damico, 6-7(4),6-2,7-5. Valeria, the No. 1 seed, easily won her singles match against Erina Kikuchi, 6-3,6-1. Other girls singles matches moved on without upsets, though there were some great points that made Lauren Albanese's 6-3,6-4 win over Dasha Cherkasov hard earned.
Tomorrow we move into the quarterfinal singles and semifinal doubles. My time here is coming to an end, though I hope to catch some morning matches before my plane. And, if the rest of the week was any indication, I'm sure they will be great ones!

Chris Evert, shown here watching Jonathan Boym and Georgi Khrikadze, has been a presence during this tournament giving encouragement to the students of her Academy.
Until Tomorrow,
Marcia Frost
Click on a photo to enlarge
Clint Bowles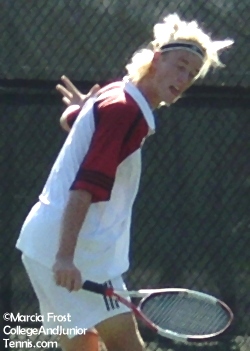 Michael Venus
Erina Kikuchi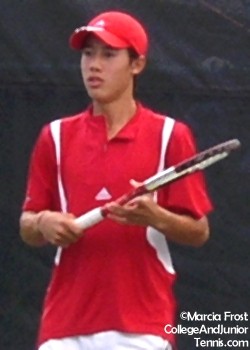 Kei Nishkori
Giorgi Khrikadze
Dasha Cherkasov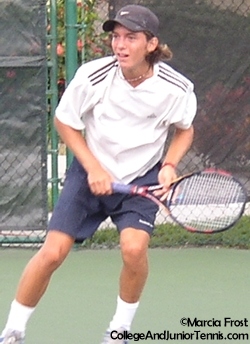 Sergio Rojas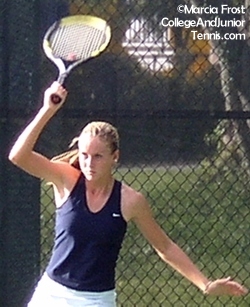 Magdalena Bresson
Click For More Photos From 11/11
---
---
---
Return to:
College And Junior
Tennis Homepage