Wednesday, January 3, 2007-Day Two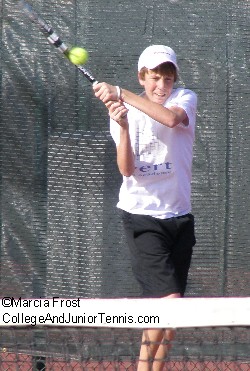 I declared it Boys 16s day and I headed over to the Tucson Racquet Club to see some of the players I haven't watched (and photographed) in awhile. Though there were no upsets today, there were some great matches going on.
I didn't get to see top-seeded Ben Guthrie's match because Daniel Plascencia retired early, but I did watch the second seed, Sekou Coker Bangoura, a bit. Sekou was last year's 14s winner here and since than he has been working his way through titles into the 16s. He certainly drew a crowd to watch his quick, 6-1,6-2, match against Bryan Weinetz (pictured right), who put up quite the effort. The most important part to me was the way every parent and child remarked that Sekou is forever the greatest sportsman.
I've seen Ryan Kim play before and he was also impressive today as the eleventh-seed hit some great shots through a quite an effort from Corey Smith (pictured left). I also caught some great points between Zachary Weiss and Christopher Jackman that showed a match a lot closer than the 6-1,6-2 score for Christopher.
The match I spent the most time watching at the Boys 16s was Jason Magnes and Casey MacCaster (pictured right). The two hard-hitters played some long points in another one that was a bit closer than the score. With a lot of support from fellow Easterners (below) Jason took it, 6-4,6-2.
Throughout the rest of the draws there weren't many surprises on Wednesday. In the Girls 16s, Moly McDevitt took out No. 11 Britney Faber; Jacqueline Crawford defeated eighth-seeded Riqui McCoy in the Boys 14s; and Ryan Berman (8) lost to Neil Clausen in the Boys 18s.
I'm going to continue with the Boys tomorrow (so much for the accusations that I spend too much time covering girls!) as I head to the University of Arizona to check out the Boys 18s. It is a fitting location to showcase those who will probably be college players in the near future.
Until Tomorrow,
Marcia Frost
click on a photo to enlarge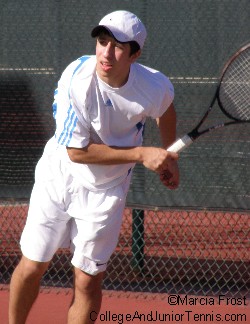 Zachary Weiss
Brett Clark
Britney Faber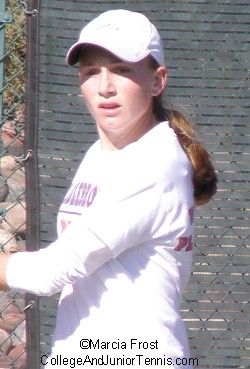 Jeffrey Kamel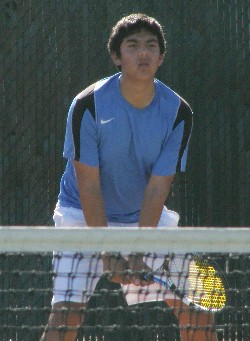 Spencer Talmadge
Kara Kucin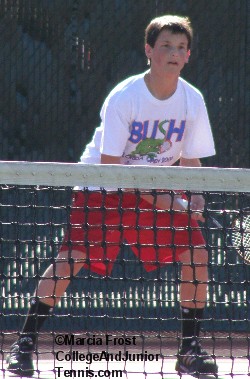 Kyle Roth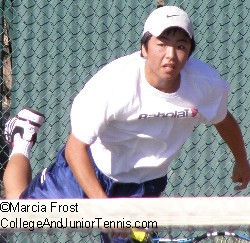 Alexa Lee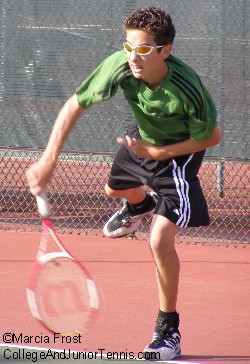 Zachary Katz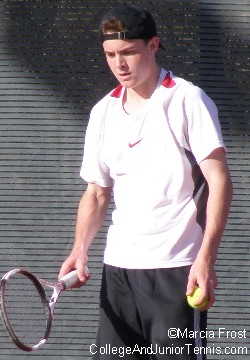 Luke Granger
Monthly Guides to
College Tennis Planning
Available in Kindle & Print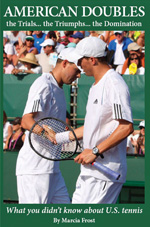 ---

Monthly Guides to
College Tennis Planning
Available in Kindle, Print & EBook
for H.S. Seniors
and H.S. Juniors
---
---
---
Return to:
College And Junior
Tennis Homepage