Saturday, January 7, 2006-Final Day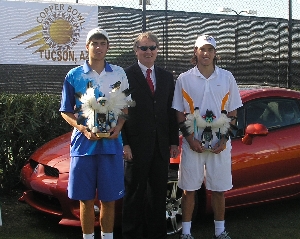 The Copper Bowl came to a close today under the same warm, sunny sky it started at a week ago. The players, many of whom have been traveling since November, were a little more worn, but they were all ready to give it their best shot one last time.
In the Boys 18s, unseeded Bozhidar Katsarov took out No. 3 Jack Levis (right) in a match that looked much closer than the 6-1,6-2 score. Despite a great slice that Jack incorporated into his shots, it was Bozhidar who commanded the match. The Boys 16s final was an entirely different match -- at least in the first set. No. 4 Jason Smith was relaxed to his 5-2 lead despite having a bit of difficulty finishing off the games, but No. 7 Dillon Pottish appeared to wake up with the warmth of the sun and before anyone knew it the match was tied. The higher seed did come back, though, for a 7-5 set and a 6-3 second.
I had heard a lot of great things about 14s top-seed Sekou Coker Bangoura. This was the first time I got to see him play. Until today's match he had only lost about a dozen games (no sets) and he only let five get by him today. It was certainly not, however, a washout. Nelson Vick was in the match until the end and the crowd revelled in the excitement. The Boys 12s final was another example of just how strong this age group is (see Friday's Copper Bowl story). Before he has even reached his eleventh birthday, Joseph Digiulio has added a Copper Bowl trophy to go with the third place trophy he received last week for the National Winter Championships after a 6-1,6-2 defeated of another talented youngster, Michael Chamerski.
The Girls 18s final between CC Sardinha and Noel Hickey (left) was one of those matches that you couldn't walk away from without coming back to an entirely different match. The players traded control as it went back and forth betwen the No. 6 seeded Noelle and CC, the fourteenth-seed who had previously eliminated many older opponents. Noelle was not about to go down easily, and she turned the match around to a 3-6,6-2,6-3 win. It was the end of the road for very talented Canadian Rebecca Marino as the other upset-causing player in the 16s draw took the reigns today. Tanya Raykova went home with that doll (Copper Bowl winners are give Cucina dolls) as she edged Rebecca out 6-4,2-6,6-2. In one of the closest matches of the day, Hideko Tachibana got past the top-seeded Lilly Kimbell in the Girls 14 singles, 6-2,5-7,7-6(2).
A special thanks to Tournament Director Don Dickinson (pictured with the winners) and his wonderful crew for their hospitality as well as their ability to handle over a thousand players with hardly a problem. I'm off for a few days of R&R (the real vacation isn't until next month and I won't be reporting daily from that one) to catch up on my sleep, but I'll definitely be dreaming of the Tucson mountains and counting the days until next year's Copper Bowl.

Boys 16 Finalist Jason Smith & Winner Dillan Pottish

Girls 16 Winner Tanya Raycova & Finalist Rebecca Marino

Boys 14 Finalist Nelson Vick & Winner Sekou Coker Bangoura

Boys 12 Finalist Michael Charmerski & Winner Joseph Digiulio

Boys 18 4th Place Frederic Prandecki & 3rd Place Peter Rispoli

Boys 16 3rd Place Patrick Whitner

Girls 16 4th Place Simone Kalhorn & 3rd Place Lindsay Dvorak

Girls 14 3rd Elizabeth Begley & 4th Place Kaitlyn Christian

Boys 14 4th Place Zachary Weiss & 3rd Place Shane Foster

Girls 18 Consolation Winnr Kimberly Haynes & Finalist Christina Keesey

Boys 18 Consolation Winner Jordan Rux & Finalist Christopher Madden

Boys 16 Consolation Finalist Nicholas Andrews & Winner Richard Doverspike

Girls 14 Consolation Winner Noel Scott & Finalist Brett Ellen Keeler

Boys 14 Consolation Finalist Dante Terenzio & Winner Rommel Verano

Boys 12 Consolation Winner Mitchelle Krueger & Finalist Thomas Pura
Until Next Year,
Marcia Frost
Monthly Guides to
College Tennis Planning
Available in Kindle & Print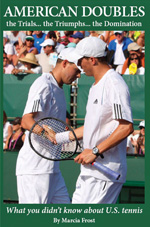 ---

Monthly Guides to
College Tennis Planning
Available in Kindle, Print & EBook
for H.S. Seniors
and H.S. Juniors
---
---
---
---
Monthly Guides to
College Tennis Planning
Available in Kindle & Print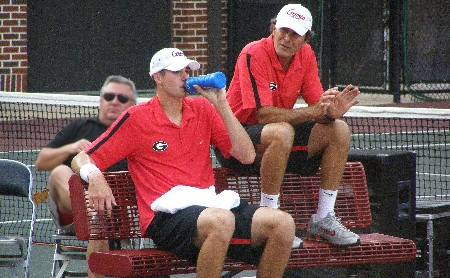 College Tennis featured in
American Doubles...
---
CHECK OUT OUR
TENNIS BOOKSTORE
---
---
Vivid Seats is a leading
ticket broker
where you can
buy Wimbledon tickets
at discounted prices. Throughout the season get
tennis tickets
, including
US Open tennis tickets
, and see the best Grand Slam competitions.
---
Return to:
College And Junior
Tennis Homepage