USTA/ITA NATIONAL WOMEN'S TEAM
INDOOR COLLEGE CHAMPIONSHIPS
NCAA DIVISION I
University of Wisconsin - Madison, Wisconsin - February 6-9, 2003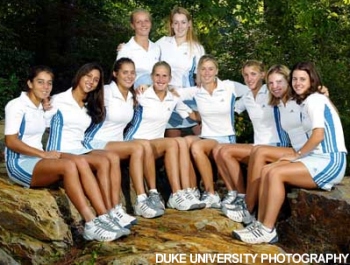 The Duke Women captured their first USTA/ITA National Team Indoors Championships by defeating the University of Florida. The Gators were trying for a seventh title. The Indoors have only been won by four different teams -- Florida, Stanford, Georgia and now Duke. With this win, the Blue Devils will go to the number one ranking this week for the first time in the school's history.
Finals
Duke 4, Florida 3
Kelly McCain (D) defeated Lindsay Dawaf (F), 7-5,6-3
Amanda Johnson (D) defeated Alexis Gordon (F), 3-6,6-4,6-3
Julia Scaringe (F) defeated Julie DeRoo (D), 6-2,6-0
Julie Rotondi (F) defeated Katie Blaszak (D), 6-3,7-5
Zerene Reyes (F) defeated Julia Smith (D), 6-4,6-2
Katie Granson (D) defeated Jennifer Magley (F), 6-2,4-6,6-1
McCain/Hillary Adams (D) defeated Gordon/Scaringe (F), 8-6
DeRoo/Johnson (D) defeated Dawaf/Rotondi (F), 9-7
Granson/Smith (D) defeated Magley/Reyes (F), 8-6
Sarah Walker -- pictured right -- was given the USTA Sportsmanship Award. The UCLA senior was chosen for this annual award by the tournament's participating coaches for displaying outstanding sportsmanship and exemplifying the spirit of college tennis during the course of the tournament and throughout her career.
Return to:
College And Junior
Tennis Homepage