Friday, November 2nd, 2007-Day Two
It was a long one for all as two rounds were played in main draw singles. At the end of the day the Cavaliers ruled and the Yellow Jackets flew.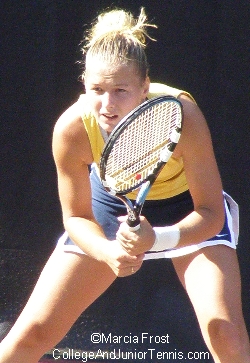 After yesterday's upsets there weren't a lot of surprises left to be had in the men's morning doubles. The top (and only remaining) seeded team of Virginia's Somdev Devvarman & Treat Huey had an easier day with an 8-5 win over Tulsa's Andy Connolly & Ross Cunningham. Taylor Fogelman & Chris Kearney of North Carolina, who had upset the hometown Buckeyes yesterday, moved on, as did Robert Farah & Kaes Van't Hof. And Kellen Damico, who is no stranger to doubles since he has a trophy case that includes a Jr Wimbledon crown in that event, won with partner Luis Diaz Barriga in a quest for a Texas trophy.
The seeds are all gone in the women's doubles draw as Lenka Broosova & Zuzana Zemenova of Baylor eliminated Fresno State's Melanie Gloria & Tinesta Rowe and the TCU duo of Macall Harkins & Anna Sydorska upset Georgia Tech's Kristi Miller & Whitney McCray. Miami's Romy Farah & Caren Seenuth and Brook Buck & Kelcy Tefft of Notre Dame round out the women's teams.
It's rather difficult to tell the singles story on a day where there were two rounds, so I am going to have to start at the end... There is only one seed remaining in each singles draw. Arkansas' Aurelija Miseviciute was a hard worker today as she earned a place in the top of the draw with her second three-setter -- an upset over No. 1 Megan Falcon. It was not a match I saw because I had watched Megan in her incredible morning battle with Ana Maria Constantinescu (the only one I've ever seen with a near-perfect drop shot from the baseline!) I also had caught a bit of Aurelija's first over Sanaz Marand, a tough fighter who continues to improve in her college career. On Saturday Aurelija will face Baylor's Taylor Ormond, a Canadian who I had never seen play before today when she took out two seeds -- No.3 Melanie Gloria and No. 7 Amanda McDowell. Many people are saying that Taylor is the one that will be left standing and I had thought that might be Kristi Miller -- pictured above.
The NCAA champion Georgia Tech Yellow Jackets arrived at the Racquet Club of Columbus with six players. By the evening there were only two -- Kristi Miller (6) and Amanda McDowell (7). After Amanda's loss to Taylor, all teammates came to support Kristi Miller's marathon match with Clemson's Ani Mijacika. Kristi had an easy one earlier in the day as she beat Samantha Murray, 6-4,6-3, but this one was not easy. I had seen the beginning and was back for the end when it was 6-3 Georgia Tech, 6-2 Clemson and 3-2 on serve. Despire the power and accuracy behind it, Kristi managed to break for a 4-2 lead, but she couldn't hold it for long. There was another opportunity to repeat at 5-5, but it wasn't to be and the next break was for the Tiger. The points were tough and the last of the Bryan Shelton's Yellow Jackets were gone at 7-5. Rounding out the women's draw is another surprise, Duke's Ellah Nze. I watched the freshman phenom squeeze past No. 5 Zuzana Zemenova in the morning (3-6,6-4,7-5) and then have more than enough left to take out a second NCAA champion, No. 2 Suzi Babos of California. To say she is looking impressive is an understatement.
The lone seed in the men's singles draw, No. 1 Somdev Devvarman, had two quick matches. The Cavalier went through Penn State's Michael James and Drake's Dalibor Pavic in straight sets to earn his place in the semis against Alex Clayton of Stanford. Alex, yet another player in this tournament who owns a Grand Slam trophy (2005 U.S. Open Jr doubles) actually needed even less games than the top-seed for his two victories over Pepperdine's Bassam Beidas and the fourth-seeded Greg Ouelette of Florida -- pictured left.
In the bottom half of the men's singles (where there are no seeds), Illinois' Ryan Rowe worked hard on his road to the semifinals, losing a tiebreaker to Albert Larregola of Virginia Tech before coming back for the next (6-2,6-2) sets and then getting back on the court with Miami's Daniel Vallverdu for another exciting match. He will play Adam Holmstrom, the Denver player who finished both his matches in tiebreakers, first to Stanford's Richard Wire and then to Oleksandr Nedovyesov of Oklahoma State, a match that was as close as the 6-4,7-6 score represents.
It's going to be a super Saturday as we see if NCAA Champion Somdev can continue his quest for two titles and Baylor remains the only women's team with a shot at in both draws.
Until Tomorrow,
Marcia Frost
For more stories from the ITA National Indoors, check out Colette Lewis' Zoo Tennis
P.S. Live scoring is available on ITATennis.com
Men
SINGLES
Quarterfinals
Somdev Devvarman (1) defeated Dalibor Pavic, 6-4,6-3
Alex Clayton defeated Greg Ouellette (4), 6-3,6-4
Ryan Rowe defeated Daniel Valverdu, 7-5,6-4
Adam Holmstrom defeated Oleksandr Nedovyesov, 6-4,7-6(0)
Second Round
Somdev Devvarman (1) defeated Michael James, 6-3,6-4
Dalibor Pavic defeated Conor Pollock, 6-3,6-7(1),6-1
Greg Ouellette (4) defeated Justin Kronauge, 6-4,3-6,6-4
Alex Clayton defeated Bassam Beidas, 6-2,6-4
Daniel Valverdu defeated Clancy Shields, 7-6(3),6-4
Ryan Rowe defeated Albert Larregola, 6-7(0),6-2,6-2
Oleksandr Nedovyesov defeated Matthias Wellerman, 6-4,6-4
Adam Holmstrom defeated Richard Wire, 6-1,7-6(1)
DOUBLES
Quarterfinal Round
Somdev Devvarman/Treat Huey (1) defeated Andy Connelly/Ross Cunningham, 8-5
Taylor Fogelman/Chris Kearny defeated Fedrico Chavaria/Andrei Daescu, 8-3
Robert Farah/Kaes Van't Hof defeated Adam Holmstrom/Nik Persson, 8-3
Kellen Damico/Luis Diaz Barriga defeated Matt Allare/Mike O'Connell, 8-2
Women
SINGLES
Quarterfinals
Aurelija Miseviciute defeated Megan Falcon (1), 6-4,4-6,6-1
Taylor Ormond defeated Amanda McDowell, 6-4,2-6,6-0
Ani Mijacika (4) defeated Kristi Miller (6), 3-6,6-2,7-5
Ellah Nze defeated Susie Babos (2), 6-2,6-2
Second Round
Megan Falcon (1) defeated Anna Maria Constantinescu, 6-4,7-6(1)
Aurelija Miseviciute defeated Sanaz Marand, 3-6,6-3,6-1
Taylor Ormond defeated Melanie Gloria (3), 6-2,7-6(4)
Amanda McDowell defeated Laura Vallverdu, 7-5,1-6,7-6(2)
Kristi Miller (6) defeated Samantha Murray, 6-4,6-3
8-0 Ani Mijacika (4) defeated Maya Johansson, 5-7,6-2,7-6
Ellah Nze defeated Zuzana Zemenova/Baylor (5), 3-6,6-4,7-5
Susie Babos (2) defeated Jessica Nguyen, 7-6(4),5-7,6-1
DOUBLES
Quarterfinal Round
Romy Farah/Caren Seenuth defeated Christina Keesey/Angela Dipastina, 8-3
Lenka Broosova/Zuzana Zemenova defeated Melanie Gloria/Tinesta Rowe, 8-6
Macall Harkins/Anna Sydorska defeated Kristi Miller/Whitney McCray, 8-6
Brook Buck/Kelcy Tefft defeated Kellie Schmitt/Karolina Soor, 9-7
Monthly Guides to
College Tennis Planning
Available in Kindle & Print
---
---
See the Latest
at NIKE
---
---
---
---
---
---
---
Return to:
College And Junior
Tennis Homepage