The Nasdaq-100 Open in Miami once again featured an event to showcase the world's top juniors. The Luxilon Cup girls trophy went to unseeded Neha Uberoi after her defeat of top-seeded Nicole Vaidisova, 6-2,6-4. Top-seeded Brendan Evans was the boys singles winner after the second-seeded Kamil Capkovic retired. (Brendan had won the first set, 6-2.)

* * *
Eduardo Schwank of Argentina continued his domination of the ITF Junior Circuit in March with wins at the Asuncion Bowl (singles & doubles), the Gerdau Cup and the Banana Bowl.

* * *
Fourteen year old Alisa Kelybanova, the top-seed, took both singles and doubles trophies at the 34th Banana Bowl. In the singles final Alisa defeated Hungary's Agnes Szavay, 6-1,7-5. She then partnered with fellow Russian Irina Kotkina for the doubles over Slovakia's Jana Juricova and Magdalena Rybarikova.

* * *
It was mostly the North American's who took over the final rounds of the Costa Rican Bowl. Canadians Peter Polansky, a qualifier, and Valerie Tetrault were the singles winners. In doubles, Lindsay Burdette of the USA and Melissa Percy of Great Britain won over Americans Dasha Cherkasov and Denise Dy while Henry Estrella of the Dominican Republic partnered with Fabrice Martin of France for the boys.

* * *
If you have information to be included in Junior News
Contact Us-E-Mail-Marcia@MarciaFrost.com
FAX-(516) 883-5241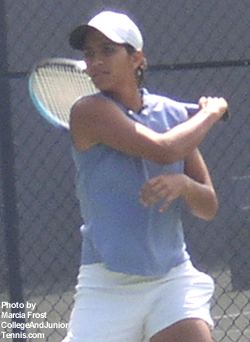 Neha Uberoi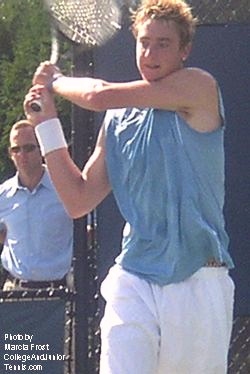 Brendan Evans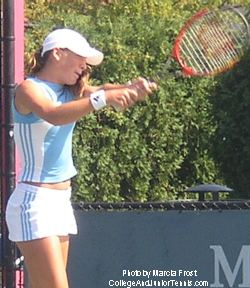 Lindsay Burdette
Dasha Cherkasov
---
---
---
Try Gevalia today & get a coffeemaker, mugs & scoop FREE!
---

---
Heel That Pain
---
---
Return to:
College And Junior
Tennis Homepage