Though he lost in the finals (to Alex Kuznetsov, 7-6(3),6-2), Josh Cohen to achieve a record at this year's Easter Bowl. Josh is the only player to compete in the prestigious event for eight years. This was Josh's final Easter Bowl. He will be attending the University of Miami in the fall.

* * *
Both Daniel Gimeno-Traver of Spain and Madalina Gojnea of Romania went two for two last month when the each picked up the titles at the Istres International Junior Tournament and then the Tournoi International Junior de Triangle d'Or the following week. Madalina also teamed up with Iris Ichim of the U.S. to win the doubles in the latter event.

* * *
At the Slovakia Cup, Gyorgy Balazs took the boys singles with a 6-0,6-4 win over Kamil Capkovic in the final. Katerina Bohmova was the girls singles winner after she narrowly edged out Linda Smolenakova, 7-6(6),7-6(6). Peter Miklusicak/Filip Polasek and Maren Kasens/Korina Perkovic were the doubles winners at that tournament.

* * *
The directors of the International Tennis Championships of Delray Beach and the Boys' & Girls' 12 USTA Super National Spring Championships have joined with some of the nation's top coaches to form an Exclusive College Tennis Camp. Sessions will include on-court instruction with coaches; singles and doubles match play competition; and recruiting and scholarship information. For more information, call (561) 330-6000 or e-mail Barontennis@aol.com. There are six camp dates, taking place in the summer and in December.

* * *
Peter Szewczyk and Brittany Huddleston were the winners at the Mid-Atlantic Section 18-and-under Challanger. In the finals Peter beat Henry Hollowell, 6-0,7-6(5), while Brittany defeated Jessica Keener, 7-6(2),6-2

* * *
The 21st International Junior Championships of Croatia produced some first time ITF Junior Circuit winners. Roman Kutac of the Czech Republic picked up the boys singles title after defeating Germany's Andreas Weber, 4-6,6-1,6-4. In the girls' singles, it was Agnes Szavay of Hungary prevailing in the final against Katerina Bohmova of the Czech Republic. Daniel Muller and Sebastian Rieschick of Germany picked up their fourth doubles titles while the girls doubles titles went to the top pair of Kirsten Flipkens and Andrea Hlavackova.

* * *
Ryoko Fudo and Kousuke Naruse were hometown hereos when they won the singles events at the Shuzo Challenge Japan Open Junior Championships. It was a first ITF Junior Circuit title for Kousuke. The doubles went to all players from India. Sanaa Bhambri and Sania Mirza were the girls winners, while Sindev Dev Varman and Karan Rastogi took the boys.

* * *
If you have information to be included in Junior News
Contact Us-E-Mail-Marcia@MarciaFrost.com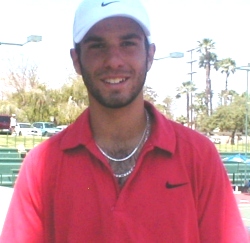 Josh Cohen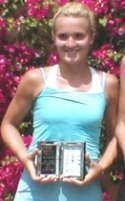 Iris Ichim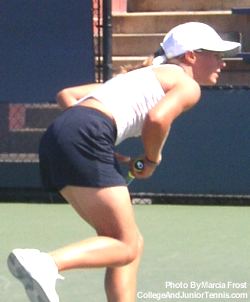 Kirsten Flipkens






Use Dosh. It pays you automatically when you shop, travel, & dine out. Download app now. Link a card, and get a $5 bonus.