Saturday, December 19th-Final Day Main Draw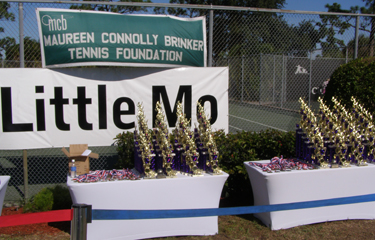 It was a long week for players from all over the world, and not because they were playing tennis all day. The rain kept the original schedule from being followed, but the "Little Mo" International Championships still went on and all the players in the 8 and under, 9 and under, 10 and under and 11 and under age groups of this event got to go home with trophies.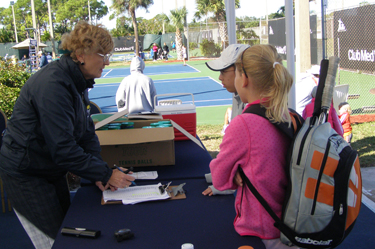 This tournament never would have been completed without the very hard work of Tournament Chairwoman Carol Weyman, Director Rick Workman and Referee Karol Wise (above at tournament desk with players), all of whom made the shortened event (thanks to two and a half days of rain) still competitive and fun for all. A special mention to ("Little Mo") Maureen Connolly Brinker's daughter, Cindy Brinker Simmons, who not only presented each player with a trophy, but also gave them a personal, inspirational message.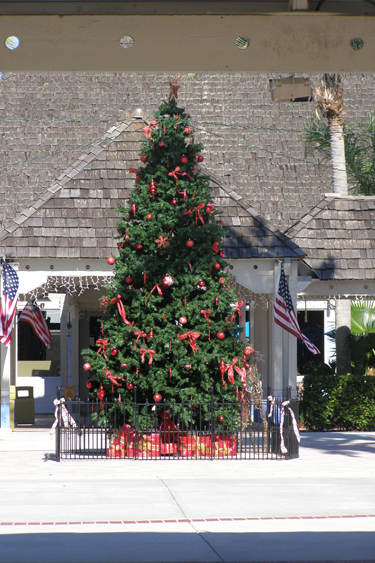 Despite the rain, there were hundreds of smiling kids (and parents) thanks to the tournament site, Club Med Sandpiper, which opened a week earlier than expected for the tournament despite not having completed their renovations, kept everyone well-fed, well-entertained and flying high on the trapeeze -- though I never did make it to circus tent! We all look forward to returning next year.

Happy Holidays, Marcia Frost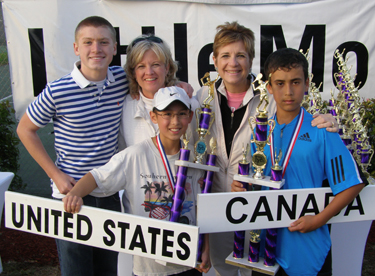 Titus Strom & William Tutecky-Boys 11 Winner & Finalist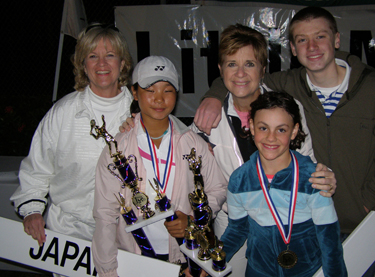 Chisato Hayakawa & Ingrid Neel-Girls' 11 Finalist & Winner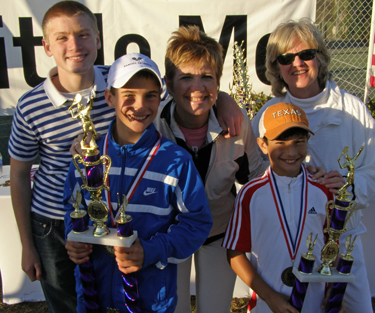 Alexander Rushin & Ignacio Garcia-Boys' 10 Winner & Finalist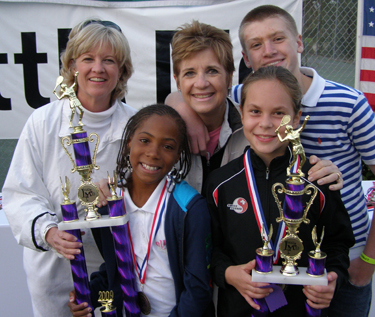 Jaeda Daniel & Alessia Welti-Girls' 10 Finalist & Winner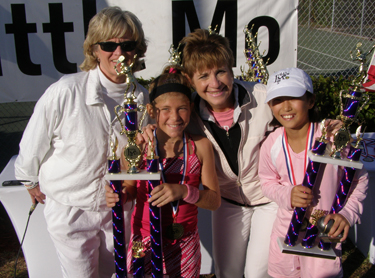 Nicole Conard & Claire Liu-Girls 9 Winner & Finalist
Claire Liu also received the Sportsmanship Award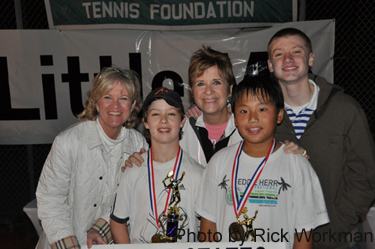 Brendan Abernethy & Zeb Zheng-Boys' 11 3rd & 4th Place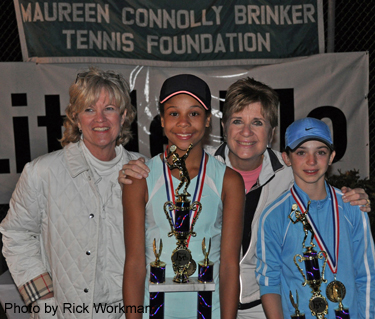 Christine Jordan & Megan Horn-Girls' 11 3rd & 4th Place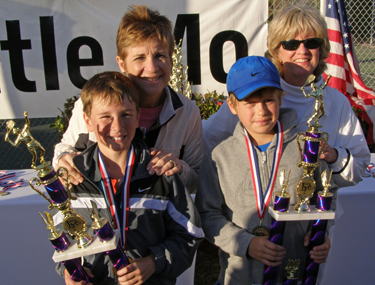 Max Steward & Adrian Roji-Boys' 10 3rd & 4th Place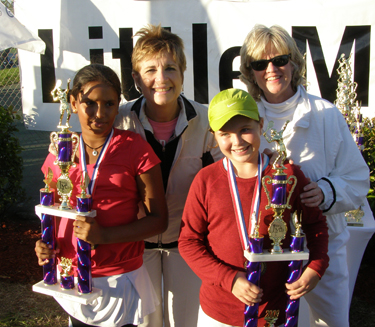 Lalita Devarakonda & Kayla Day-Girls' 10 3rd & 4th Place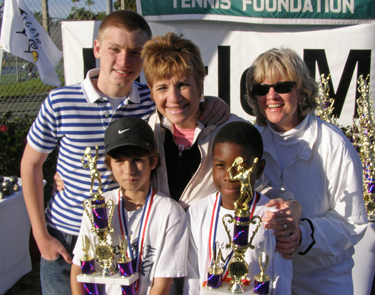 Juan Carlos de Lasa & Kimani Bates-Boys' 9 3rd & 4th Place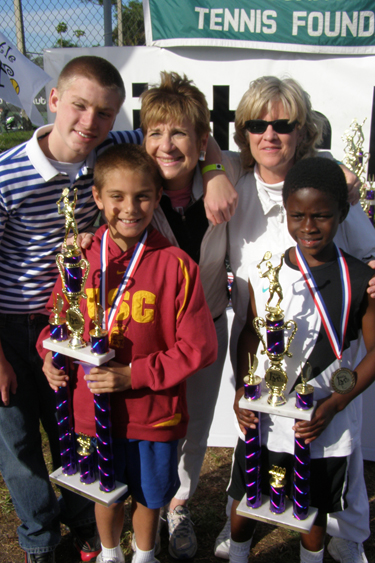 Austin Di Giulio & Courage Crawford-Boys' 9 Winner & Finalist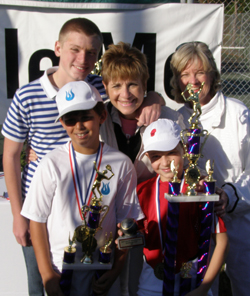 Harrison Gold & Scott Sculley
Boys' 8 Finalist & Winner
Scott also won Boys' Sportsmanship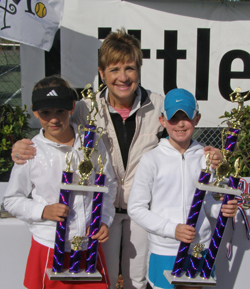 Laetitia Pulchartova & Sophia Edwards
Girls' 8 Finalist & Winner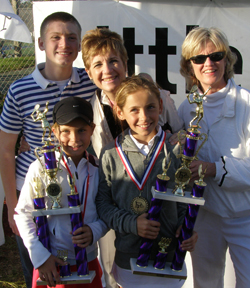 Emma De Coste & Neli Sunjic
Girls' 9 4th & 3rd Place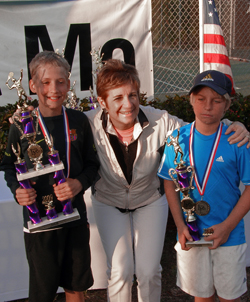 Jernej Zaplotnik & Erik Olliges
Boys' 11 5th & 6th Place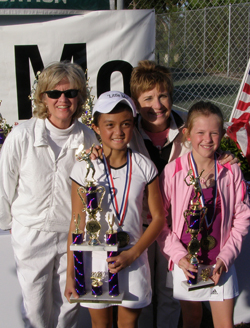 Angel Carney & Elysia Bolton
Girls' 9 5th & 6th Place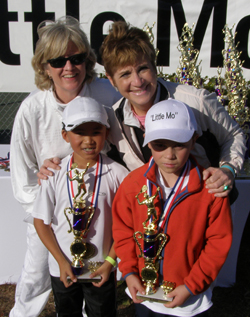 Jordan Chiu & Sebastian Vile
Boys' 9 7th & 8th Place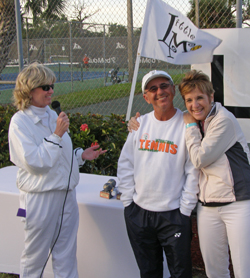 Carol Weyman (right) and Cindy Brinker Simmons (left) present Club Med's Manny Dominquez with an award in appreciation of his help.
The best at lower prices
Join SelectVIP today

Monthly Guides to
College Tennis Planning
Available in Kindle, Print & EBook
for H.S. Seniors
and H.S. Juniors



















Join Best Western Rewards Best Western Rewards Members receive a minimum of 10% off all published rates.
Return to:
College And Junior Tennis