Friday, December 8, 2006-Day Two-Final Day of Qualifying and Opening Ceremonies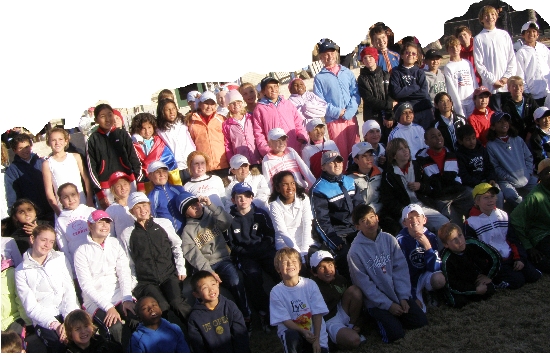 It was an incredible scene -- 11 and under players from 17 countries gathered together at the 1st Annual "Little Mo" International Open. Though there were many languages spoken, they all understood and bonded together over yo-yo's and tennis. The competition was tough at the Qualifying event with the top four finishers making the main draw, but every player there was made to feel special whether or not they had survived the first rounds.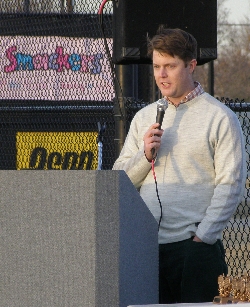 The afternoon began with group photos of the players and was followed by a parade, led by former "Little Mo" Champions, Jantzen Witte & Michael Flannigan (left). (Michael, who went on to play for Stanford, spoke to the players a bit about what "Little Mo" meant to him.)
There were many speakers welcoming the kids to the Arlington Tennis Center and the 1st Annual "Little Mo" International Open," the most powerful of which was Cindy Brinker Simmons (right) daughter of Maureen Connolly Brinker (a.k.a. Little Mo). She spoke about her mother, who was number one in the world at 16, 17 and 18 years of age. Maureen was a Grand Slam champion, but Ms. Brinker Simmons stressed the importance of sportsmanship to her mom. "Be a good winner," she said, "and a good loser. When you lose, carry your head up... walk away proud with no excuses."

Executive Director of the Maureen Connolly Brinker Foundation, Carol Weyman, has put together the 1st Annual "Little Mo" International Open through a lot of hard work and if the Opening Ceremonies are any indication, it will be a most memorable event for young players from throughout the United States and the World.

Click Here For Full Qualifying Results

Until Tomorrow,
Marcia Frost

Thursday, December 7, 2006-Day One (Qualifying)
The Maureen Connolly Brinker Foundation has organized the 1st Annual "Little Mo" International Open" for 11 and under players from around the world. Participants from 16 countries, as well as 22 states in the U.S., will compete in 8,9,10 & 11 and under age groups. Qualifying takes place on Thursday and Friday with the Main Draw Opening Ceremony beginning with a Player Parade om Friday afternoon.

I was privledged to be able to attend the "Little Mo"/Smrikva Bowl in Croatia this year and I just arrived in Texas excited to see these young players from around the world compete once again. Qualifying results will be posted and full coverage with stories & photos will begin with the Main Draw Opening Ceremonies on Friday, December 8th.
"Little Mo" International Open Players
QUALIFYING
Girls
Boys
11 and under
Winny Benavente/Peru
Caroline Lynch/Ireland
Kristina Mathis/Texas
Tatum Nowlin/Texas
Peggy Porter/Texas
Vivian Quispe/Ecuador

10 and under
Juliana Curtis/Iowa
Anna Dickens/Texas
Darby Strickland/Texas
Victora Zoha/New York
9 and under
Kateryna Baranivska/Ukraine
Belinda Bencic/Switzerland
Madisyn Bryant/Oregon
Chandler Carter/Texas
Laura Gomez/Columbia
Julia O'Loughlin/Florida
Audrey Spencer/Texas
Mia Vecchio/New York
Rebecca Weissmann/Colorado
Domenica Quispe/Ecuador

8 and under
Marjorie Antohi/Texasbr> Marina Cozac/Texas
Victoria DiMuzio/Canada
Olga Fridman/Ukraine
Alexandra Inchauste/Washington
Stephanie Johnson/Australia
Elizabeth Porter/Texas
Samantha Wong/Texas
11 and under
Nicholas Agritelley/Texas
Zvonimir Babic/Croatia
Daniel Buckiland/England
Nile Clark/Pennsylvania
Tomas Cosmai/New Jersey
Hunter Holman/Texas
Thai Kwiatkowski/North Carolina
Patrick Morris/Texas
Adam Nasim/England
Enrique Pellegrin/Texas
McClaine Roy/Texas
Luke Stainback/Texas
Franz Sydow/Aruba
Luka Zarak/Croatia

10 and under
Jaime Barajas/California
Chase Brnett/Texas
Grant Brown/Texas
Borna Coric/Croatia
Eshan Dave/Texas
Andrew Dykeman/Kansas
Ernesto Escobedo/California
Stefan Frijanic/Washington
Weston Gloger/Texas
Aidan Jones/Texas
Alexander Klintcharov/New Zealand
Saveliy Lomakin/Russia
Wyatt Lovera/Aruba
Darius Mackenzie/California
Gianni Mancini/Texas
Ernest Mendoza/Philippines
Connor Prideaux/England
Reece Ringald/Texas
Mark Robertson/Texas
9 and under
Will Agritelley/Texas
Grayson Broadus/Texas
Jonathan Burke/England
Max Darrington/England
Jake Devine/Washington
Austin Hoose/Oklahoma
Deepak Indrakanti/Ohio
Cameron Klinger/California
Michal Matusiak/Texas
Aron Pierce/Texas
Kyle Seelig/Pennsylvania
Joshua Sheehy/Texas
Reid Shumway/California
David Volfson/Canada

8 and under
Samir Agadi/Georgia
Andrew Carter/Texas
ALexander Chieffalo/Texas
Michael Gad/Georgia
Taylor Hursthouse/England
Aleksander Kovacevic/New York
Justin Lee/Connecticut
Semen Lomakin/Russia
Robert Lynch/Ireland
Max Mendelson/Arkansas
Eric Morris/Texas
Diego Nava/California
Kit Puls/Texas
Felipe Romero/Peru
Jonathan Sheehy/Texas
Gabriel Surges/Dominican Republic
MAIN DRAW
Girls
Boys
11 and under
Sachia Vickery/Florida
Nicki Johnson/Texas
Yuki Chiang/California
Ayaka Okuno/Texas

10 and under
Liz Jeukeng/Missouria
Alexis Pereira/California
Gabriella Umoquoit/Texas
Yolimar Ogando/Puerto Rico
9 and under
Ndindi Ndunda/Virginia
Domonique Garley/Texas
Karina Traxler/Texas
Valerie Quiceno/New York

8 and under
Ingrid Neel/Minnesota
Priyanka Sundhar/Massachusetts
Caitlin Calkins/Oklahoma
Hunter Blesser/Texas
11 and under
Mackenzie McDonald/California
Jose Gracia/Florida
Christian Lutschaunig/Pennsylvania
Mario Sandoval/Texas

10 and under
Deiton Baughman/California
Robert Seby/California
Daniel Maese/Texas
Cameron Andry/Louisiana
9 and under
Eduardo Nava/California
Tommy Paul/North Carolina
Spencer Furman/Washington
Anudeep Kodali/North Carolina

8 and under
Titus Strom/Texas
Maxwell Cancella/California
Noah Schachter/Washington
King Roy/Texas
Monthly Guides to
College Tennis Planning
Available in Kindle & Print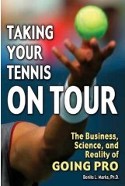 See a review of this book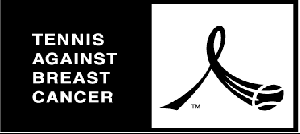 Create an Amazon Wedding Registry
Create an Amazon Wedding Registry
Return to:
College And Junior Tennis