2009 NJCAA CHAMPIONSHIPS
Men-May 11-15, 2009
at Collin County Community College in Plano, Texas
Women-May 3-7, 2009
at the Randolph Tennis Center in Tucson, Arizona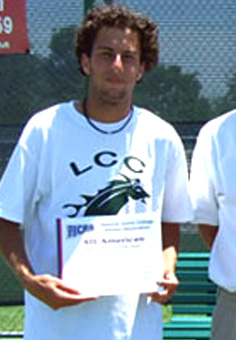 There were four different colleges taking titles at the NJCAA Championships as the men celebrated at Collin Community College in Texas and the women headed further west to the Randolph Tennis Center in Arizona.
In its home state, the Laredo Community College men captured their fourth straight NJCAA Division I Championship. The Palominos dominated, taking four of the six singles matches and two out of the three doubles. Moacir Santos (pictured, right) won in singles and doubles for the second year in a row, this year taking the doubles with partner Leury Arias. Cledson Carvalho, with whom Santos had won the ITA Small College Championship in the fall, also took both events to help earn Laredo's title.
It was Oxford Community College who came in first at the NJCAA Division III Men's Championship. Severe weather postponed play until the Eagles were finally able to win their second title in three years. Unlike Division I, the singles titles were spread out among four different schools, but taking two out of three of the doubles and good showings in the others helped them with 34 points to second place Suffolk's 29.5.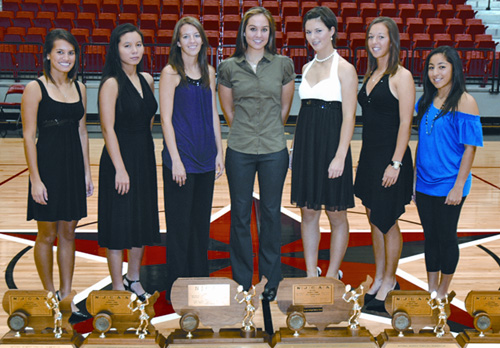 There hasn't been a lot of variety in the NJCAA Division I Women's Championship and this year was no exception with the top three teams remaining constant. In 2007, it was Lee, Hillsborough and Tyler. Last year Hillsborough was on top with Tyler and Lee following. This year it was back to the 2008 standings with Lee College taking home the top prize -- narrowly escaping their two rivals.
Kingsborough Community College won their first NJCAA Division III Women's Championship by a clear margin. KCC managed to make the finals of every flight in singles and doubles, winning seven of the them and finishing 12.5 points ahead of second place Broome.
Create an Amazon Wedding Registry
<
Monthly Guides to
College Tennis Planning
Available in Kindle & Print
Return to:
College And Junior
Tennis Homepage