Saturday, July 21st-Day Seven
Story by Marlena Hall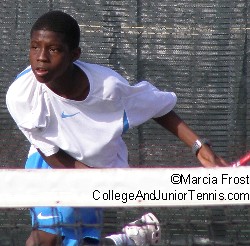 Keeping tally of his lucky number in Delray Beach's skies is Sekou Coker Bangoura (13) (Bradenton, FL) -- pictured right -- or for those suffering from borderline dyslexia, it's CBS inverted. And like a great television network putting on your favorite movies, so too does Sekou—putting on classical shows for the entire family to watch during the eight days of the USTA Boys' 18 & 16 Clay Court National Championships hosted by the City of Delray Beach.
Luckily seeded #13 in the 16s division, Sekou Bangoura has banged a lot of tennis balls to make it to the finals of the consolation—playing for 5th and 6th place against the #2 seed, James Seal (Chattanooga, TN). But quite unlike most cinema classics, a Sekou production lacks the over-the-top drama, "Tarantino-esque" stage theatrics, and that insufferable slapstick comedy—in fact, most of his works resound the "Lon Chaney-esque" films—the silent ones. He's 100% tennis player, 0% actor. There are the legendary, vocally active giants like John McEnroe and Jana Novotna, but Sekou must have been too young and too mature to be influenced by their infamous antics. Instead, Sekou Coker "Bagheera," became animalistic about the wildly mental activities reaped from the piano and game of chess. Impressively, he is an acclaimed pianist having earned the "Superior Ranking" (which is top of five rankings) at a Florida state piano competition, but has renounced "sonatas" for "national title symphonies." Additionally, Sekou was formerly ranked #40 in the country in chess competitions, but also gave up "check-mates" for "match points" and now just poses as 'Bobby Fischer' online. Sekou Coker Bangoura is definitely no pawn in this draw. Once king of his pride, "Bagheera" was ranked #4 in the 14s division, and is already clawing through the USTA Boys' 16s. A musician, chess player, a USTA Boys' 16 Clay Court National Championships consolation finalist, a scholar in the classroom, a son of an accomplished Guinea tennis player, and a gentleman both on and off the court—we're very proud to award you as our Day 7 Boys' 16 Player of the Day.
The finals of the Boys' 18s division of the USTA Boys' 18 & 16 Clay Court National Championships will be a battle between West Coast and East Coast, a.k.a. a Rapper's Delight. Tomorrow will be a geographic clash, an oceanic typhoon, and a National battle brought to a caged battlefield in Delray Beach with combatants separated by nothing more than a loose-ended net and their pride thrown recklessly between the alley's. Standing tall is Bradley "Chaka" Klahn (6) (Poway, CA) across the 3 ft. 6 in. tall 'borderline' from non-seeded Clint Bowles (Tampa, FL). Bowles, the "Bay's Buccaneer", personifies the tournament chairman's (Ivan S. Baron) younger brother, Adam Baron. Like Adam's Alma Mater, Bowles will be attending Florida State University in the fall 2007 coached by Tallahassee's sergeant Seminole, Dwayne Hulquist. Across the 'border' and country is one of Cali's best, Bradley Klahn who took the form of the youngest of the Barons, David Baron. Klahn will be attending David's newly-graduated university, Stanford, in fall 2008. So really, the match tomorrow will have nothing to do with Clint Bowles and Bradley Klahn—but will be a family feud stipulated between brothers. Luckily for the eldest Baron, Ivan, he can sit this one out—or up in the media tent, while his "lil' bros" go at it.
Bowles and Klahn had to conquer each of their highly-touted semifinal opponents to get here. Klahn punctured Joey Burkhardt (17) (St. Augustine, FL) in his semifinal match while seedless fodder, Clint Bowles, took down local cash crop, Brennan Boyajian (5) (Weston, FL) in the opposite side of the draw. Bowles' match exemplified man vs. boy—one player ready to make an immediate leadership contribution to Division I college tennis while the other lacked the mental toughness needed to take his next big step, both on and off the court. Nonetheless, East Coast awaits West Coast on Sunday, July 22nd. Therefore, as a vestige for hope and peace in the middle grounds of America, we'd like to bring our 18s Finalists together and jointly award both Bradley Klahn and Clint Bowles as the Day 7 Boys' 18 Players of the Day!
Also look for stories & photos on Zoo Tennis.
Monthly Guides to
College Tennis Planning
Available in Kindle & Print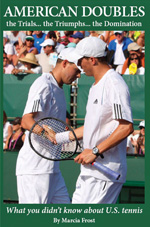 ---

Monthly Guides to
College Tennis Planning
Available in Kindle, Print & EBook
for H.S. Seniors
and H.S. Juniors
---
---
Return to:
College And Junior
Tennis Homepage