Friday, August 11, 2006-Day Six, My Final Day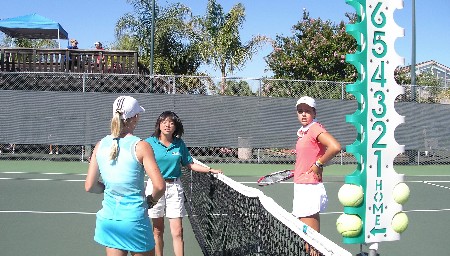 Hilary Barte continued on her upsetting way today and she's now the lone unseeded player in the semis.
Today's victim for Hilary was No. 4 seeded Ellah Nze and despite the fact that I watched most of the match, I can't tell you exactly what happened out there. Ellah has been right on this week, eliminating her opponents with ease. Today the roles were reversed as she seemed flustered by Hilary Barte's game and was making more errors than points. I kept waiting to see that Ellah game I had admired all week, but it wasn't there and her opponent had it all at 6-3,6-2. Let's see if Hilary can keep this up Saturday when she faces Lauren Albanese in the semifinals.
The fifth-seeded Lauren Albanese was a favorite going into this tournament and I see it more each day. Today she faced quite a test in a baseline battle with alpha seed Melanie Oudin. Melanie, still only 14, is certainly impressive and hits some incredible shots, but her game still needs some maturing as she missed quite a few critical points and lost the crucial games. It was a 6-2,6-3 finish for Lauren.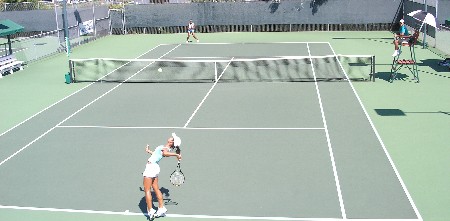 There was no doubt to anyone after watching Lindsay Burdette fight her way back to win her place here today that she was going to put on quite a match with Ashley Weinhold. What wasn't expected, though, was that it would be more of a back-and-forth instead of a ongoing contest. It was Ashley's first set as the No. 3 seed was everywhere and Lindsay couldn't keep up to her 6-3 loss. The second seemed to be the exact opposite as it was Lindsay in control! The surprised crowd watched Stanford's new freshman take it 6-2 and thought that was the new direction of the match, but we were soon back in the other direction! The third set belonged to no one except Ashley Weinhold as she quickly served and volleyed her way to the 6-1 win.
It's well-known on the junior girls circuit that Reka Zsilinszka has a unique game that -- among other things -- wears down a lot of opponents with deep lobs. She definitely wasn't wearing down eighth-seeded Madison Brengle today. Madison was in command and though Reka did have some winners mixed in, Madison's game loss this tournament still hasn't gone to double digits as she hit winners down the line, crosscourt and over the net. There didn't seem to be anything fifteenth seeded Reka could do before the 6-1,6-1 loss.
I have found nothing to complain about in four years of watching the hard-working Andrea Norman & Jennifer Pitzen run this incredible tournament, however, I had one today. The quarterfinal matches were played two at a time and separated so that it was a race (up and down stairs) for myself, the coaches and spectators interested in more than one match to try to watch as much as possible of all the matches. Of course, in the months of preparation, planning and days of running this event, it would be impossible for everything to be perfect. I guess I'll have to come back next year and see if they can achieve perfection. In the meantime, I'm heading back to New York to prepare for three weeks of U.S. Open coverage.
Until Next Year,
Marcia Frost
MORE PHOTOS TO COME
Click Here For The Official USTA Nationals Girls 18 Website
Click On A Photo To Enlarge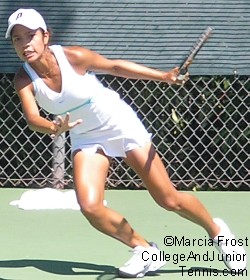 Hilary Barte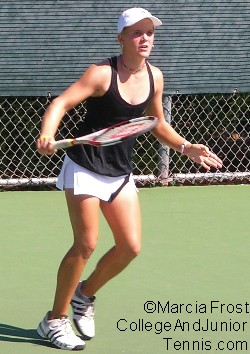 Melanie Oudin
Ashley Weinhold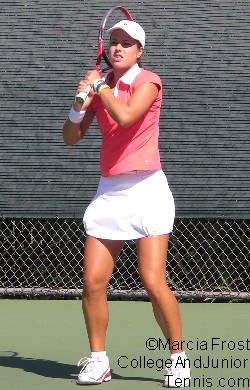 Lauren Albanese
Madison Brengle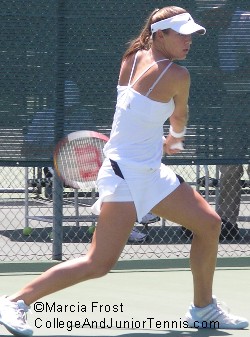 Lindsay Burdette
Monthly Guides to
College Tennis Planning
Available in Kindle & Print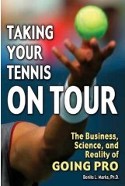 See a review of this book
Return to:
College And Junior
Tennis Homepage