Tuesday, July 5th, 2005-Day Four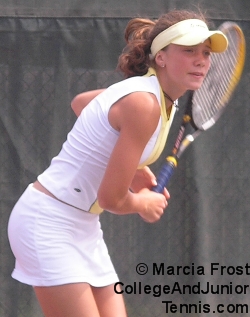 It was a day of split sets and more surprises during the National Open at the Atlantic Club after the girls top seed was forced to withdraw with an injury.
Jackie Wu's withdrawal with a shoulder problem left the girls field wide open in singles and doubles. Unseeded Shoko Okuda, who had already had an incredible run, moved right into the finals leaving the lone semi -- No. 2 Stacey Lee against unseeded Camille Jania (pictured left). Camille had already upset eleventh-seeded Melissa Holzinger and third-seeded Marissa Schonfeld so everyone was prepared for another surprise. And she delivered.
Camille Jania came out with confidence and was not at all nervous as she lost the first set to Stacey, 6-4. She remained steady and calm, putting on the pressure on the second seed to win the next set, 6-1. In the third it was a different Camille as she took the offensive position and picked up her speed. She ran Stacey (who later admitted that she had played the set with a broken sneaker) around the court until she picked up the 6-4 win and a ticket to the finals.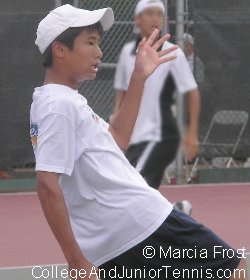 Compared to the girls, the boys semifinals were uneventful. No. 2 Adam El Mihdawy quickly eliminated unseeded Joshua Graves, 6-2,6-4, though Joshua kept in the game and played some great points. Sho Matsumoto, the eleventh seed, didn't need long to get by Ryan Lissner, 6-1,6-3. Sho then partnered with Robert Wong (pictured above) to do it again and take home the trophy in the doubles with a 8-6 win over Ryan and William Beck.
In a draw full of defaults and withdrawals (including top team Jackie Wu/Stacey Lee), it was nice to see a finish to the girls doubles. Lindsay Clark and Emily Fraser (pictured left) certainly earned their gold. The duo did not drop a game this tournament. First today it was a semifinal win against Talia Smoke and Chelsea Taylor, then a final past Jennifer Kellner and Lauren McHale.
There were also some very exciting matches in the consolation draws. The day started with two side by side, playing for semifinal berths. Lauren McHale and Nadja Gilchrist played through long baseline rallies into three sets. It looked like anyone's match with the edge going to a pumped Lauren, 3-6,7-6(5),6-3. On the next court it was Sarah Landsman and Marisa Schoenfeld playing incredible points for nearly three hours. It was Sarah with the remarkable winners, but in the end Marisa's net play won her the match, 7-6(5),2-6,6-4. Marisa later pulled up those volleys to also take Lauren for her place in the final against Emily Fraser. It was Emily who finally ended the tournament for 12 year old sensation Ester Goldfeld, 6-4,3-6,6-3.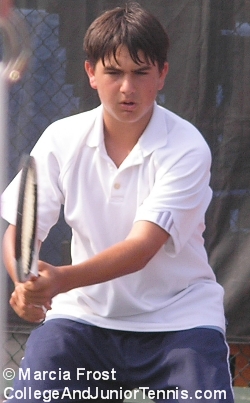 Benji Kendall and Eliot Potvin also fought hard for their places in the boys consolation finals. For Benji it was a long struggle against Eric D'Elia, ending in a 3-6,7-6(4),7-5 decision followed by a challenge by Marc Powers (pictured right) to 6-4,6-1. Eliot Potvin fought off Ravi Yegya-Raman, 7-6(4),6-3, and then needed to get by Andrew Yazmer, 4-6,6-2,6-2. Andrew had an incredible run this tournament, defeating three seeded players along the way.
It looks like the rain may stay for tomorrow's scheduled 9:00 am final, but will all be waiting to see what the sunshine brings to the courts of the Atlantic Club.
Until tomorrow,
Marcia Frost
Click On A Photo To Enlarge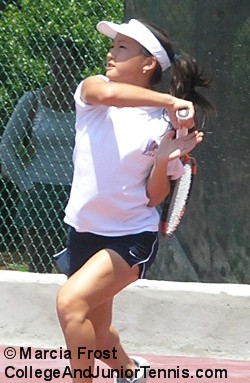 Shoko Okuda
Adam El Mihdawy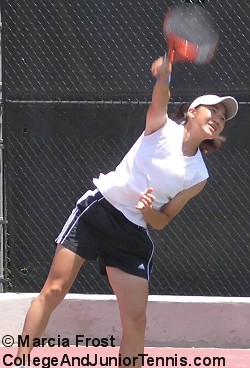 Stacey Lee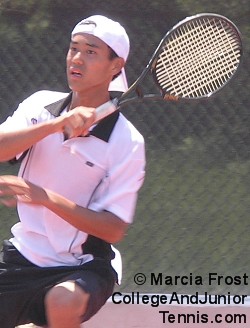 Sho Matsumoto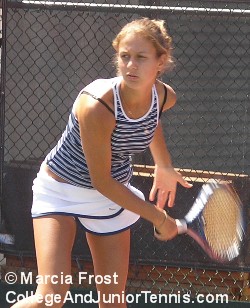 Olivia Janowicz
Andrew Yazmer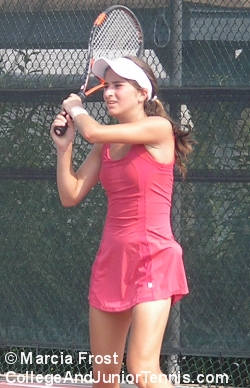 Marissa Schonfeld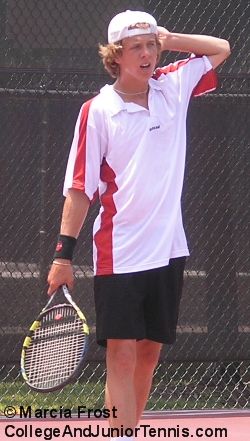 Ryan Lissner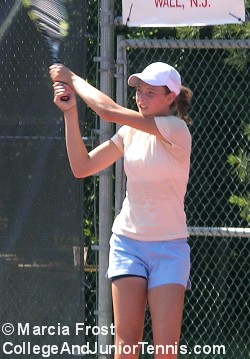 Sarah Landsman
Eric D'Elia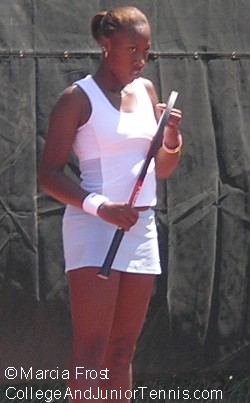 Nadja Gilchrist
Arsenio Culver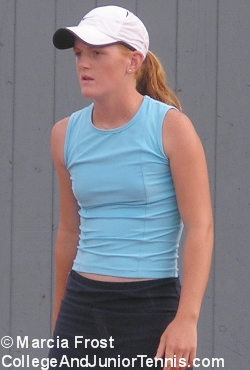 Lindsay Clark