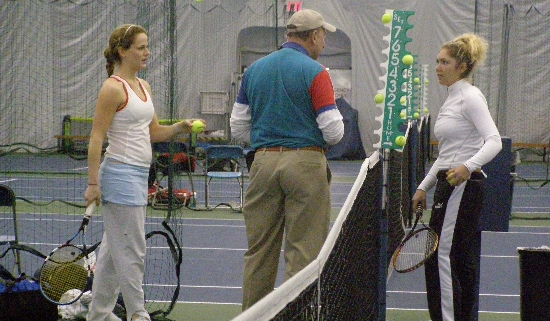 It ranks among my very favorite tournaments and even though my plans to leave for the Copper Bowl left me unable to attend as much as I would like, I had to at least stop by the National Open Indoor Championships at the National Tennis Center. It is one of the most unique events in the country, combining top college and junior players, with a sprinkling of professional and recreational players.
Construction at the USTA Billie Jean National Tennis Center continues so matches were again played this year "under the bubble." Tournament organizers Bill Mountford (NTC's Director of Tennis) and Greg Bolitsky did a good job of keeping the matches moving through a shortened third set tiebreaker which the players seemed to like as well. I was able to catch some round of 16 action featuring great players pictured from the college and junior world. Most of them hadn't played indoor tournaments in quite awhile and welcomed the change after a year of wild weather wrecked havoc with schedules of outdoor tournaments everywhere.
In the men's singles, former Brown Bear Justin Natale took the title over former top junior player Jay Goldman. Local junior Adam El Mihdawy (right) took third after Bates' NCAA Division III champion William Boe-Wiegaard was forced to retire with an injury. Adam has reached the top of the national rankings after an incredible year and has decided to take a short break from junior events to try his hand (as an amateur) on the pro circuit before making a decision on college.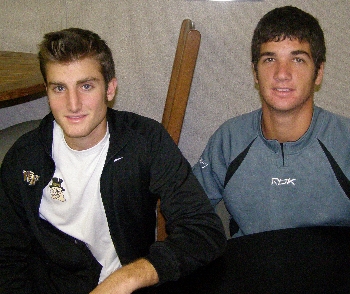 The Wake Forest duo of Cory Parr & Steve Forman (left) got an early start on the college tennis season by making the finals of the Men's Doubles event. (Steve is actually just starting on the team this month and Cory is a previous visitor to this tournament who picked up the 4th place singles trophy last year.) They dropped a close last match (6-3,7-6) to two National Open veterans -- Juan Parker, 2005 third place Mixed Doubles finisher, and Jonathan Pastel, 2005 singles finalist. Another familar name in men's doubles was this year's third place winner, Nikita Kryvonos, who took the singles trophy last year. He was partnered with Andrew Udis.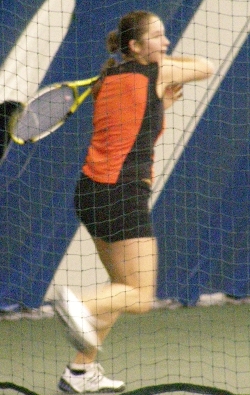 University of Maryland freshman Eleanor Peters, was the women's singles winner after defeating Fordham's Dominique Liquori (Dominique was also a finalist in 2004). Third place went to Stefana Petrelli (pictured top left), who recently commited to play for Yale in the fall. Top seeded Julia Koulbitskaya (right) may have lost her bid for a second singles trophy this year (she came in third in 2005), but she came through in the doubles as she teamed with the 2005 singles finalist Nikola Hubnerova to defeat the Dartmouth duo of Julia Zak & Megan Zebroski. The Mixed Doubles trophy also went to a repeater as the 2003 Doubles Champion, Shareen Lai, teamed with the University of North Carolina's Christian Welte.
It may have been a short visit this year, but the USTA National Open Men's & Women's Indoors will always remain on my schedule as a great place to see a wide array of top players of all ages.
| | |
| --- | --- |
| Keith Kessler | 13 year old junior Manuela Velasquez had a good run before losing to the No. 2 seed |
| Princeton's Sratha Saengsuwarn returned for the fourth year | Top Eastern junior Anna Edelman lost a tough one in the quarters to champion Eleanor Peters |
Until Next Year,
Marcia Frost

Men
SINGLES
Finals
Justin Natale (9-16) defeated Jay Goldman (9-16), 6-2,6-2
Third Place Playoff
Adam El Mihdawy (9-16) over William Boe-Wiegaard (5), walkover/injured
DOUBLES
Finals
Juan Parker/Jonathan Pastel (3) defeated Steven Forman/Cory Parr (4), 7-5,6-4
Third Place Playoff
Nikitas Kryvonos/Andrew Udis (1) defeted Jeff Carter/Eric Globermanm, 7-5,6-1
MIXED DOUBLES
Finals
Shareen Lai/Christian Welte defeated Josh Latourette/Rosa Tapia, 6-3,7-6(1)
Women
SINGLES
Finals
Eleanor Peters (4) defeated Dominique Liquori (3), 6-2,6-1
Third Place Playoff
Stefana Petrelli (5) defeated Katelyn Bevard, 6-2,7-5
DOUBLES
Finals
Nikola Hubnerova/Julia Koulbitskaya (1) defeated Julia Zak/Megan Zebroski, 6-3,6-1

Return To 2006 National Open Index