Friday, December 30th-Final Day
After a week of intense matches and upsets, the final day at the National Open Indoor Championships finished exactly how it should.
I watched top players fall and withdraw all week, so it was rather surprising when the top two seeds prevailed in the end. Fourteen year old Gail Brodsky (pictured right) was actually the second seed until two-time champion Stacia Fonseca dropped out and she certainly ceased the opportunity. Until today it was an easy run, but it took six sets to capture the gold ball -- first a 5-7,6-3,6-4 decision over Agnes Wiski and then a 2-6,6-3,7-5 final past Julia Koulbitskaya. In the latter it looked like she just might not make it past the UPenn sophomore, last year's third place winner. Gail couldn't get it together in the first set, unable to return Julia's serve and hitting the ball long. She was much more the solid player she had been in this tournament in the last set, however, Julia stepped up her level and they kept the crowd on the edge of their seats to the end. Gail, who still considers herself a New Yorker even though she trains in California, is now heading down under where she is an alternate to qualify for the Australian Junior Open. Julia took a quick rest and then partnered with Boston College's Dasha Cherkasov to take the doubles title over the University of Maryland's Alessandra Pedergnana and St. John's Allison Adamski..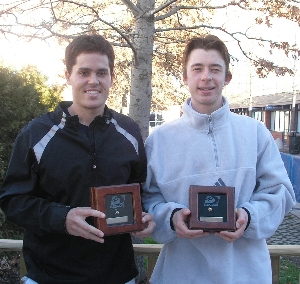 There was no struggling for No. 1 seeded Nikita Kryvonos. The 19 year old pro only lost 13 games the whole tournament and it was just two of those that he gave up to seventh-seeded Jonathan Pastel in the final (pictured left). Nikita kept Jonathan struggling for points, shaking his head at the winners and cheering when he did come up with one of his own. After the match I asked Mr. Kryvonos the burning question on everyone's mind in the tennis world, was he Nikita or Mykykta? The answer was not what I expected, Nikita is the name and it was the one he was born with, though lost through immigration for awhile. He has proudly correctly the problem along with a brand new American citizenship. Just to add a little more to a great year, he went out with partner Andrew Udis and took third place in the men's doubles.
Just when you think you've heard all the excuses to delay a match, comes the best one yet. Nikola Hubernova wasn't sure when she could start the singles third place playoff because she had no one to watch baby Amie (pictured right). An adorable baby is an excuse no one can argue over and nearly everyone (including tournament director Greg Bolinsky) stepped in to help keep baby occupied on the court next to mom. Soon daddy was back and mommy & baby walked off with a silver ball for third place! I can't say anything happened in the men's singles third place playoff that could possibly top that, but Bart Scott and Wake Forest freshman Cory Parr had a great match. It started out rather slow (Cory had complained of wrist pain that made him drop out of mixed doubles), but the points got longer as it progressed to a crowd pleaser before Bart finished it off.
It was another great tournament at the National Tennis Center as a talented group of college and junior players (with some pros sprinkled in) gathered. It was the perfect way to end the 2005 tennis year.
| | |
| --- | --- |
| Singles Finalist & Doubles Winner Julia Koulbitskaya with Doubles Partner Dasha Cherkasov | Fourth Place Singles Winner Cory Parr & Third Place Winner Bart Scott |
| Mixed Doubles Winners Chelcie Abajian & Marco Cacopardo | Third Place Mixed Doubles Winners Zeynep Inanli & Juan Parker |
| Third Place Doubles Winners Natalie Fouche & Jurelle Mendoza | Doubles Winners Robert & John Haywood |
| Doubles Finalists Alessandra Pedergnana & Allison Adamski | Fourth Place Doubles Team Daniel Montes De Oca & Julien More |
Until Next Year,
Marcia Frost

Men
SINGLES
Finals
Nikita Kryvonos (1) defeated Jonathan Pastel (7), 6-1,6-2
Third Place Playoff
Bart Scott defeated Cory Parr, 6-4,4-6,6-3
DOUBLES
Finals
John Haywood/Robert Haywood defeated Daniel Brous/Joshua Raff, 3-6,6-3,6-4
Third Place Playoff
Nikita Kryvonos/Andrew Udis (1) defeated Daniel Montes De Oca/Julien Morel (3), 7-5,6-4
MIXED DOUBLES
Finals
Chelcie Abijan/Marco Cacopardo defeated Sarah Huah/Young Kwon (1), 6-2,6-3
Third PLace Playoff
Juan Parker/Zeynep Inanli defeated Dyllan Healy/Jurelle Mendoza, 6-0,6-4
Women
SINGLES
Finals
Gail Brodsky (1) defeated Julia Koulbitskaya (5), 2-6,6-3,7-5
Third Place Playoff
Nikola Hubnerova defeated Agnes Wiski (4), 6-1,6-1
DOUBLES
Finals
Dasha Cherkasov/Julia Koulbitskaya defeated Allison Adamski/Alessandra Pedergnana, 7-6(2),7-6(3)
Third Place Playoff
Natalie Fouche/Jurelle Mendoza over Jennifer Rogers/Sarah Summerfield, walkover/ill

Return To 2005 National Open Index