College tennis was well represented as the USTA National Men's & Women's Open Indoor Championship concluded at the USTA Billie Jean King National Tennis Center. This year it was the college players who took home the majority of titles on New Year's Eve at this unique blend of junior, college and professional players.
Wake Forest University was definitely the star of the show as Cory Parr, who came in 4th last year, was the singles and mixed doubles winner, teaming with Ryann Cutillo, an incoming Deamon Deacon for next fall. It was a tough couple of sets for Cory as he faced second-seeded Adam El Mihdawy. The 18 year old has been playing the Pro Circuit as an amateur while trying to make the college decision and he his serve has gotten stronger, but three years of top college play was on Cory's side. The two power hitters went at it at the baseline -- suprisingly for the top volleyers -- for the first set as Cory squeaked by, 6-3. As Adam moved in to net the second set, he commanded the show and took it 6-1, but a very long first game in the third seemed to take his edge away. It was all Cory Parr for the Gold Ball with a third set shutout.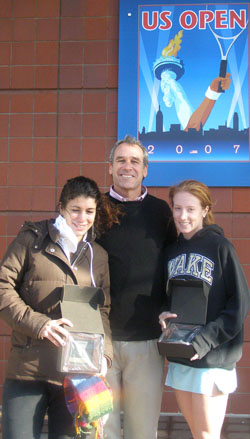 Ryann Cutillo also picked up two trophies at the event, both Silver. Julia Cohen, who told me just before she went out on the court that she made a last minute decision to join the Florida Gators beginning next week, lived up to her top seeding by taking the Women's Singles. Though the final score was 6-3,6-0, there were some great, long points between Julia and Ryann in front of a growing crowd. It was a great preview of college battles to come. After the singles, Ryann Cutillo & Cory Parr were supposed to play a Mixed Doubles Final against Ohio State University's Bryan Koniecko & Angela DiPastina (pictured below, right), however, the latter withdrew due to a last minute injury. Angela did make it through the third place playoff, falling to Dagmara Siara of Poland 6-3,6-3. (The Men's Singles third place was not played because former Clemson Tiger Ryan Young withdrew injured on Sunday, giving the Bronze Ball to Jedrzej Zarski.)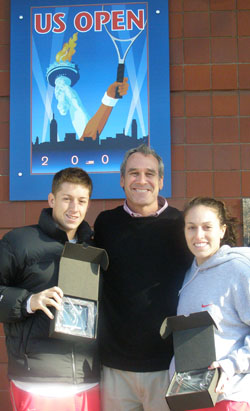 The men's doubles was an exciting matchup of former college players. The 2005 winners, John Haywood (Williams College) and brother Robert (Davidson College) fell to Queens College coach and former player Craig Schwartz & Wojciech Stuchlik, 6-4 in the first and then in a crowd-pleasing tiebreaker in the second. The women's doubles, which was played Sunday, went to 2005 winners -- and Boston College teammates -- Dasha Cherkasov & Julia Koulbitskaya. The top seeds were victorious over Dartmouth players Julia Zak & Megan Zebroski.
It was a first USTA National Open Indoor for Tournament Director Whitney Kraft, the new Director of Tennis at the National Tennis Center, and it went off without a hitch, producing a great showcase of past, present and future college and junior tennis talent.
Until Next Year,
Marcia Frost

Men's Doubles Winners Craig Schwartz & Wojciech Stuchlik and Finalists Robert Haywood and John Haywood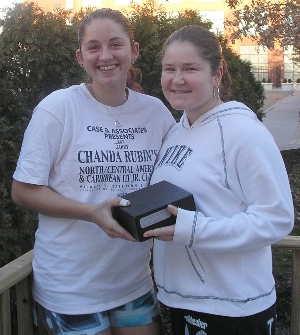 Women's Doubles Winners Julia Koulbitskaya & Dasha Cherkasov
Return To 2007 National Open Index