Wednesday, December 28th-Day Two


It was Ladies Night at the National Tennis Center as I watched some great matches and caught up with some great players, but the big news of the day was the exit of two-time champion Josh Cohen.
University of Miami Junior Josh Cohen has won this event the past two years and was confident coming in. Unfortunately, a spill on the court left him with a knee injury that will keep him out of the winners' circle this year. Josh expects to be back on the Miami courts in a few weeks. In the meantime, Notre Dame's Eric Langenkamp (a singles finalist here in 2002) is on his way into the round of 16.

I caught some of No. 29 Alex Stone and Erik Graves (above). The seeded Duke sophomore couldn't hold it up against the pro and succombed, 6-2,6-2, The rest of the men's singles draw moved on without any real surprises.
Dasha Cherkasov (left), a Boston College freshman, quickly dismissed former Colgate player Marissa Alikpala, 6-1,6-1. Fourteen year old No. 2 seed Gail Brodsky didn't work very hard either as she blanked local teen Vlada Grigoryeva, though I did see quite a bit of that match and Vlada was certainly in there. St. John's player Allison Adamski proved that her experience paid off against another junior, Juliya Orkis, 6-2,6-2. Even though the crowd enjoyed some great points, UPenn's Julia Koulbitskaya was in control as she defeated Lela Petrovic, 6-1,6-4. There were, however, some women's matches that weren't quite so one-sided.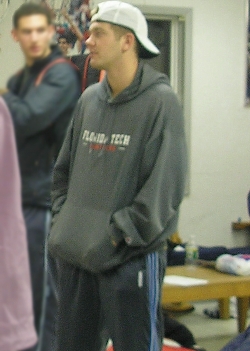 Teens Remeice Ellis and Sarah Leonard had a challenging three-setter with the No. 8 Remeice prevailing, 3-6,6-2,6-3. There was some incredible tennis to watch in the college battle between Yale's Janet Kim and Ohio State's Angela DiPastina. I was enjoying that match-up at the same time as a quite different match between Sarah Summerfield and Marilyn Baker. Excitement was definitely the word in that match as the teenaged Sarah took advantage of her youth against the seasoned pro (and No. 6 seed). It was an all-court game as Sarah ran Marilyn around volleys, dropshots and some real winners. She pulled the upset, 7-5,6-2.
I had a chance to chat with a few players I hadn't seen in awhile. Dominique Liguori, who didn't get to play since Jacquline Wu withdrew, is enjoying her time as a Fordham freshman. Dominique was one of the very top juniors in the east for a long time and I think she will prove just as valuable to the college world. Keith Kessler (right) has been spending more time in the lounge than on the court just taking in the excitement, but that doesn't mean the Florida Tech player isn't focused. Keith (along with partner Michael Racioppo of Quinippiac) won the doubles third place in 2003 and second in 2004, but he is "going for the gold this year."
It was great to see Aibika Kalsarieva (love those earrings!). She returned for a visit to her homebase -- she trained at the National Tennis Center and lives nearby. Aibika just completed her degree after completing a successful run at the University of Kentucky. She finished ranked No. 4 in singles & No. 9 in doubles and is now ready to "get out there and play." I'm sure we'll be seeing her name in the pro draws to come.
My apologies to Daniel Montes De Oca. When I stated that this tournament featured those "14 to 40," I left out the very talented No. 11 seed who Tournament Director Greg Bolinsky informs me is tops in the world in the 50s. (If there is anyone in the women's draw over 40, they're not volunteering that information!).
Until Tomorrow,
Marcia Frost
---
Return To 2005 National Open Index