Tuesday, March 11, 2008-Day Three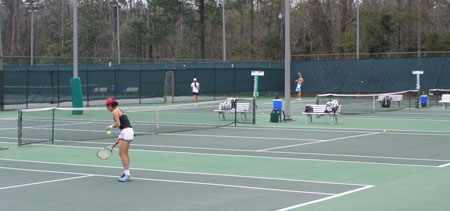 It was one of those days when you just had to be there. The draws only told half of the stories and seeing was believing.
There is a reason that it is impossible to write a true story about a match you didn't watch (or at least discuss with someone who did). It's because tennis is a game that can be decided in a moment -- or a point. There are no to matches alike, whether it's two with 6-0,6-0 scores or two that were decided in three tiebreaker sets. Today was one of those days that proved the point (pun intended).
The day began with rain and the matches were put off until afternoon. Though the sun never fully came out, it remained dry and the matches continued to go on without a problem. It was the boys who played first and a went back and forth between a number of matches. I expected JT Sundling-Sam Keeton to be much more exciting than it was. Perhaps it was the long wait through the rain, but both players looked tired and there were many errors. JT took the match 6-1,6-0, without much fanfare.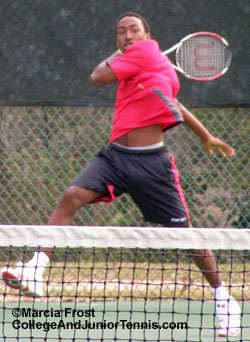 I have seen enough of Evan King (pictured right) to know he is a fighter and would challenge top-seeded Bradley Klahn and I was not disappointed. Though the latter soon-to-be Stanford freshman won the match 6-3,6-3, it was certainly not that simple. I caught some incredible games and at no time saw Evan giving up. He fought back constantly through the long points before the more experienced Bradley won this great match. Another good one was between No. 6 Ryan Lipman and (17-32) Patrick Daciek. That one went three sets before Patrick pulled the upset and what I saw of it was a pretty even match. The 1-6,6-3,6-2 score sounds a lot more one-sided than it was.
On the girls side, I watched sixth-seeded Kristie Ahn struggle a bit in the end, but it was pretty clear all along that she was heading toward victory over alpha seed Misia Krasowski. On the other hand, the girls No. 1 seed Lauren Embree faced some tough points at the beginning of her match with Emily Wolf (17-32) that got a bit easier as the match went on, though it didn't look like a 6-2,6-0 win.
Doubles didn't start until nightfall. The match that proved my "you had to be there" day was between future University of North Carolina players Brennan Boyajian & Zach Hunter against Ryan Noble & JT Sundling. I sat down and watched the first four games when the No. 6 team of Brennan & Zach dominated the match. When the score reached 4-0 in their favor, I thought I would go watch some of the other doubles, only to find out later from Colette Lewis of Zoo Tennis that Ryan & JT would only give up one more game the whole match and take it 6-4,6-1! While they were doing that, I was watching for great doubles players on one of the far courts. It was a close-as-can-be first set for Dennis Nevolo & Evan King over Haig Schneiderman & Robert Wong for a 7-5 win. I didn't see the second, but they also took it, 6-3.
Two of the youngest girls here definitely earn my vote for the stars of the day -- Grace Kim & Lauren Herring (pictured left). Fourteen year old Grace pulled yet another upset, this time taking out No. 12 Stephanie Chang, 6-2,6-0. Lauren played two consolation matches, winning the first against Caryssa Peretz before falling in a tough one to Erin Viera that didn't end until 8:00 in the evening. Then, Grace & Lauren teamed up in doubles (at 9:00 pm) to pull another upset, defeating third-seeded Elizabeth Epstein & Misia Krasowski, 6-1,6-4.
Another unseeded player in the girls draw pulled her second upset. Katie Kargl, whom I have not yet seen play this tournament, eliminated Olivia Janowicz (13), 4-6,6-0,6-4. In the boys draw, unseeded Alex Brigham beat Kyle McMorrow, 6-2,6-3.
Tomorrow will be a short day at the USTA National Spring Championships for me as I'm heading to Montgomery, Alabama, for a brief visit to the Blue-Gray Classic, but I'll still have plenty more to come before the 18s finish Saturday.
Until Tomorrow,
Marcia Frost
click on a photo to enlarge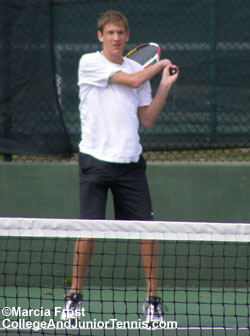 Sam Keeton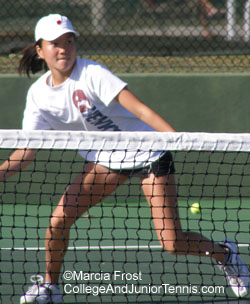 Hideko Tachibana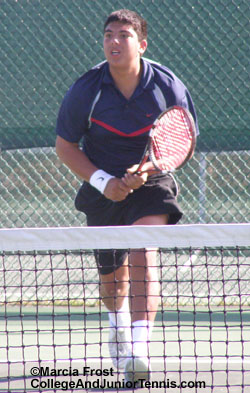 Spencer Talmadge
Hillary Davis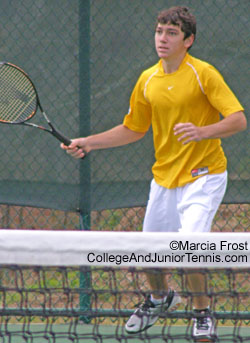 Jeffrey Morris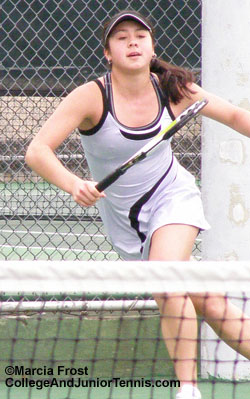 Kristin Norton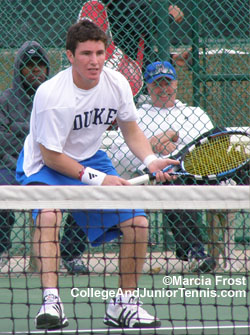 Luke Marchese
Amanda Wu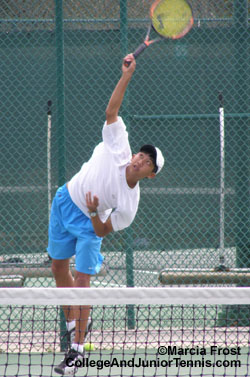 Michael Lin
Join Fabletics & Get
2 Pairs High Quality Leggings for $24







Monthly Guides to
College Tennis Planning
Available in Kindle, Print & EBook
for H.S. Seniors
and H.S. Juniors
>






Create an Amazon Wedding Registry
Return to:
College And Junior Tennis