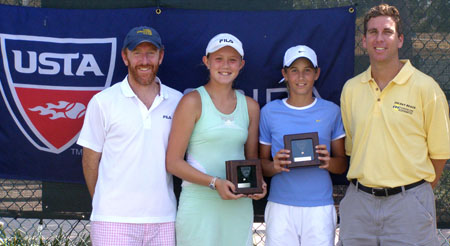 Saturday, April 12, 2008-Final Day
It was a warm day at the Delray Beach Tennis Center, but the breeze kept it cool as the competition was actually not as hot on the final day of the USTA National Spring Championships for the 12s.
Hayley Carter was all smiles as she swept the girls' events. The singles final between No. 8 Hayley and No. 12 Hannah King started out with great points and trading breaks, however, it didn't really remain that way. After Hayley held for 3-1, it looked as if she could do nothing wrong as she took the set at 6-3. The first game of the second set was probably the longest of the match, with some nice points and a great effort from Hannah, but she just couldn't get past the determined Hayley and the battle of the Southern girls was not a big battle afterall with a 6-2 second.
Hannah faced Hayley a second time today when she and partner Taylor Townsend fell to Hayley & Brooke Austin, 6-1,6-2 in the doubles final. Brooke was also the winner of the Super Feed-In after taking out Cassie Mercer, 6-2,6-0

In the third place playoffs (which I did not see because they were on the opposite side of the finals), Alexandra Kiick was the winner over Gabriella Smith in singles, 6-4,6-1. The silver balls in doubles went to Katrine Steffenson & Juliana Cardi over Iris Lin & Jwany Sherif, 6-2,6-4.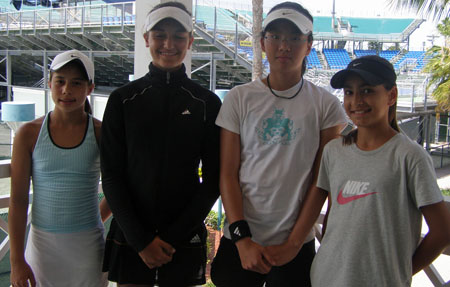 There was also a sweep on the boys side with Grayson Goldin taking home two Gold balls. Much like the girls singles, the boys final match was not quite what was expected. Third-seeded Grayson was near perfect today as he took complete control over a frustrated Daniel Kerznerman. The talented second-seed had been slightly favored by the crowd going in, but after a few breaks, Grayson held it at 4-3 and followed with a long game to take the set at 6-3. In the second, he volleyed his way to a shutout as Daniel just couldn't get anything past him. Grayson was equally good in the afternoon doubles final as he and partner Baker Newman took the title over Jordan Belga & Jack Murray, 6-4,6-3.
For Baker Newman, the doubles was payback for the morning when Jack led their third place playoff match, 6-3,6-0. The rest of the boys matches were played at the Boca Swim and Racquet Club so I did not get to see any of them, but Juan Padilla was victorious in the Super Feed-In over Michael Kay, 6-4,2-6,6-1. That match was actually the only third setter in the ten top matches of the day.
Kudos to Ivan & Mark Baron and their very large staff. It's a great event and the Delray Beach Tennis Center is a great place to watch it. I look forward to coming back in July for the USTA National Boys 16 & 18 Clay Court Championships before I return for this event. It's nice to see so much talent in junior tennis' youngest age group.
Until Next Year,
Marcia Frost

P.S. If you are interested in obtaining any photographs from the USTA National Spring 12s, contact Marcia@MarciaFrost.com.
Photos from top: John Butler, Hannah King, Hayley Carter and Tournament Director Ivan Baron Cassie Mercer and Brooke Austin Alexandra Kiick and Gabrielle Smith Katrine Steffenson, Juliana Cardi, Iris Lin and Jwany Sherif Grayson Goldin Daniel Kerznerman Baker Newman and Jack Murray.
Check the new TripAdvisor for great deals on hotels

Monthly Guides to
College Tennis Planning
Available in Kindle, Print & EBook
for H.S. Seniors
and H.S. Juniors
>













Create an Amazon Wedding Registry



















Return to:
College And Junior Tennis