Saturday, April 18, 2009-Final Day
by John Butler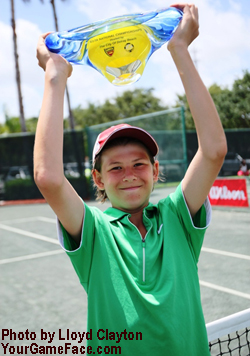 Delray Beach, FL—256 of the nation's best 12-year old boys and girls, 256 entourages of family and coaches, seven typical Palm Beach County days (You know the ones—Thunderstorms on one block while sun block is needed around the corner), 773 matches played on more than 60 tennis courts at four of the premier tennis facilities in Florida… At the end, two singles champions and two doubles teams stood alone.
It was a week that continued to impress for athletic achievement as much as it did for the realization of what goes into making these young competitors champions. The dedication of time and passion for sport by a player and the dedication of resources and mental angst by parents and coaches. Dedication, without all relative parties having it, grasping the meaning of it and giving everything they have to fulfilling it, it there's no point in coming to Nationals as such is the quality of the game that was on display for seven magical days.
2009 Boys Champion, Jared Donaldson of Cumberland, Rhode Island (pictured right). Three times fighting back from a first set loss to turn the match around in his favor in dominating fashion. I say "fighting back," but the only fight truthfully was within himself. As I personally only saw the 'Ocean State' star in full form for the semifinals and finals, it was clear that the tournament must've been his from the first ball struck. Actually, from before that, when he walked into the room. The air of the player and the entourage of family and coaches, or whoever the dedicated souls were that joined him while always letting him rule his own court, was uniquely stable, poised and charming to all.
Donaldson's coronation of "Champion" was the end of Josiah Collins' Cinderella run. The unseeded baller from 'Bama showed spirited fight in his 6-2,6-4 loss to the numero uno, but his week was already marked with gold after taking out #17 Nikola Samardzic (Bradenton, FL) in the Round of 16 and ousting #2 Robert Seby (Oro Valley, AZ) in the semis. Seby's elite seed would not lay to waste as he teamed with Danny Gealer (Los Angeles, CA) to win the Boys Doubles Gold, bashing local Boca Raton favorites Felix Corwin and Christian Langmo, 6-0,6-1.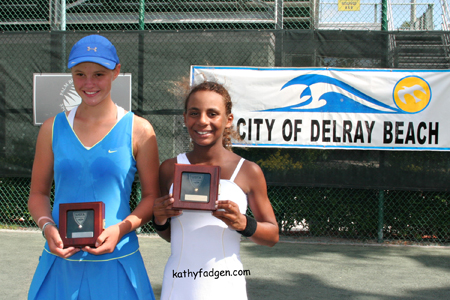 Now to the girls' part of the show, and let's just say, this one went wild, as in "wildcard." When the USTA granted 10-year old Tornado Ali Black of Boca Raton, Florida, (pictured above, right) a wildcard into the 2009 draw, you can assume that they were looking for her to have a solid showing, gain experience and learn how to battle her older peers.
Round one, a routine win over Bella Kuse (Marietta, GA). Mission accomplished. Round two, #16 seed Madison Clark (Phoenix, AZ), a hard fought three-set effort over an accomplished player. Good showing, and one would think probably Black's last winning performance in the main draw as the competition was only getting tougher. Round three, #17 seed Kellyn Abbanat (Parkland, FL). The Boca Raton native now training in Bradenton loses the first set in a tiebreaker. Surely this is it, where the younger wit finally caves and the satisfaction of what she achieved to date settles in. Wrong. 6-2,6-1 to close out Abbanat's at-bat. Round of 16 and with it another seeded player, Remi Ramos (Parkland, FL). This seed was gone with the wind as Tornado hit her stride, dispatching Ramos, 6-1,6-2. Shouldn't the battle be tougher with each round? Surely #3 seed Rianna Valdez (Tampa, FL) and the magnitude of a Nationals quarterfinal would be Black's main draw resting place… The swings are in and the sweat has spoken… Rianna Valdes, goodbye. 7-5,6-1. Following a three-set win over Bennett Dunn (Plantation, FL) in the semifinals, it was a Championship showdown against #1 seed and Boca Raton favorite, Julia O'Loughlin (pictured above, left).
As quickly as the sun rose that morning, it set on O'Loughlin's National as the USTA Wildcard and Bradenton transplant put her stamp on the week, a 6-0,6-1 demolition of the local girl with mass appeal. O'Loughlin righted her ship with partner Remi Ramos in the Doubles Championship as the pair faired some redemption, defeating Black and partner Tai Martin (Weston, FL), 6-2,7-6.
Dedication by player. Dedication by family. Dedication to belief. Throughout the year, it will be the determining factor behind the bearer of the coveted Gold Ball. And until next year's 12s, we look forward to watching this year's competitors partner with dedication and getting everything they can from the greatest game on earth.
Big changes coming soon
at TripAdvisor

Monthly Guides to
College Tennis Planning
Available in Kindle, Print & EBook
for H.S. Seniors
and H.S. Juniors
>











Return to:
College And Junior Tennis