Sunday, April 12, 2009-Day One
by John Butler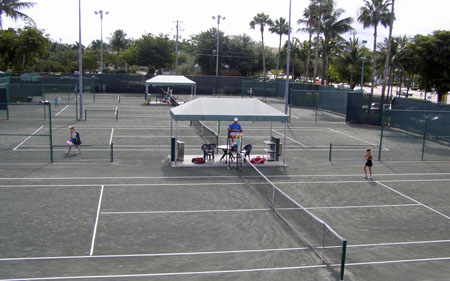 Delray Beach, FL—Day one sun brought commencement and completion to a full round of first-round singles and doubles matches throughout 'South County.' With players from 40 states packing 60 area tennis courts and battling with National Championship-style artillery, it is only fitting for our foreign combatants to grace Day One's "Players of the Day" roster.
Playing in her first tournament in the Sunshine State, this Garden State basher had no fear, even upon looking at the draw and seeing her opponent inked in red (for our non-sporty readers, red denotes a seeded player). "I play a seed!" said an exuberant Lisa Jouravleva (Franklin Lakes, NJ). For the purpose of this story, and for those not able to witness LJ's exploits, we'll refer to our heroine as "Crosscourt J." Let's just say the angled backhand stroke…Not one to mess with.
Like most stories, this one starts with a twist—Crosscourt J, fearless and brash on the inside, down 1 – 5 on the outside. Things were not looking good for the Jersey girl as Jacqueline Carr (Camas, WA) seeded 17th after traveling from one corner of the country to the other, was putting her red stamp on the match. Unable to figure out the trick to stall Carr, Crosscourt J thought less about strokes and more about how to mentally approach the rest of the match…which there was not going to be much of the way she was going about it at the time. "It doesn't matter if she's a seed", she prodded herself. And with that rekindled determination, 1-5 became 2-5, 2-5 became 3-5 and in three more games, it turned into her first lead of the match, 6-5. With Crosscourt J's cylinders firing at full speed, it was Carr that stalled before reaching the first set summit, going down 7-5 in the tiebreaker to the charging Jouraleva.
This is "Nats" and a seed is not a seed by accident. They show grit and determination as Washington's Carr proved. Always one-up on her underdog opponent, she kept the pressure on by holding serve one game after the other, staying ahead 1-0,2-1,3-2, until…Crosscourt J struck. "I was getting more into it and she started to make some mistakes" said Jouraleva, "I think it was the heat." Modest, and maybe true, the tried and tested backhands dinged, dented and eventually pierced the luster of Carr's once glossy finish, closing out the match, 7-6 (5), 6-4. And for that effort, we pronounce Lisa Jouravleva as the Day One Girls Player of the Day.
Josiah and Adam—Prolific names that conjure visions of biblical lore. Josiah, a king at the age of eight. Adam, the first human creation, given dominion over all living things. Do we have a king amongst us? Do we have a dominating presence? The week is young with many battles to be fought, but we do have our Day One Boys Player of the Day. And this day, it's two that prove to be true to the test. And strangely enough, the partnership of doubles they also duly share. Josiah Collins (Montgomery, AL) and Adam Elliget (Summerville, SC), both on their separate singles crusades in Delray Beach and Boca Raton, but teaming with each other to master a field of fellow tandems with the same lofty desires.
The morning session saw each player muster their inner strength and overcome 3-set obstacles from foes of San Clemente, CA and Fairfield, CT. Collins turning back the advances of Nikolas Ramadan, 2-6,6-2,7-5 and Elliget righting Sayer Paige's tennis wrong's, 7-6, 4-6, 6-4. The matinee was no less successful as the team fulfilled their prophetic wishes, downing the team of Dillon Meyer and Brittain Walton, 6-0, 6-1. For your individual and combined efforts, we proudly laud you, Josiah and Adam, as Co-Players of the Day
Big changes coming soon
at TripAdvisor

Monthly Guides to
College Tennis Planning
Available in Kindle, Print & EBook
for H.S. Seniors
and H.S. Juniors
>











Return to:
College And Junior Tennis