Friday, April 17, 2009-Day Six
by John Butler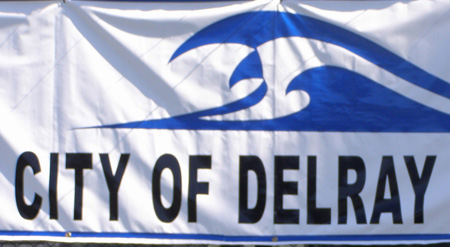 Delray Beach, FL—It's not always about the heated action on the courts, the wins and losses or the rankings as it is about the camaraderie, relationships and betterment of the young people that play the greatest game in the world (call me biased). Such is the example of Friday's Girls' Player of the Day. Or rather, Girls' Players of the Day.
Yes, we have a combo that represents the best of it all. Sure, one of them is the #1 seeded singles player, a title that grants her expectations of tennis stardom in some facet, at least for now. Then there's her doubles partner chopping her down to size with the sharpest of satirical lambasting while numero uno cracks up in recognition of the humor behind the tirade, "She doesn't get a lot of things. Look at her right now, see how she still looks so confused" says Remi Ramos (Parkland, FL), partner in crime and partner in doubles to her towering friend, top-gun Julia O'Loughlin (Boca Raton). The point blank jab in reference to a joke Ramos made about her bud that evidently went over her head. Pranks are the standard for the day and it seems it's always the underling getting the last laugh. Without hesitation and the skill of a surgeon, Ramos one afternoon decided to decorate O'Loughlin's backside with a series of flyers and other paraphernalia without the elite player having a clue of what was happening at her expense. Of course, Ramos had to subtly make sure everyone else in the room saw her handiwork which she was quite proud of… And it was impressive.
We can now segue to the tennis relationship as the mano y mano relationship off the court is definitely paying dividends on the court. Averaging barely four games lost per match, the ride so far has been far from a struggle for the 6th seeded team. And Saturday afternoon's Doubles Championship pits them against the unseeded team of Tornado Ali Black (Bradenton, FL) and Tai Martin (Weston, FL), so on paper, the odds are good. But the day is not without its intriguing drama as it is Black opposite O'Loughlin in Saturday morning's Singles Championship. As a friend and as a partner, Ramos has a big job today. She will be there to support her ally in the case of a singles loss and try to help her get back to .500 on the day, or she will help her Singles Champion bud try to complete the rare Delray Beach sweep of both singles and doubles. A chameleon sometimes friends need to be, and these two have no problem being each other's rock…paper and scissors. Congratulations for your week of success so far and for being a testament as to what junior tennis is all about. For all this, we proudly grant you as Friday's Girls' Players of the Day.
Robert Seby. 12-years old from Oro Valley Arizona. Round of 16 last year in Delray Beach. Returns as the #4 ranked player in the country and #2 seeded player in 2009's Delray Beach 'Nats.' His last chance to win the National he's more than once traveled across the country to win. Round one, crushes. Round two, cruises. Round three, crushes again. Round four, cruises again. Quarterfinals… Hits a brick wall. Cruise over, he's crushed. No one would say a thing if he found it hard to come back, to put in his best effort in consolation and do anything but go through the motions. But not our Day 6 Boys' Player of the Day. With the loss still fresh in his mind, Seby turned around less than 24 hours later and returned to crush and cruise mode, creaming Jake Devine (Kirkland, WA), 6-1,6-2. Seby never let his opponent get into any sort of an offensive mode as he focused on hammering the ball deep, corner to corner, forcing short returns that he could attack and take control of the point with. To no avail, the outclassed Devine tried to be more aggressive as the match went on, but winners went wild and with it the match. It was simply too much Seby on this day. And Seby wasn't done. With partner Daniel Gealer (Los Angeles, CA), they comprise the #2 seeded team at this year's Delray Beach Super National. Hiccups and three-setters early in the week were replaced by Friday afternoon's straight-set demolition of the talented #6 seeded team, Jayanth Chintham (Cumming, GA) and Tommy Paul (Greenville, SC), 6-2,6-2.
"I don't grunt that loud," Seby quipped when I jokingly inferred that his game resembles Serena Williams. "I'm a Federer and Nadal fan, but I play my own game." He's a self-proclaimed tennis-geek, respects the game, loves the game and wins playing the game. As a fellow tennis-geek, I am very proud to bestow our Day 6 Boys' Player of the Day upon Robert Seby.
Don't miss this rare, exciting and FREE opportunity to see tomorrow's stars that will carry the tennis torch when passed on from Andy, James, Serena and Venus, all players who have taken the USTA National road to their success. All \Championship matches (boys and girls) will be played at the Delray Beach Stadium & Tennis Center (201 W. Atlantic Ave., Delray Beach, FL, 33444, 561 243 7360) on Saturday, April 18. Also stay tuned to Fox Sports Florida as a 1-hour program featuring highlights of the Boys' and Girls' Singles Championships will be televised statewide in May.
Big changes coming soon
at TripAdvisor

Monthly Guides to
College Tennis Planning
Available in Kindle, Print & EBook
for H.S. Seniors
and H.S. Juniors
Return to:
College And Junior Tennis