The majority of the world does not distinguish athletes as professional or amateur. That is not the case in the United States. Though the USTA has recently passed a "Call Item" to allow professional players 18 and under to compete in USTA Super National events, the NCAA still has very specific guidelines on amateur status.
The purpose of the College And Junior Tennis Status Report is to help everyone keep up with who's turning pro and who's signed to attend a specific college. Information on this page is updated as soon as we receive it.
---
Ashwin Kumar-The winner of two Chanda Rubin doubles titles has chosen to play for Harvard.

---
Georgia Tech- Two nationally ranked juniors -- Scott Blackmon and Jordan Delass -- were signed by the Yello Jackets for next year.

---
Kewa Nichols-will play for TCU.

---
Virgina-Lindsey Pereira will be a Cavalier in 2004.

---
Brent Werbeck-Boise State has signed the Texan.

---
California-Cristina Visicio and Stephanie Kusano have signed with Cal.

---

Brian Wilson-After taking a semester off, the NCAA doubles winner will be returning to Illinois and playing for Coach Tiley in the spring season. Coming to the Fighting Illini next season will be Brandon Davis.

---
Binghamton University-Alyssa Freeman and Jennifer Naegli are joining the Bearcats next fall.

---
William & Mary-Coach Peter Daub has signed top ten Florida player Alexandru Cojanu.

---
Renee Joseph-After leading her high school team to four straight North Carolina State Championships, Renee will play for Mississippi State next year.

---
University of Tennessee-Lady Vol Co-Head Coaches Mike and Sonia Hahn-Patrick signed Bryce Marable and Daron Moore to their 2004-05 team.

---
Andy Kuharszky-The No. 7 player in Hungary will join the Washington Huskies.

---
Notre Dame-The Fighting Irish inked three players for next year -- Brook Buck, Sheeva Parbhu and Andrew Roth.

---

LSU-Tiffany Tucker, a ranked player from Texas, and Staten Spencer, the No. 3 player in Tennessee, have signed with the Lady Tigers.

---

University of Florida-The Gators will welcome three top women for the 2004-05 season -- Whitney Benik, Lolita Frangulyan and Alexandria Liles.

---

Kaes Van't Hoft-Following in his father, Robert Van't Hof's footsteps, Kaes will be at the University of Southern California in Fall 2004.

---

Michigan State-Brian Compton, Nick Rinks and Adam Monich will play for the Spartans next year.

---

Mike McCarthy-Mike will join brother Ryan as a member of the 2004 University of Indiana Hoisers.

---

UCLA-Coach Stella Sampras has an incredible team coming in next year. She just signed three girls who are in the top 30 of the USTA National Rankings -- Riza Zalameda, Tracy Lin and Elizabeth Lumpkin.

---

Andrew Felsenthal-The fifth place winner at this year's Gator Bowl will be at the University of Alabama next year.

---

Texas A&M-The Aggies just added three players to their women's team next year. Tiffany Clifford and Marisa Druss are both nationally ranked and Anna Blagodarova was a top ten player in Canada.

---

Drew Eberly-The nationally ranked player has signed with Ohio State.

---

University of Southern California-Two of the top juniors in the country are joining the Trojans next Fall, Lindsey Nelson and Nicole Leimbach.

---

Ananda Sawmynaden-The top players at the New Mexico Military Institute has signed with the men's team at The Citadel.

---

University of Tulsa-Coach Vince Westbrook has inked three nationally ranked players -- Andy Connelly, Ross Cunnigham and Will Gray.

---

Alexandra Hirsch-Last year's top-ranked doubles player in the USTA Girls' 18s will be attending Wake Forest.

---

Carly Gullickson-The youngest player to ever represent the U.S. in the Pan American games has given up her amateur status.

---

Emily Ladyman-The Texas Open finalist has signed with Ole Mississippi.

---

Robert Yim-The Super National Hard Court winner has decided not to attend UCLA and to instead turn professional.

---

Christian Hand-The Super National Clay Court doubles winner will be playing for BYU this year.

---

Jamea Jackson-After some success on the pro tour this summer, Jamea turned professional.

---

Stanford-Theresa Logar, winner of the Girls 18 Super National Hardcourts will be playing for Coach Lele Forood this coming season.

---

Duke-The Blue Devils have inked Jennifer Zika. The Austrian is ranked in the top 100 in the world in both singles and doubles.

---

Iris Ichim-Immediately following accepting the third place trophy at the the Super National Hardcourts, Iris turned professional.

---

Princeton-Sisters Shekha and Neha Uberoi have left the Tigers for the pro circuit. Shekha has turned professional and Neha is taking a year off to give it a try.

---
Austin Tennis Academy seniors Brandon Davis, Stephanie Kusano, Kewa Nichols, Brent Werbeck & Lindsey Pereira
---
If you have information to be included in the Status Report, please send it to: Marcia@MarciaFrost.com
Ashwin Kumar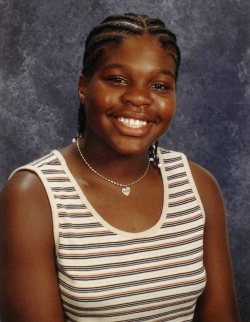 Renee Joseph
Brook Buck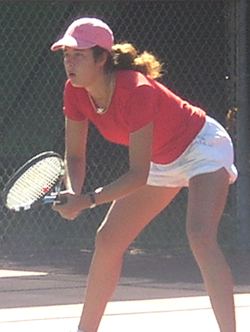 Lolita Frangulyan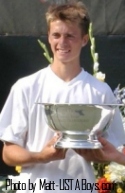 Nick Rinks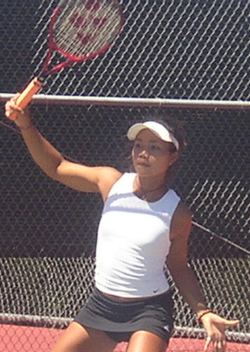 Riza Zalameda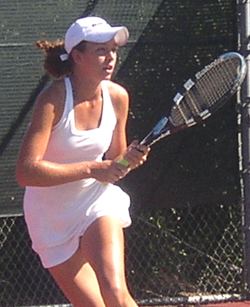 Elizabeth Lumpkin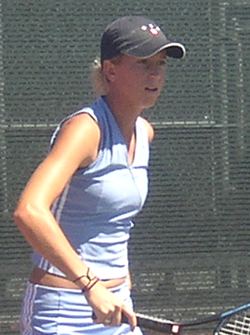 Lindsey Nelson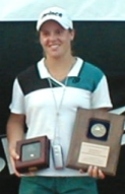 Nicole Leimbach
Andy Connelly
Carly Gullickson
Emily Ladyman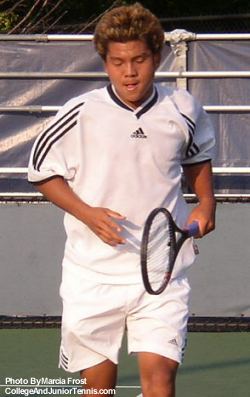 Robert Yim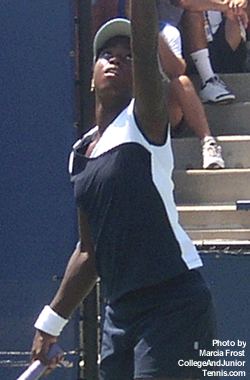 Jamea Jackson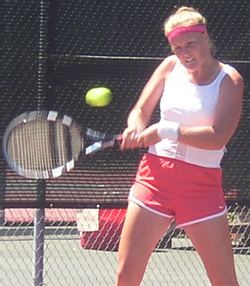 Theresa Logar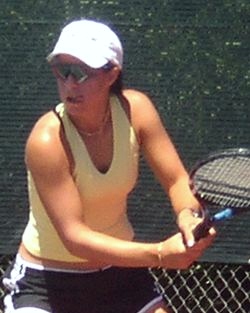 Anne Yelsey
Cristina Visicio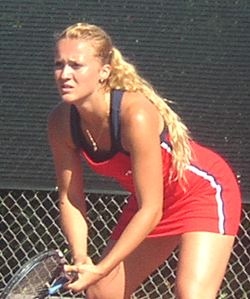 Iris Ichim
---
Monthly Guides to
College Tennis Planning
Available in Kindle & Print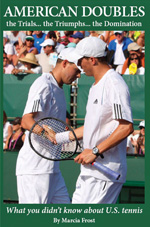 ---
---
---
---
---
---
Monthly Guides to
College Tennis Planning
Available in Kindle & Print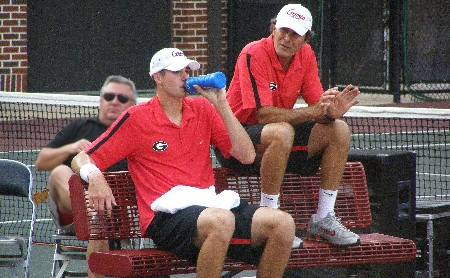 College Tennis featured in
American Doubles...
---
See the Latest
at NIKE
---
Return to:
College And Junior
Tennis Homepage