Friday, April 18th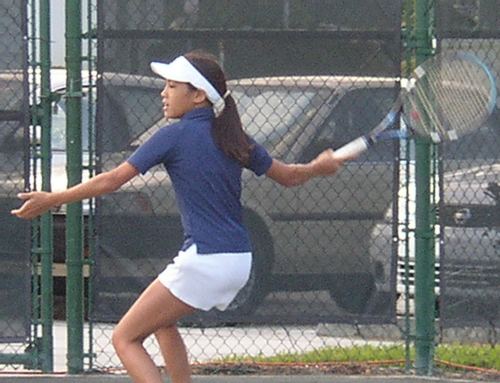 Monica Chow
It was a day of few surprises as the players moved on to the final rounds. Both Ryan Harrison and Amy Simidian continued to take advantage of the positions they gained from yesterday's upsets.
In the girls' draw, No. 1 C.C. Sardinha -- pictured right -- didn't have much trouble eliminating third-seeded Alexandra Bush, 6-1,6-4. C.C. couldn't miss at the net and was just too much for Alexandra. Amy Simidian -- pictured below right -- continued on the road to success she took after eliminating the No. 2 seeded Shinann Featherston and overpowered Monica Chow, 6-3,6-2.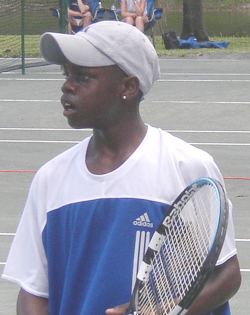 Ryan Harrison, who had upset top-seeded Rashaad Williams, needed three sets to get past Rhyne Williams, 7-5,4-6,6-0. The two fought it out point by point until Ryan pulled out ahead in the third. In the other semi, Alexander Domijan was keeping up with second-seeded Jarmere Jenkins -- pictured left -- until it reached 4-4. Jarmere came out swinging after that game and broke serve in a love game. From that point on he was in command of the match for a 6-4,6-2 win.
There were also some exciting consolation semifinal matches. In the West Draw, Augie Bloom defeated

Jason Magnes -- pictured below -- in an exciting match that was much closer than the 2-6,6-1,6-2 score indicated. Sekou Coker Bangoura and Gary Kushnirovich battled it out to a 3-6,6-3,6-3 win for Sekou in the North draw. Another exciting match up was Spencer Wolf's win over Ryan Bandy, 6-7(1),7-6(3),6-0.
All good things must come to an end and on Friday my time at the Super National Spring Championships did. Despite dealing with a compass format that was confusing to most, tournament directors Ivan & Mark Baron put on an incredible event. All of the kids who are eligible are already talking about coming back next year -- and so am I.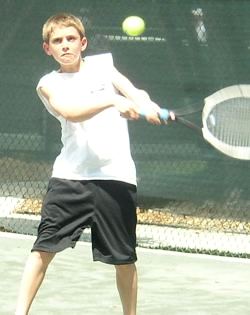 Marcia Frost

P.S. Stories on my interviews with Jarmere Jenkins, C.C. Sardinha & Rashaad Williams to come soon.

CLICK HERE FOR STORY & PHOTOS FROM APRIL 17TH

CLICK HERE FOR STORY & PHOTOS FROM APRIL 16TH

CLICK HERE FOR STORY & PHOTOS FROM APRIL 15TH

Return To 2003 Super Nationals Index

On Court Off Court
Healthy Smoothies
Delivered to your home
Click for 55%
Create an Amazon Wedding Registry
Return to:
College And Junior
Tennis Homepage