U.S. OPEN TENNIS CHAMPIONSHIPS
USTA Tennis Center - Flushing, New York
Qualifying: August 22-26, 2000
Main Draw: August 28-September 10, 2000
Junior: September 3-10, 2000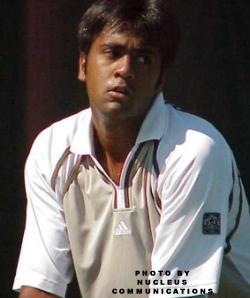 Rajeev Ram
Brian Baker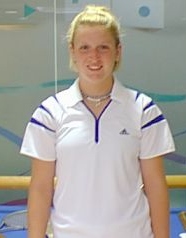 Kristen Schlukebir
At The Open With Marcia Frost...
Monday, September 4th-Junior Singles, Day Two
Once again the rain played havoc with the US Open schedule. Doubles had to be postponed and delays upset the rhythm for many players, but there were a few good matches completed.
Rajeev Ram, who won the Boys 16 Super Nationals in both singles and doubles, had a tough match against Darko Madjarovski of Yugoslavia. Despite the close points, Ram managed to break serve and was up 3-1 in the first set. Madjarovski held him close, but Ram pulled out the first set, 6-4. In the second set, Ram continued to have trouble with his serve and the it remained head-to-head into a tiebreaker.
The tiebreaker was as close as the set, but it was Madjarovski who broke through when Ram double faulted at 5-5. He was able to pick up the set with a 7-5 breaker win. The third set looked to be as close as the others until Ram began to limp. A trainer was called for treatment, but it wasn't enough to get Ram moving and he lost the set 6-2.
Right next door to the Ram/Madjarovski match was another tough three-setter. Americans Brian Baker and Tres Davis locked horns through three sets that featured long points by the two hard-hitters. Baker finally prevailed, 2-6,6-3,6-4.
Some of the matches, unfortunately for the losing players, were not as close. Andy Roddick made his match look easy despite his talented opponent. The number one junior in the world quickly eliminated Jesse Witten, 6-1,6-0, while fourteenth-seeded Vera Zvonareva of Russia took out Girls' 18 Super National champion Kristen Schlukebir, 6-2,6-2.
Another battle was fought by Prakash Amritraj. The Californian went up against Roko Karanusic of Croatia. The match started out all Karanusic. He won the first set fairly easily at 6-3 and was up 3-1 in the second. Then the rain came and play was delayed approximately 90 minutes. When the sun began to peak, so did Amritraj, as he broke Karanusic. The two continued to go point for point until they were into a tiebreaker. Amritraj gave it his all, but couldn't force the third set as Karanusic won (7/5).
The weather report for today is clear -- though a lot colder -- so I'm looking forward to catching a lot of junior tennis. Until tomorrow...
Here's a complete rundown of the U.S. Open Junior results for September 4th:
Boys' Singles
Andy Roddick (1) defeated Jesse Witten, 6-1,6-0; Peter Jon Nomdo defeated Phillip Harboe, 6-2,6-2; Alexander Schweizer defeated Oscar Posada, 7-5,5-7,6-4; Brian Baker defeated Tres Davis, 2-6,6-3,6-4; Daniel Munoz defeated Arnaud Segodo, 6-2,6-4; Stephen Mitchell defeated Phil Sheng, 4-6,7-5,6-3; Adam Kennedy defeated Bastian Gronefeld, 6-3,6-2; Ytai Abougzir (12) defeated Stefan Wiespeiner, 7-5,7-5; Darko Madjarovski defeated Rajeev Ram, 4-6,7-6(5),6-2; Joachim Johansson (3) defeated Giancarlo Capuccio, 6-3,6-4; Roko Karanusic defeated Prakash Amritraj, 6-3,6-7(5); Raven Klaasen defeated Peter Richman, 6-0,6-1; Simon Stadler (9) defeated Roger Gubser, 6-2,6-0; Matthew Smith defeated Simon Rea (15), 7-5,6-4; Hiroki Kondo defeated Jhonnathan Medina, 6-7,(2),7-6(5),6-1
Girls' Singles
Virag Nemeth defeated Melanie Marois, 6-7(3),6-4,7-5; Petra Cetkovska defeated Jane O'Donoghue, 6-3,6-4; Su-Wei Hsieh defeated Angelique Widjaja, 6-2,3-6,6-7(9); Bethanie Mattek defeated Kaia Kanepi (7), 7-6(2),6-4; Tanner Cochran defeated Erin Burdette, 7-6(6),6-3; Matea Mezak (13) defeated Dorottya Magas, 7-6(4),6-7(3),6-2; Edina Gallovits defeated Jenny Lindstrom, 6-4,6-2; Vera Zvonareva (14) defeated Kristen Schlukebir, 6-2,6-2; Melissa Dowse defeated Kumiko Iijima, 5-7,6-2,6-4; Lauren Barnikow defeated Maria Penkova, 6-3,4-6,6-1; Annette Kolb defeated Melissa Torres, 6-3,6-3; Stephanie Cohen Aloro defeated Sunitha Rao, 6-3,6-4; Ashley Harkleroad defeated Eva Birnerova (9), 6-3,6-2; Christina Wheeler (16) defeated Jelena Jankovic, 3-6,6-4,6-1; Melinda Czink defeated Amiella Mojzis, 2-6,7-5,6-3
PAST WINNERS OF U.S. OPEN JUNIOR CHAMPIONSHIPS WINNERS
---


TENNIS BOOKSTORE