July 30, 2007-Day Three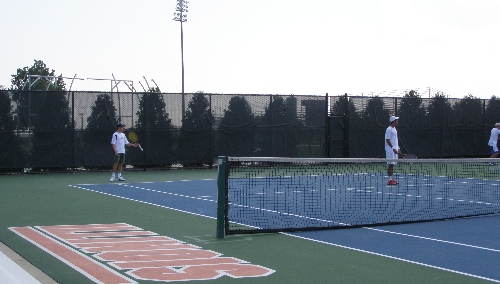 It was a very long, hot day of tennis at the USTA Boys 18 National Team Championships as I made my way through two sites and many of matches.
I started the day at the University of Illinois with a great matchup between No. 2 Southern and No. 3 Florida. Top-ranked players were placed against each other in every spot so I knew it was going to be a close one. I made my way around a bit to look at the matches, starting at the first court with Houston Barrick & Brennan Boyajian. At first Brennan appeared overwhelmed by the hard-hitting UVA freshman, but as soon as he got his rhythm it became an extremely tight match. After Houston squeaked by the first set in a 7/5 tiebreaker the second could have gone either way with set points for both before another breaker. With a 8/6 win in this one, Houston took a point for Southern.
There were close matches everywhere. Erik Quigley just got by Ryan Kim, 6-4,7-5 and James Bo Seal made it over Joey Burkhardt, 6-3,7-6(8) for two more Southern points. Ryan Lipman took out Zach Hunter, 6-2,6-3, and Drake Bernstein had his match when Luke Mojica retired in the third, but Erik Hannah (pictured right) picked one up for Florida over Devin Britton, 3-6,6-4,6-4 before Southern moved on for a another chance at a title.
I made it over to the Lindsay Courts (resisting the temptation to jump into the large pool and water slides next door) where the atmosphere was definitely Caribbean laid back as that team took on Northern California. I can't say there were a lot of close matches there as it was clear that the latter team had a lot more experience on hardcourts. In fact, they lost only eight games in five matches (Caribbean didn't have a sixth player).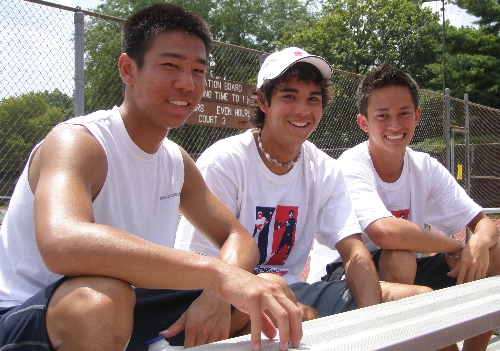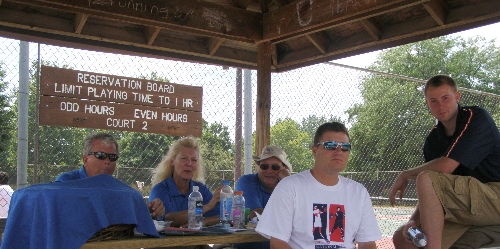 Honestly, I just decided to stop by the Atkins Tennis Center in the late afternoon to check out how my hometown Eastern team was doing. It was the end of the day, I was hot and tired, and I thought I would just watch a bit -- until things started to get very interesting. We have a running joke when I'm at the tournament desk in Port Washington that the last match always seems to split sets. We could have the other 16 courts off and be packing up for the night when someone comes up to ask for new balls because they just went into a third set. This is pretty much what happened today. Just when everyone thought it would be over, four courts split sets. And, since the team match was not decided, there were no 10-point tiebreakers. The matches would all have to go to full third sets.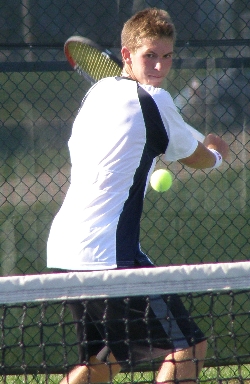 Middle States had won the doubles point for the early lead, but the next ones -- Curtis Roby over Walker Lyons and Matthew Kandath defeating Ravi Yegya-Raman -- belonged to Eastern. It then came down to the four courts in third sets. After losing the first (1-6) and barely clearing the second (7-5), Steven Williams breezed past Casey Watts in the third, only losing one game, giving the East its third point. With three courts remaining it looked to be a clear win, but Derek DiFazio fell in an incredible match, 4-6,7-5,7-5, to David Holland and Carlin Murray beat George Laffey, 6-3,2-6,6-4. It was tied at 3-3 and with the feeling of a college match, all eyes were on the last court -- David Fink and Marcus Rebersak (pictured left). It was worth the watch as both players hit winners and it went down to the wire before a very excited David Fink took it for Eastern, 3-6,7-6(5),6-4.

I missed the Southern California-Midwest semifinal today -- all straight sets with a 5-2 victory for the top-seeded Westcoasters, producing a repeat of last year with No. 1 Southern California against No. 2 Southern. And it promises to be a good one.

Until tomorrow,
Marcia Frost pictured above: Northern Cal players Ronald Wu, Chris Ho & Austin Andres; Staff at Lindsey Courts

Stories & Photos from the 2006 Boys 18 National Championships
Click On A Photo To Enlarge
Brennan Boyajian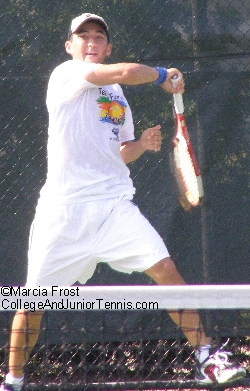 Ryan Kim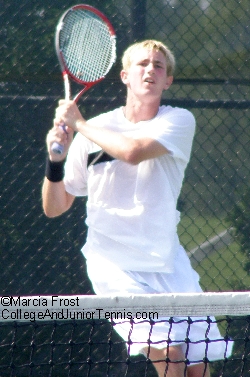 Joey Burkhardt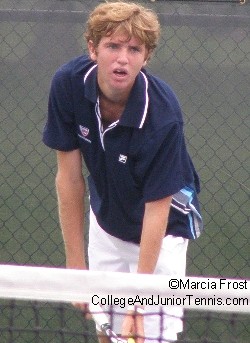 Ryan Lipman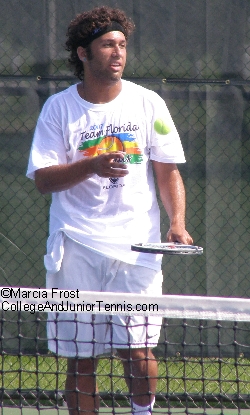 Zach Hunter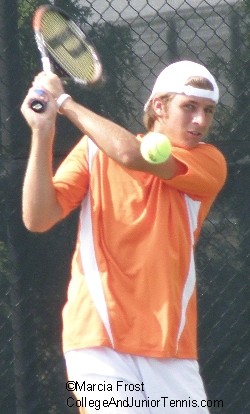 Devin Britton
Cutis Roby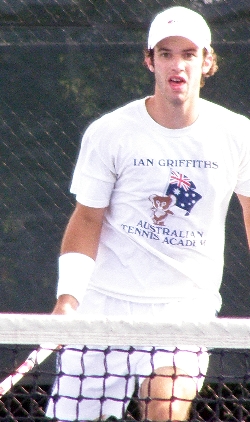 Walker Lyons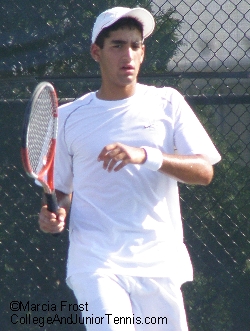 Matthew Kandath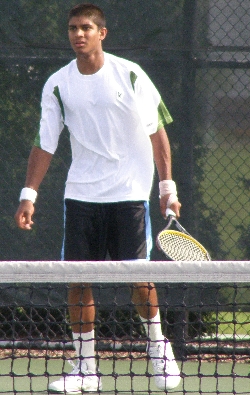 Ravi Yega-Raman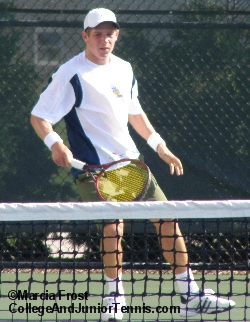 Derek DiFazio
Carlin Murphy
George Laffey