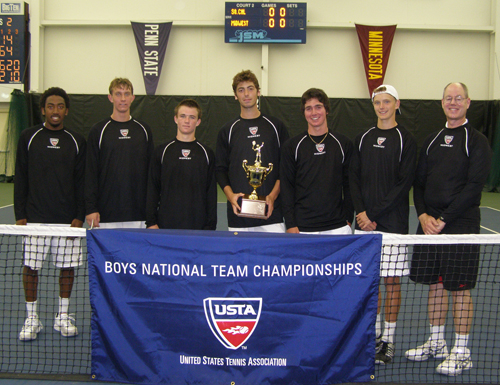 As usual, there was last minute excitement at the USTA Boys' 18 National Team Championship, but this year it wasn't a final set in the final match. It was a new champion and they got the win in their own backyard.
I've been bragging lately about how wonderful the weather has been in Champaign-Urbana the past few months -- warm, dry and little rain. Well, all that changed for the final day of the Boys' National Team. Soon after matches began heavy rains came. It became a juggling act of matches going on and off. (I have to admit that I'm pretty impressed at how tournament directors tournament directors Alex Voss & Jim Tressler managed to get almost all the matches in. Of course, having 12 additional courts at the brand new Khan Tennis Center certainly helped.)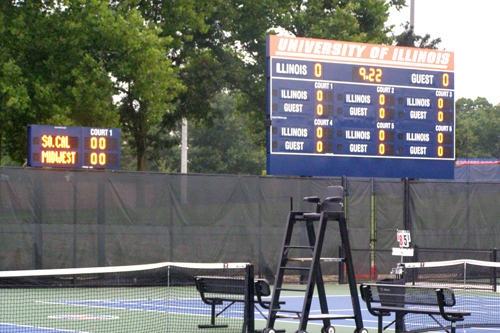 For the last five years, Coach Barry Horowitz has led a team from Southern California to first place and this year the top seeds were dethroned by the second-seeded hometown heroes. With a little help from the rain (forcing more familar indoor play), the Midwest (above) team took the title over Southern Cal (below) with score of 5-2.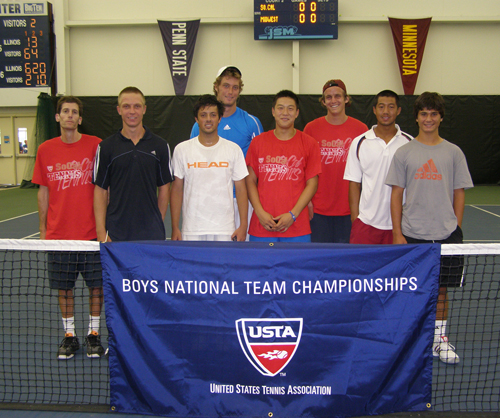 The doubles point in the championship went to Southern California, with JT Sundling & Clay Thompson squeezing by Chase Buchanan & Evan King, 9-8(4), in the third match. Midwest had quick revenge as Billy Bertha eliminated Dennis Lin, 6-3,6-3, and then Chase took his match over JT (6-4,6-4). It was a little while before Michael Moore brought in the third point for Midwest with a 2-6,6-4,6-2 over Clay Thompson, then Evan King sealed it in the third set over Lawrence Formentera (6-2,3-6,6-3). Each team would pick up one more win for the final 5-2 score.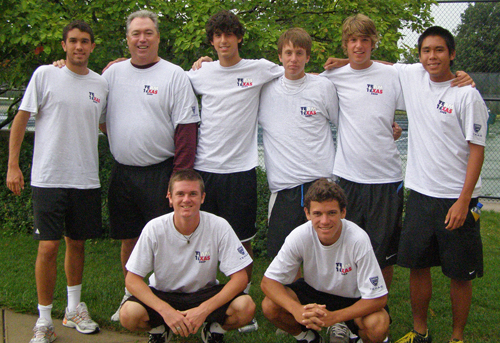 Unfortunately, the rain kept the third place playoff from being complete. Texas (above) and Southern (below) were left with a 3-3 tie without the doubles played. Eastern took fifth place with a 5-1 win over Florida and Missouri Valley won the seventh place playoff over Intermountain, 4-2.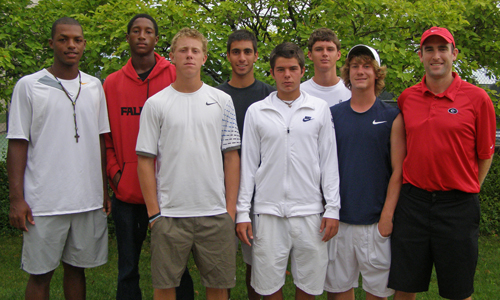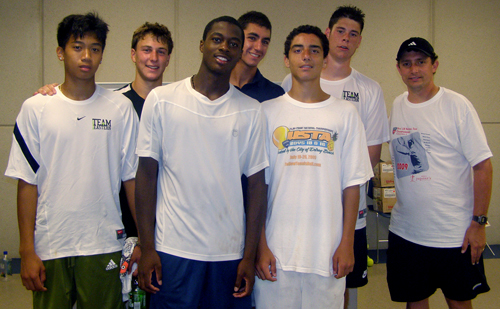 Eastern Team
Stories & Photos from the 2008 Boys 18 National Team Champs
Stories & Photos from the 2007 Boys 18 National Team Champs

Monthly Guides to
College Tennis Planning
Available in Kindle, Print & EBook
for H.S. Seniors
and H.S. Juniors
Create an Amazon Wedding Registry
Return to:
College And Junior
Tennis Homepage