Friday, August 3, 2007-Final Day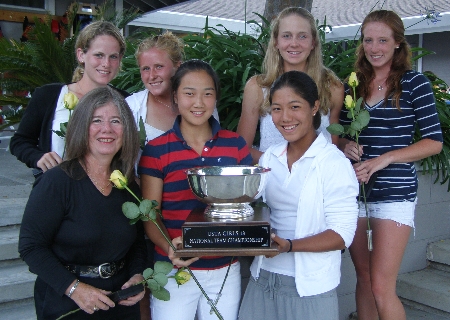 It may have been a different match from last year, but the end result was just the same -- Coach Marian Rosenwasser led the Eastern team to the USTA National Girls 18 Team Championship.
The setting couldn't have been more beautiful with sunny weather and a clear sky above the mountains as the Southern team (below) took the court against Eastern. The doubles was great as Eastern took it with the top two. It was then decided to let the top tier rest and play 4,5,6 singles first. Eastern's Stevi Petrelli, struggling with a stomach strain, fell quickly to Courtney McLane, 6-1,6-1, bringing the team score to 1-1, but the tie would not last long.
Hilary Bartlett and Kristi Boxx played an exciting first set, however, after Hilary won the first Kristi couldn't get back into it and dropped the next Southern point with a 6-1 loss. Ryann Cutillo lost the first set in a battle with Kathryn Talbert that continued through a 2-6,6-4,7-6 victory and a third point for Eastern before the top half of the lineup even got on court.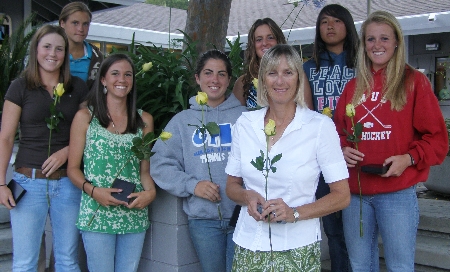 Kristie Ahn clinched the Eastern championship with a 6-1,6-1 win over Keri Wong. It was a win deserving of celebration, but it was not the match that was garnering all of the attention at the Meridian Sports Club. All eyes were actually focused on Court 6 where -- in the words of many -- one of the best girls tennis matches ever seen was taking place. It was between Shinann Featherston and Reka Zsilinszka and the two had only met on the court once before -- in the finals of this event last year, when Reka took the match in a tiebreaker.
Describing the match between Shinann & Reka can not do it justice. The points were just incredible with winners from both that looked impossible to pull off. The match seemed to have an edge to Shinann, not by ranking, but by determination and a constant "C'mon" as she volleyed to perfection. Reka also played the best I had ever seen, quickly abandoning her normal lob to keep up with Shinann. On the next court teammate Stacey Lee lost to Claire Bartlett not only because Claire played great, but because Stacey admitted she couldn't help but to focus on the match next door even more than her own! And when it was done Shinann got even for last year with a 6-4,2-6,6-3 finish.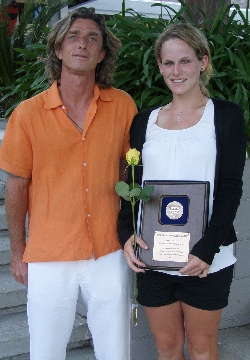 Southern California defeated Florida, 6-1, for the third place and in the fifth place playoff Midwest took out Northern California in a 4-3 match that didn't finish until evening. Tournament Director Laurent Lecellier and Referee Pua Johnson (who also ran a tournament desk like clockwork) managed to move locations without missing any of the great history of this tournament. I am now off to Berkeley to check out the new location of the Girls' 18 Nationals...
Until Next Year,
Marcia Frost
Above right: Laurent Lecellier and Stevi Petrelli, who picked up the Sportsmanship Award to take with her to Yale.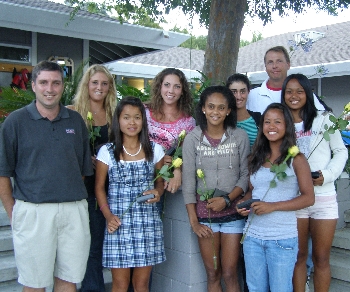 3rd Place Southern California team
Click On A Photo To Enlarge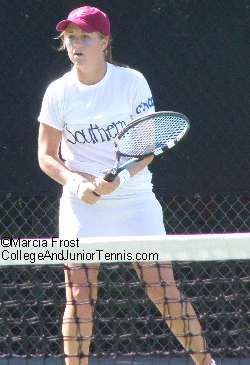 Courtney McLane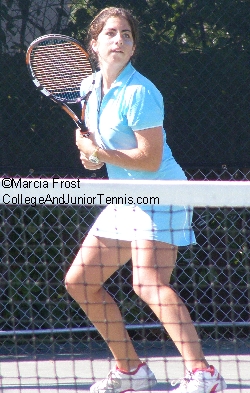 Kristi Boxx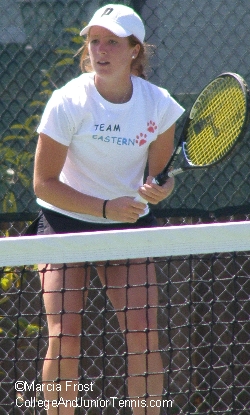 Ryann Cutillo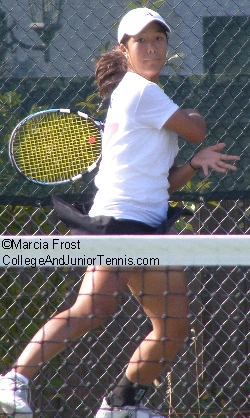 Kristie Ahn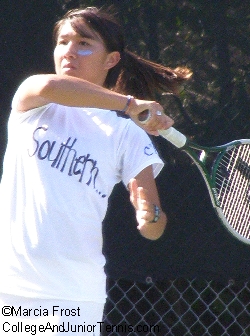 Keri Wong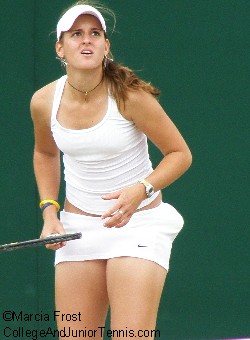 Reka Zsilinszka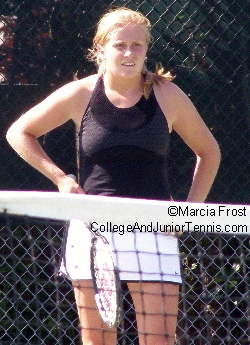 Shinann Featherston
Cameron Hubbs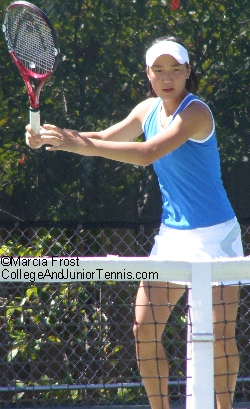 Stacey Lee

Monthly Guides to
College Tennis Planning
Available in Kindle, Print & EBook
for H.S. Seniors
and H.S. Juniors
Return to:
College And Junior
Tennis Homepage