At Wimbledon With Marcia Frost...
Monday, July 2nd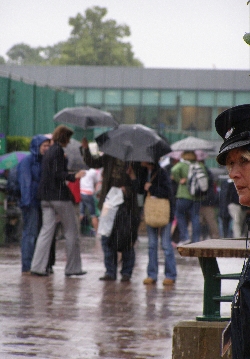 The rain continued through most of the day today and, once again, not a single junior match was played. Still, I managed to keep myself busy watching some great tennis from two generations of players.
American men are dwindling in the men's singles draw yet there were quite a few still left in men's doubles today. Former college players Amer Delic (NCAA Champion for Illinois) and Bobby Reynolds (Vanderbilt) finally completed what I've been referring to as "the endless match." Unfortunately for the Americans, it wasn't the outcome they had wanted. The match had begun on Friday and finally concluded today -- with just one break in the final sets -- at 6-3,4-6,6-7,6-7,14-12 in favor of tenth-seeded Arnaud Clement & Michael Llodra.

Just a few courts from Amer & Bobby were three more college players battling it out. David Martin & Scott Lipsky, Stanford grads two years ago who got here through the qualifying, squeaked by in a great display of grasscourt doubles over Michael Berrer & Michael Kohlmann, 6-7,7-5,7-6,7-6. At the same time (next door and at times echoing the same score), former NCAA doubles champion Rajeev Ram and partner Harel Levy also got through a tight one that needed another start after the afternoon rain, 7-6,6-7,7-6,6-7,10-8 (in the game's fifth match point) over No. 15 Garcia & Prieto.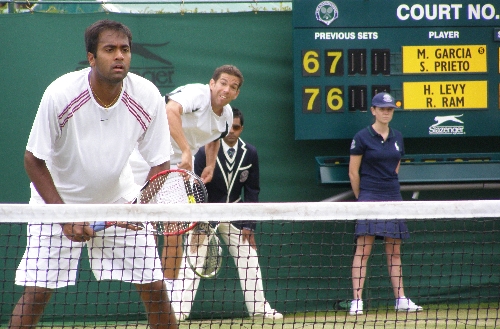 While I was waiting for the rain to stop today I had some time to work on another story. Wimbledon champion and tennis legend Stan Smith is playing in his final Championship this year, coached for the first time by his son, Duke Associate Head Coach Ramsey. I spoke with both today and watched some of their practice. There is no doubt that Stan Smith, who will be partnering with Ilie Natase, is still an incredible player. It was a lot of fun watching father and son pretty much coach each other.
At this point I don't want to speculate on what I will actually get to cover tomorrow. The weather forecast is once again not looking too good. With any luck I will get to see some juniors and some legends.
Until Tomorrow,
Marcia Frost

Story & Photos from June 30th
Story & Photos from June 29th
Story from June 28th
The Official Wimbledon site is one of the best around and also has coverage of the junior events. Be sure to check it out at http://www.Wimbledon.org