2000 WINGSPAN.COM/WTT NATIONAL COLLEGIATE CHAMPIONSHIPS
Stanford University - Palo Alto, California
October 6-8, 2000
FRIDAY, OCTOBER 6th-DAY ONE
The second annual Wingspan.com/WTT National Collegiate Championships began at Stanford with lots of overtime, but few surprise endings. Using the WTT format of scoring*, the event features 16 men's and women's college teams competing for three days.
The results for Friday are as follows:
FIRST ROUND
Stanford 29, Tulsa 19 (OT)
Notre Dame 28, Texas A&M 24 (OT)
Mississippi State 25, UCLA 24 (1-0)
Virginia Commonwealth 27, Illinois 23 (OT)
Clemson 28, Southern California 23
Minnesota 27, LSU 26 (1-0)
South Carolina 28, Mississippi 14
South Alabama 30, San Diego State 15
SECOND ROUND
Stanford 27, Notre Dame 21 (OT)
Texas A&M 21, Tulsa 20(1-0)
Mississippi State 30, Illinois 16 (OT)
Southern California 24, Minnesota 23
LSU 26, Clemson 25
Mississippi 21, San Diego State 18
South Alabama 23, South Carolina 19
*The WTT team tennis scoring was originated by Billy Jean and Larry King. It features teams of two men and two women. Each match is made up of five sets -- one men's singles, one women's singles, one men's doubles, one women's doubles and one mixed doubles. Each game won is awarded a point and a nine-point tiebreaker is played if a set reaches five all. Overtime and a "supertiebreaker" are played, if necessary.
Stanford 29, Tulsa 19 (OT)
Alex Kim (S) -- pictured right -- defeated Steve Timperley (T), 6-2
Lauren Barnikow (S) defeated Alex Durska (T), 6-3
Shri Sudhaker/Steve Timperley (T) defeated Ali Ansari/Scotty Scott (S), 6-3
Lauren Barnikow/Lauren Kalvaria (S) defeated Jennifer DeSpain/Jana Sedivac (T), 6-2
(Sudhaker sub at 1-4)
Jennifer DeSpain/Steve Timperley (T) defeated Ali Ansari/Keiko Tokuda (S), 6-5
OT: Ali Ansari/Keiko Tokuda (S) defeated Jennifer DeSpain/Steve Timperley (T), 1-0
Notre Dame 28, Texas A&M 24 (OT)
Aaron Talarico (ND) defeated Cody Hubbell (AM), 6-4
Martina Nedorostova (AM) defeated Kimberly Guy (ND), 6-5
Javier Taborga/Aaron Talarico (ND) defeated Cody Hubbell/Jarin Skube (AM), 6-2
Martina Nedorostova/Jessica Roland (AM) defeated Katie Cuhna/Kimberly Guy (ND), 6-5
Martina Nedorostova/Jarin Skube (AM) defeated Katie Cuhna/Javier Taborga (ND), 6-5
OT: Katie Cuhna/Javier Taborga (ND) defeated Martina Nedorostova/Jarin Skube (AM), 1-0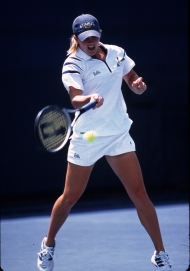 Mississippi State 25, UCLA 24 (1-0)
Marco Baron (MSU) defeated Jean-Julien Rojer (UCLA), 6-4
Sara Walker (UCLA) -- pictured right -- defeated Amelie Detriviere (MSU), 6-4
Marco Baron/Charles Sevigny (MSU) defeated Jean-Julien Rojer/Chris Sands (UCLA), 6-2
Sara Walker/Zana Zlebnik (UCLA) defeated Amelie Detriviere/Claudia Oliveira (MSU), 6-4
Chris Sands/Zana Zlebnik (UCLA) defeated Marco Baron/Amelie Detriviere (MSU), 6-4
Supertiebreaker: Marco Baron/Amelie Detriviere (MSU) defeated Chris Sands/Zana Zlebnik (UCLA), 1-0(7-1)
Virginia Commonwealth 27, Illinois 23 (OT)
Frank Moser (VCU) defeated Amer Delic (UI), 6-4
Andrea Ondrisova (VCU) defeated Eldina Fazlic (UI), 6-3
Florian Marquardt/Frank Moser (VCU) defeated Amer Delic/Brian Wilson (UI), 6-4
Martina Nedelkova/Andrea Ondrisova (VCU) defeated Eldina Fazlic/Michelle Webb (UI), 6-4
Michelle Webb/Brian Wilson (UI) defeated Florian Marquardt/Martina Nedelkova (VCU), 6-2
OT: Florian Marquardt/Martina Nedelkova (VCU) vs. Webb/Wilson (UI), 1-2
Clemson 28, Southern California 23
Josh Goffi (C) defeated Ryan Moore (SC), 6-3
Carmina Giraldo (C) defeated Jewel Peterson (SC), 6-5
Josh Goffi/Darren Knight (C) defeated Ryan Moore/Nick Rainey (SC), 6-4
Tiffany Brymer -- pictured right/Jewel Peterson (SC) defeated Carmina Giraldo/Laurence Jayet (C), 6-4 Josh Goffi/Darren Knight (C) def. Tiffany Brymer/Nick Rainey (SC), 6-3

Minnesota 27, LSU 26 (1-0)
Ajay Ramaswami (LSU) defeated Thomas Haug (UM), 6-5
Michaela Havelkova (UM) defeated Fernanda Tsucamoto (LSU), 6-4
Kiernan/Ajay Ramaswami (LSU) defeated Thomas Haug/Harsh Mankad (UM), 6-4
Amy McIlhaney/Fernanda Tsucamoto (LSU) defeated Michaela Havelkova/Amy Thomas (UM), 6-5
Harsh Mankad/Amy Thomas (UM) defeated Kiernan/Amy McIlhaney (LSU), 6-4
Supertiebreaker: Harsh Mankad/Amy Thomas (UM) defeated Kiernan/Amy McIlhaney (LSU), 1-0 (7-6)

South Carolina 28, Mississippi 14

Seth Rose (SC) defeated David Blackburn (UM), 6-2
Hanna-Katri Aalto (UM) defeated Katarina Markovski (SC), 6-4
Guillaume Legat/Seth Rose (SC) defeated David Blackburn/Jim Jacobs (UM), 6-3
Katy Boyanovich/Jennifer Radman (SC) defeated Hanna-Katri Aalto/Karem Harboe (UM), 6-0
Guillaume Legat/Jennifer Radman (SC) defeated Hanna-Katri Aalto/David Blackburn (UM), 6-3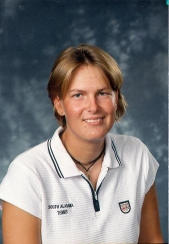 South Alabama 30, San Diego State 15
Christian Thall (SA) defeated Oliver Maiberger (SD), 6-3
Martina Ondrejkova (SA) -- pictured right -- defeated Katey Becker (SD), 6-3
Christian Thall/Kosta Zinchanka (SA) defeated Oliver Maiberger/Valentino Pest (SD), 6-2
Josien Booehof/Nienke Scheltens (SA) defeated Julie Chidley/Whitney Wells (SD), 6-2
Nienke Scheltens/Kosta Zinchanka (SA) defeated Oliver Maiberger/Whitney Wells (SD), 6-5
Stanford 27, Notre Dame 21 (OT)
Alex Kim (S) defeated Aaron Talarico (ND), 6-1
Lauren Barnikow (S) defeated Kimberly Guy (ND), 6-2
Ali Ansari/Scotty Scott (S) defeated Javier Taborga/Talarico (ND), 6-4
Katie Cuhna/Kimberly Guy (ND) defeated Lauren Barnikow/Lauren Kalvaria (S), 6-5
Katie Cuhna/Javier Taborga (ND) defeated Ali Ansari/Keiko Tokuda (S), 6-3
Katie Cuhna/Javier Taborga (ND) defeated Ansari/Keiko Tokuda (S), 2-1
Texas A&M 21, Tulsa 20(1-0)
Cody Hubbell (AM) defeated Micah Zomer (T), 6-3
Alex Durska (T) defeated Jessica Roland (AM), 6-2
Cody Hubbell/Jarin Skube (AM) defeated Shri Sudhaker/Steve Timperley (T), 6-3
Jennifer DeSpain/Jana Sedivac (T) defeated Martina Nedorostova/Jessica Roland (AM), 6-0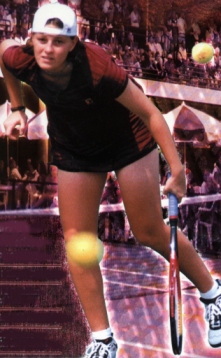 Martina Nedorostova -- pictured right/Jarin Skube (AM) defeated Jennifer DeSpain/Shri Sudhaker (T), 6-2
Supertiebreaker: Martina Nedorostova/Jarin Skube (AM) defeated Jennifer DeSpain/Shri Sudhaker (T), 1-0 (7-4)
Mississippi State 30, Illinois 16 (OT)
Marco Baron (MSU) defeated Brian Wilson (UI), 6-2
Amelie Detriviere (MSU) defeated Eldina Fazlic (UI), 6-5
Marco Baron/Charles Sevigny (MSU) defeated Amer Delic/Brian Wilson (UI), 6-3
Amelie Detriviere/Claudia Oliveira (MSU) defeated Eldina Fazlic/Michelle Webb (UI), 6-3
Amer Delic/Michelle Webb (UI) defeated Marco Baron/Amelie Detriviere (MSU), 6-5
OT: Marco Baron/Amelie Detriviere (MSU) defeated Amer Delic/Michelle Webb (UI), 1-0

Southern California 24, Minnesota 23
Ryan Moore (USC) defeated Harsh Mankad (UM), 6-3
Amy Thomas (UM) defeated Jewel Peterson (USC), 6-2
Ryan Moore/Nick Rainey (USC) defeated Thomas Haug/Harsh Mankad (UM), 6-5
Michaela Havelkova/Amy Thomas (UM) defeated Tiffany Brymer/Jewel Peterson (SC), 6-5
Tiffany Brymer/Nick Rainey (USC) defeated Thomas Haug/Michaela Havelkova (UM), 6-2
LSU 26, Clemson 25
Darren Knight (C) defeated Daniel Kiernan (LSU), 6-3
Laurence Jayet (C) defeated Fernanda Tsucamoto (LSU), 6-5
Kiernan/Ajay Ramaswami(LSU) Tsucamoto Josh Goffi/Darren Knight (C), 6-4
My McIlhaney/Fernanda Tsucamoto (LSU) defeated Carmina Giraldo/Laurence Jayet (C), 6-5
Ajay Ramaswami/My McIlhaney(LSU) defeated Carmina Giraldo/Darren Knight (C), 6-4

Mississippi 21, San Diego State 18
Valentino Pest (SD) defeated David Blackburn (UM), 6-2
Hanna-Katri Aalto (UM) defeated Katey Becker (SD), 6-1
Oliver Maiberger/Valentino Pest (SD) defeated David Blackburn/Lason Cousins (UM), 6-1
Hanna-Katri Aalto/Karem Harboe (UM) defeated Julie Chidley/Whitney Wells (SD), 6-3
Hanna-Katri Aalto/David Blackburn (UM) defeated Oliver Maiberger/Whitney Wells (SD), 6-2
South Alabama 23, South Carolina 19
Christian Thall (SA) defeated Guillaume Legat (SC), 6-1
Katarina Markovski (SC) defeated Martina Ondrejkova (SA), 6-1
Christian Thall/Kosta Zinchanka (SA) defeated Guillaume Legat/Seth Rose (SC), 6-4
Katy Boyanovich/Jennifer Radman (SC) defeated Josien Booehof/Nienke Scheltens (SA), 6-4
Nienke Scheltens/Kosta Zinchanka (SA) defeated Seth Rose/Jennifer Radman (SC), 6-2

---