2000 WINGSPAN.COM/WTT NATIONAL COLLEGIATE CHAMPIONSHIPS
Stanford University - Palo Alto, California
October 6-8, 2000
SATURDAY, OCTOBER 7th-DAY TWO
At the completion of the second day of the Wingspan.com/WTT Championships, last year's winner, Texas A&M, ended in 10th place after losing to Minnesota. Sunday's final will put top-ranked host Stanford against South Alabama for an interesting match-up.
The results for Saturday are as follows:
15th Place Match
San Diego State 25, Tulsa 19
13th Place Match
UCLA 23, LSU 17 (OT)
11th Place Match
Illinois 30, Mississippi 16
9th Place Match
Minnesota 30, Texas A&M 21 (OT)
7th Place Match
Southern California 24, South Carolina 21 (OT)
5th Place Match
Mississippi State 29, Notre Dame 21
Semifinals
Stanford 25, Virginia Commonwealth 23 (OT)
South Alabama 26, Clemson 18 (OT)
Quarterfinals
Stanford 28, Texas A&M 18
Notre Dame 25, Tulsa 24 (1-0 in Supertiebreaker)
Virginia Commonwealth 28, Mississippi State 13
Illinois 24, UCLA 21
Southern California 23, LSU 20 (OT)
Clemson 24, Minnesota 20
South Alabama 25, Mississippi 17
South Carolina 24, San Diego State 23
*The WTT team tennis scoring was originated by Billy Jean and Larry King. It features teams of two men and two women. Each match is made up of five sets -- one men's singles, one women's singles, one men's doubles, one women's doubles and one mixed doubles. Each game won is awarded a point and a nine-point tiebreaker is played if a set reaches five all. Overtime and a "supertiebreaker" are played, if necessary.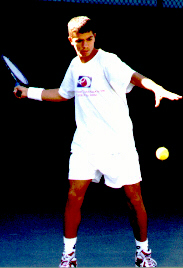 San Diego State 25, Tulsa 19
Oliver Maiberger (SD) defeated Steve Timperley (T), 6-2
Alex Durska (T) defeated Katey Becker (SD) , 6-3
Shri Sudhaker/Steve Timperley (T) defeated Oliver Maiberger/Valentino Pest (SD), 6-4
Julie Chidley/Whitney Wells (SD) defeated Jennifer DeSpain/Jana Sedivac (T), 6-4
Oliver Maiberger/Whitney Wells (SD) defeated Jennifer DeSpain/Micah Zomer (T), 6-1
UCLA 23, LSU 17 (OT)
Jean-Julien Rojer (UCLA) -- pictured right -- defeated Dan Kiernan (LSU), 6-2
Sara Walker (UCLA) defeated Fernanda Tsucamoto (LSU), 6-0
Dan Kiernan/Ajay Ramaswami (LSU) defeated Jean-Julien Rojer/Chris Sands (UCLA), 6-4
Sara Walker/Zana Zlebnik (UCLA) defeated Amy McIlhaney/Fernanda Tsucamoto (LSU), 6-3
Dan Kiernan/Amy McIlhaney (LSU) defeated Chris Sands/Zana Zlebnik (UCLA), 6-0
Chris Sands/Zana Zlebnik (UCLA) defeated Dan Kiernan/Amy McIlhaney (LSU), 1-0
Illinois 30, Mississippi 16
Brian Wilson (UI) defeated Jim Jacobs (UM), 6-1
Eldina Fazlic (UI) defeated Harboe (UM), 6-5
Amer Delic/Wilson (UI) defeated David Blackburn/Mason Cousins (UM), 6-4
Eldina Fazlic/Michelle Webb (UI) defeated Hanna-Katri Aalto/Karem Harboe (UM), 6-3
Amer Delic/Michelle Webb (UI) defeated Hanna-Katri Aalto/David Blackburn (UM), 6-3
Minnesota 30, Texas A&M 21 (OT)
Harsh Mankad (UM) defeated Cody Hubbell (AM), 6-5
Michaela Havelkova (UM) defeated Jessica Roland (AM), 6-3
Thomas Haug/Harsh Mankad (UM) defeated Cody Hubbell/Jarin Skube (AM), 6-4
Michaela Havelkova/Amy Thomas (UM) defeated Martina Nedorostova/Jessica Roland (AM), 6-3
Jessica Roland/Jarin Skube (AM) defeated Michaela Havelkova/Thomas Haug (UM), 6-5
Michaela Havelkova/Thomas Haug (UM) defeated Jessica Roland/Jarin Skube (AM), 1-0
Southern California 24, South Carolina 21 (OT)
Ryan Moore (So Cal) defeated Seth Rose (SC), 6-2
Jewel Peterson (So Cal) defeated Katarina Markovski (SC), 6-5
Ryan Moore/Nick Rainey (So Cal) defeated Guillaume Legat/Seth Rose (SC), 6-2
Katy Boyanovich/Jennifer Radman (So Cal) defeated Tiffany Brymer/Jewel Peterson (SC), 6-1
Guillaume Legat/Jennifer Radman (SC) defeated Tiffany Brymer/Nick Rainey (So Cal), 6-4
Tiffany Brymer/Nick Rainey (So Cal) defeated Guillaume Legat/Jennifer Radman (SC), 1-0
Mississippi State 29, Notre Dame 21
Charles Sevigny (MSU) defeated Javier Taborga (ND), 6-4
Amelie Detriviere (MSU) -- pictured right -- defeated Katie Cuhna (ND), 6-4
Chris McDonald/Charles Sevigny (MSU) defeated Javier Taborga/Aaron Talarico (ND), 6-2
Katie Cuhna/Kimberly Guy (ND) defeated Amelie Detriviere/Claudia Oliveira (MSU), 6-5
Amelie Detriviere/Charles Sevigny (MSU) defeated Kimberly Guy/Aaron Talarico (ND), 6-5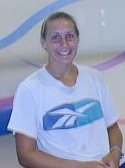 Stanford 25, Virginia Commonwealth 23 (OT)
Frank Moser (VCU) defeated Alex Kim (S), 6-3
Lauren Barnikow (S) -- pictured right -- defeated Andrea Ondrisova (VCU), 6-2
Ali Ansari/Scotty Scott (S) defeated Florian Marquardt/Frank Moser (VCU), 6-3
Martina Nedelkova/Andrea Ondrisova (VCU) defeated Lauren Barnikow/Lauren Kalvaria (S), 6-5
Florian Marquardt/Martina Nedelkova (VCU) defeated Scotty Scott/Keiko Tokuda (S), 6-4
Scotty Scott/Keiko Tokuda (S) defeated Florian Marquardt/Martina Nedelkova (VCU), 1-0
Stanford 28, Texas A&M 18
Alex Kim (S) defeated Cody Hubbell (AM), 6-1
Jessica Roland (AM) defeated Lauren Barnikow (S), 6-4
Ali Ansari/Scotty Scott (S) vs. Cody Hubbell/Jarin Skube (AM), 6-5
Lauren Barnikow/Lauren Kalvaria (S) defeated Martina Nedorostova/Jessica Roland (AM), 6-2
Scotty Scott/Keiko Tokuda (S) defeated Martina Nedorostova/Jarin Skube (AM), 6-4
Notre Dame 25, Tulsa 24 (1-0 in Supertiebreaker)
Shri Sudhaker (T) vs. Aaron Talarico (ND), 6-4
Alex Durska (T) defeated Kimberly Guy (ND), 6-5
Javier Taborga/Aaron Talarico -- pictured right -- (ND) defeated Shri Sudhaker/Steve Timperley (T), 6-5
Katie Cuhna/Kimberly Guy (ND) defeated Jennifer DeSpain/Jana Sedivac (T), 6-1
Jennifer DeSpain/Steve Timperley (T) defeated Katie Cuhna/Javier Taborga (ND), 6-3
Katie Cuhna/Javier Taborga (ND) defeated Jennifer DeSpain/Steve Timperley (T), 1-0
Virginia Commonwealth 28, Mississippi State 13
Frank Moser (VCU) defeated Charles Sevigny (MSU), 6-2
Amelie Detriviere (MSU) defeated Andrea Ondrisova (VCU), 6-4
Florian Marquardt/Frank Moser (VCU) defeated Chris McDonald/Charles Sevigny(MSU), 6-1
Martina Nedelkova/Andrea Ondrisova (VCU) defeated Amelie Detriviere/Claudia Oliveira (MSU), 6-3
Florian Marquardt/Martina Nedelkova (VCU) defeated Amelie Detriviere/Charles Sevigny (MSU), 6-1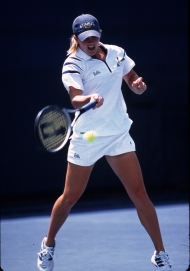 Illinois 24, UCLA 21
Jean-Julien Rojer (UCLA) defeated Amer Delic (UI), 6-3
Sara Walker (UCLA) -- pictured right -- defeated Eldina Fazlic (UI), 6-3
Amer Delic/Brian Wilson (UI) defeated Jean-Julien Rojer/Chris Sands (UCLA), 6-2
Eldina Fazlic/Michelle Webb (UI) defeated Sara Walker/Zana Zlebnik (UCLA), 6-4
Michelle Webb/Brian Wilson(UI) defeated Chris Sands/Zana Zlebnik (UCLA), 6-3
Southern California 23, LSU 20 (OT)
Ajay Ramaswami (LSU) defeated Ryan Moore (SC), 6-2
Jewel Peterson (SC) defeated Fernanda Tsucamoto (LSU), 6-1
Dan Kiernan/Ajay Ramaswami (LSU) defeated Ryan Moore/Nick Rainey (SC), 6-4
Tiffany Brymer/Jewel Peterson (SC) defeated Amy McIlhaney/Fernanda Tsucamoto (LSU), 6-1
Dan Kiernan/Amy McIlhaney (LSU) defeated Tiffany Brymer/Nick Rainey (SC), 6-4
Tiffany Brymer/Nick Rainey (SC) defeated Dan Kiernan/Amy McIlhaney (LSU), 1-0
Clemson 24, Minnesota 20
Thomas Haug (UM) defeated Josh Goffi (C), 6-1
Carmina Giraldo (C) defeated Michaela Havelkova (UM), 6-3
Thomas Haug/Harsh Mankad (UM) defeated Josh Goffi/Darren Knight (C), 6-5
Carmina Giraldo/Laurence Jayet (C) defeated Michaela Havelkova/Amy Thomas (UM), 6-0
Josh Goffi/Laurence Jayet (C) defeated Hash Mankad/Amy Thomas (UM), 6-5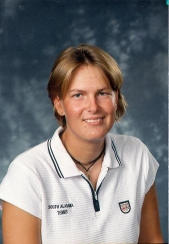 South Alabama 30, Mississippi 17
Christian Thall (SA) defeated Jim Jacobs (UM), 6-0
Martina Ondrejkova (SA) -- pictured right -- defeated Karem Harboe (UM), 6-5
Christian Thall/Kosta Zinchanka (SA) defeated David Blackburn/Mason Cousins (UM), 6-3
Josien Booehof/Nienke Scheltens (SA) defeated Hanna-Katri Aalto/Karem Harboe (UM), 6-5
Nienke Scheltens/Kosta Zinchanka (SA) defeated Hanna-Katri Aalto/David Blackburn (UM), 6-4
South Carolina 24, San Diego State 23
Oliver Maiberger (SD) defeated Seth Rose (SC), 6-3
Katarina Markovski (SC) defeated Katey Becker (SD), 6-4
Oliver Maiberger/Valentino Pest (SD) defeated Guillaume Legat/Seth Rose (SC), 6-3
Katy Boyanovich/Jennifer Radman (SC) defeated Julie Chidley/Whitney Wells (SD), 6-2
Guillaume Legat/Jennifer Radman (SC) defeated Valentino Pest/Whitney Wells (SD), 6-5
South Alabama 26, Clemson 18 (OT)
Josh Goffi (C) defeated Christian Thall (SA), 6-4
Martina Ondrejkova (SA) defeated Carmina Giraldo (C), 6-0
Christian Thall/Kosta Zinchanka (SA) defeated Josh Goffi/Darren Knight (C), 6-4
Josien Booehof/Nienke Scheltens (SA) defeated Carmina Giraldo/Laurence Jayet (C), 6-5
Darren Knight/Carmina Giraldo (C) defeated Nienke Scheltens/Kosta Zinchanka (SA), 6-3
Nienke Scheltens/Kosta Zinchanka (SA) defeated Darren Knight/Carmina Giraldo (C), 1-0
---