May 22, 2006-Day Five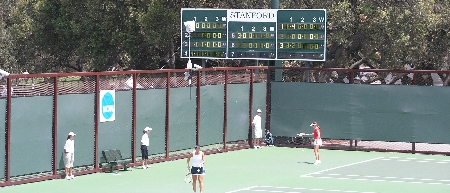 We're down to the wire in the team competition and -- though their road was a long one -- the top two men's teams have survived. The invinsible Stanford women (they have not lost a home match since 1999) are predictably in the finals, but their opponent was not expected. Thanks in good part to the the transfer of phenom Audra Cohen, the Miami women will be facing the Cardinals for the trophy.
Today was my first experience this year watching the Stanford women play as a team. Quite honestly, I had little doubt they would be in it to the end so I didn't rush to their matches. I soon found that all the hype was deserved. Coach Lele Forood has built a team full of champions and they are earning that title. That team is led by senior Amber Liu. Amber has already won three NCAA team titles and two single titles. She is just one away from Sandra Birch's record of the most NCAA crowns which means she is a very reachable two away from breaking it. Today she showed a stadium full of Stanford fans why she is in that position as she (and Celia Durkin) shut out Florida's middle doubles team and then continued winning every game in the first set of her match against Alexis Gordon (the match was not finished).
The crowd stood by as the Stanford women quickly took the doubles point and ran through every first set in their semifinal against No. 4 Florida. Though Celia Durkin had a slow start and gave the Gators their only lead in the entire competition (she was down 3-0), she was actually the first two finish wit a 6-4,6-0 win over Alex Liles. Alice Barnes was next as she just lost five games to National Indoors champion Diana Srebovic. It looked as if Theresa Logar would be next, but she just missed two match points and Whitney Deason topped Nina Suvak first. Despire the score, the Florida women were certainly out there fighting, but it was a losing battle.


The semifinal between No. 7 Miami and No. 3 Southern California had been started on Sunday and postponed until today because of the rain. Southern California had taken the doubles point and Miami was leading with wins in most of the first sets. The Hurricanes had beaten No. 2 Notre Dame on Friday night and they were certainly not out of this one. They used the day off to relax and re-group and came back swinging, with Patricia Starzyk and Caren Seenauth winning their singles in straight sets and Melissa Applebaum pulling it out in a third. Monika Dancevic clinched it for them with a 4-6, 6-4, 6-2 defeat of Luana Magnani.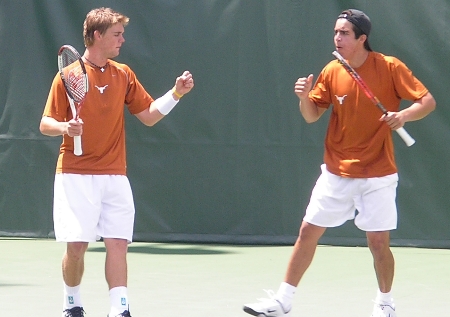 It was the men who were on stage this afternoon and what a performance it was. First up was No. 2 Pepperdine and No. 3 Texas. There was no doubt that the Waves had the energy and Coach Adam Steinberg was feeding it. They took the doubles point fairly quickly. Miguel Reyes Varela did eliminate Richard Johnson to give the Longhorns the first singles point, but Andre Begemann, Pedro Rico, Ivor Lovrak closed it out at 4-1 for Pepperdine.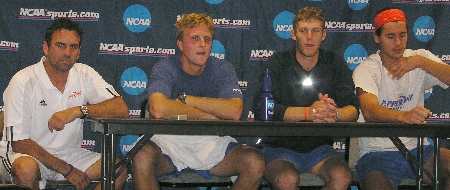 It doesn't get any closer than the No. 1 Georgia vs. No. 5 Baylor semifinal. Even the doubles point culminated to three courts with identical numbers -- 7-6 Baylor, 6-7 Georgia, 7-6 Baylor. Unfortunately for the Bulldogs, it was the Baylor courts that finished first and gave them the doubles. The singles continued the same momentum with each team taking turns winning. The 'dogs top player, John Isner, gave them their first point with a hard-fought 6-4,6-3 win over Lars Poerschke and he was followed by teammate Luis Flores. Then, almost simultaneously, Michal Kokta did it for Baylor to even up the score. All eyes turned to the back courts and 4,5,6.

Colin Purcell finished off Matt Brown and pushed Georgia to 3-2 and again the Bears came back with one of their own thanks to Vladimir Portnov. With a score of 3-3 it was all left to Georgia's Matic Omerzel and Baylor's Will Ward. The crowd went from wild (the umpire gave them warnings) to pin-drop silence as the two played a second-set tiebreaker (Matic had won the first in a breaker). Ricardo kept the edge on the points until, at 6-5, Matic had his match point. He couldn't pull it out, though, and Ricardo took the breaker at 9-7 and claimed the set. The third-set was certainly in favor of the Bulldogs and Matic Omerzal finally closed it out one hour after his teammates had finished with a 6-3 win.

I took a break from the action this afternoon between men's matches to attend some of the ITA Awards Banquet. It was a great event with food, music by the Wayne Bryan band, games (loved the musical chairs with coaches and their players!) and -- yes -- well-deserving awards. I will be posting all the winners (for all the divisions) within the next few days, but I would like to acknowledge the three seniors who won whom I just happened to have touted as players to watch coming onto the pro tour for my upcoming USTA Magazine/SMASH article. Congratulations to: John Van Nostrand Memorial Award-Ryler DeHeart, Illinois; Farnsworth/ITA Senior Player of the Year-Jonathan Stokke, Duke; and ITA Senior Player of the Year-Amber Liu, Stanford.

Tuesday's finals will certainly continue in the excitement of the week. Stanford-Miami will bring lots of great match ups, but I am most looking forward to the No. 1's Amber Liu and Audra Cohen going at it. As for Georgia-Pepperdine, Georgia did win at their National Indoors meeting, but Texas had also beaten the Waves before today. Can the Georgia streak be broken? Can Ivor Lovrak, who played on the 2004 winning Baylor team, become the first player noted as a NCAA winner on two different teams? Watch the live video and then turn your browser to College And Junior Tennis to find out.

Until Tomorrow,
Marcia Frost
P.S. I have to acknowledge some of this week's heros who hail from my hometown. Adam Steinberg is most certainly the first coach from our high school to play for an NCAA tennis championship. That is an incredible accomplishment since Ward Melville (Setauket, NY) is the lacrosse capital of the country (I didn't even remember them having tennis courts!). And another Long Islander who deserves a lot of credit this week is Stanford's James Wan. It was determined after Sunday night's match that James broke his wrist before playing his final set.

Click Here For Full Men's Team Results

Click Here For Full Women's Team Results

And... For some more insight into the 2006 NCAA Division I Championships, check out Colette Lewis' Blog at http://www.zootennis.com

click on a photo to enlarge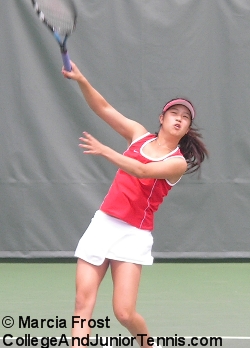 Amber Liu
Alexis Gordon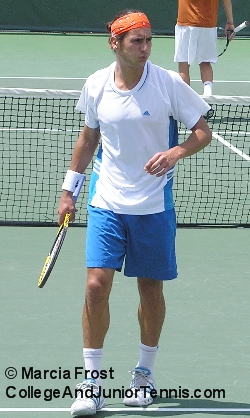 Pedro Rico
Boglarka Borecz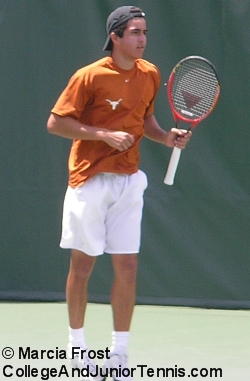 Luis Diaz Barriga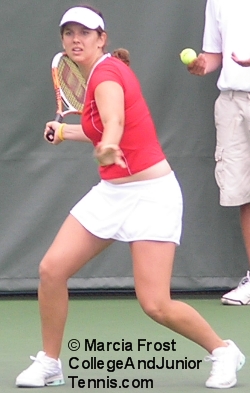 Celia Durkin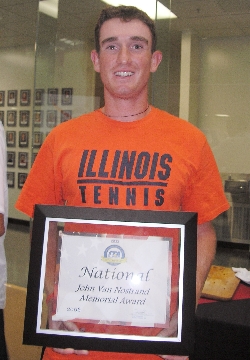 Ryler DeHeart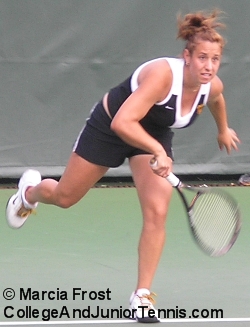 Luana Magnani









College Planning Made Easy...
Check out the Monthly Guide to College Tennis Planning





























Ibotta for Cash Back on Groceries AND Online Shopping
Get low monthly rates from the only national not-for-profit vision care company. VSP puts members first.
$12 off on your 1st
GrubHub order with this link!
Return to:
College And Junior
Tennis Homepage