May 23, 2006-Team Finals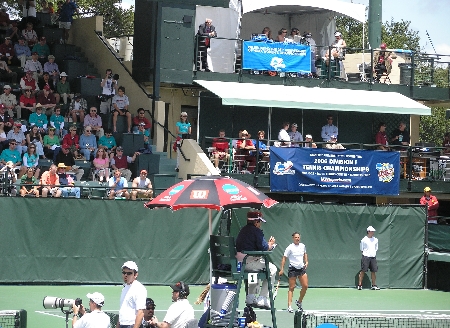 Something old and something new. It may be seem old that the Stanford women won yet another NCAA team crown, but to them this one is just as special as all the rest. Joining them is a new kid on the block -- Adam Steinberg and his Pepperdine men.
After an undefeated season (make that an undefeated two seasons and a 107th straight home victory) it didn't seem that anyone could beat Stanford. And that was never truer than today. The Miami women certainly gave it their all. Melissa Applebaum & Audra Cohen pushed top-ranked Alice Barnes & Anne Yelsey to 9-7 before succombing to the doubles point and the Hurricanes kept the momentum into the singles. It just wasn't enough.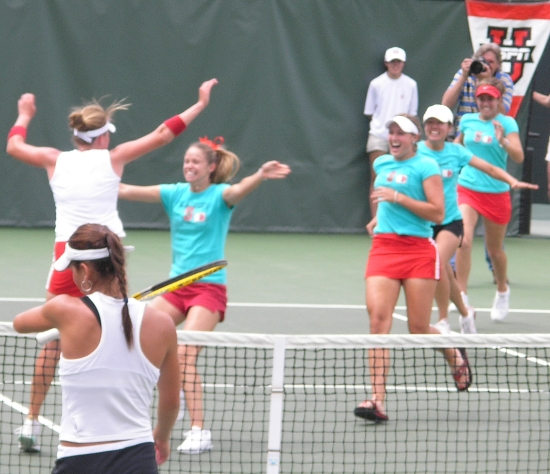 First to finish quick and easy was Celia Durkin over Patricia Starzyk, followed by Jessica Nguyen (a last minute sub for Anne Yelsey). With three points on the scoreboard it seemed like a race to see if Theresa Logar or Alice Barnes would clinch it and make Stanford the first ever team to go through the draw without dropping a point. Audra Cohen had other ideas, though, and while Theresa couldn't follow through on her first two match points, Audra put Miami on the scoreboard. Fortunately for the Cardinal, Theresa did come through a few minutes later for the team win.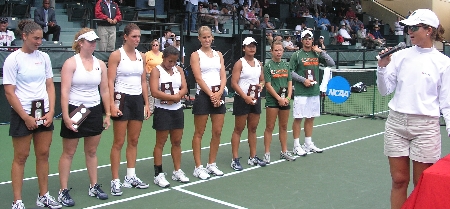 Even just a year ago no one would have put Pepperdine as a national champion contender. Adam Steinberg, who took over the reigns four years ago, proved them all wrong. He put together a talented -- and highly energetic -- group of guys who wanted to get it done and tonight they proved they could. Their two defeats this year -- Texas and Georgia -- were avenged this week and they're taking the trophy to Malibu for its first visit.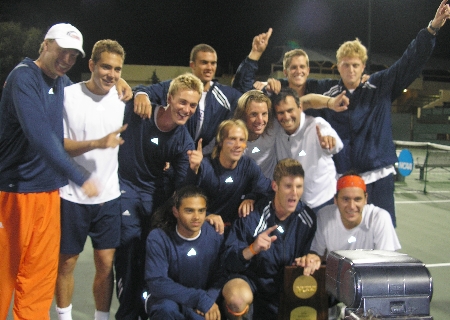 It had been an undefeated season for Georgia, though few of their matches were shutouts. The Waves were not intimidated and they came out with enthusiasm to squeak through the win of the doubles point after many close games on all three courts. Singles went the distance on most with three three-setters and three tiebreakers on the board. The first singles point went to Pepperdines Omar Altmann. After a tough first set, he breezed through the second over Ricardo Gonzalez. Teammate Ivor Lovrak made it 3-0, taking out Antonio Ruiz in three-sets, but Bulldog John Isner pulled out a tough one over Scott Doerner, 7-6,6-4. Then the waiting began, but the time was shorter than most anticipated as it was sealed on the back courts with Andre Begemann over Matic Omerzel, 2-6,7-6,6-4.
It will probably be a very long time before anything I see in college tennis will match the excitement of the very first men's and women's NCAA Championship. All of the teams competing this week were of the highest caliber college tennis has every seen and it will continue as the individual championships begin Wednesday.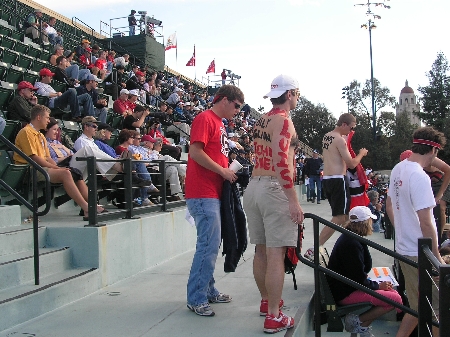 Until Tomorrow,
Marcia Frost
Click Here For Full Men's Team Results

Click Here For Full Women's Team Results

And... For some more insight into the 2006 NCAA Division I Championships, check out Colette Lewis' Blog at http://www.zootennis.com