May 24, 2006-Singles, Day One
It wouldn't be an NCAA Championship without surprises, and there were plenty of those today as the men's and women's singles events began.
Seeding a tournament of 128 of the best college players in the country is no easy task so I use the term "upset" lightly. Unfortunately, there was too much tennis going on today to really watch many matches. Since they are being played on a weekday afternoon the spectators were mostly parents, coaches and fellow teammates. No one there was let down, though, as the tennis on every court was spectacular.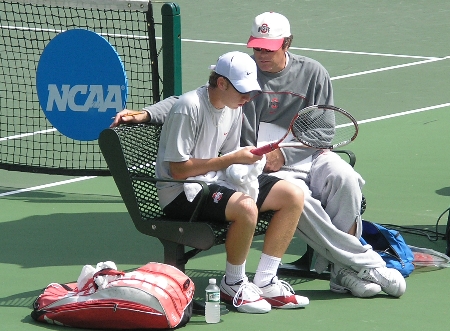 Among the days matches that I did get to see some of was the battle between Ohio State's freshman phenom Bryan Koniecko and LSU's Ken Skupski and it certainly lived up to the 7-6(6),7-6(5) score Ken took it with. I also stopped by to watch Notre Dame's Catrina Thompson pull it out over Magarita Karnaukhova of Sacramento State, 2-6,6-1,6-2. Catrina's Thursday opponent will be defending champion Zuzana Zemenova who had no problem advancing past Luana Magnani. Among the unexpected results in the women's draw, Megan Moulton-Levy of William and Mary eliminated National Indoor Champion Diana Srebrovic of Florida (seeded 9-16), 6-3,5-7,6-2.
The only other match I had the chance to enjoy some of was between Illinois' Kevin Anderson and Kentucky's Alex Hume. It took awhile for Kevin to warm up and he lost the first set 6-3, but he came back to reverse the score in the second and battled the third to a 7-5 win. That was not the case for 9-16 seed Raian Luchici, who dropped a three-setter to Harel Srugo. Another lower seed, Scott Doerner of Pepperdine, fell to Sheeva Parbhu, 7-5,6-0. I caught the end of Texas' Jerry Makowski (also 9-16) losing to Pierrick Ysern of San Diego, 6-3,6-3. Rookie of the Year Matt Bruch of Stanford managed to pull out a close one, 7-5,5-7,6-1 over TCU's Andrei Mlendea.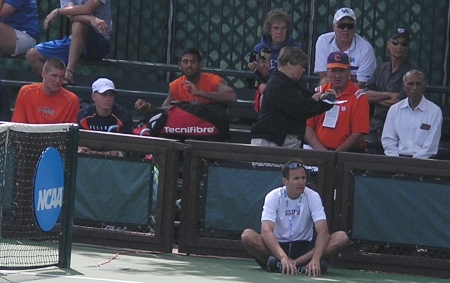 In addition to great tennis, yesterday was also the induction of the ITA Men's Hall of Fame. I was invited to attend the dinner, which consisted of too many Stanford alumni stars to name. The top honoree was certainly the man of the hour (or should I say of this two weeks), former Stanford men's coach Dick Gould. I was amazed that Coach Gould had not previously been inducted and certainly thrilled that he has received this honor.
Thursday is my last day at the NCAA Championships so I will be doing my best to squeeze in as many pictures and matches as possible -- as well as a few predictions.
Until Tomorrow,
Marcia Frost
Click Here For Full Men's Singles Results

Click Here For Full Women's Singles Results

And... For some more insight into the 2006 NCAA Division I Championships, check out Colette Lewis' Blog at http://www.zootennis.com

click on a photo to enlarge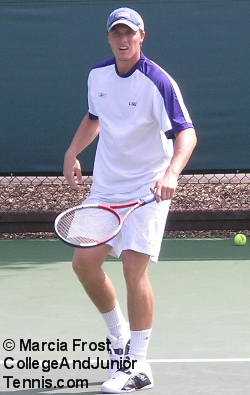 Ken Skupski
Catrina Thompson
Alex Hume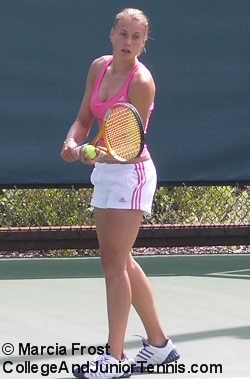 Margarita Karnaukhova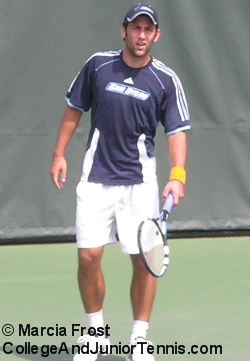 Pierrick Ysern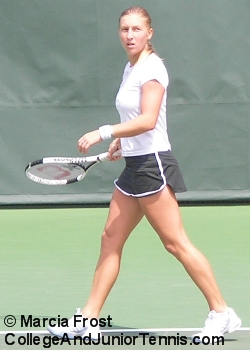 Zuzana Zemenova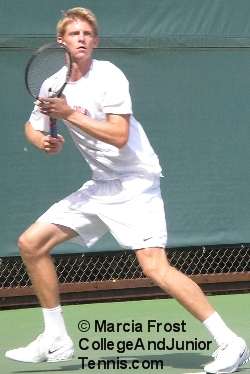 Kevin Anderson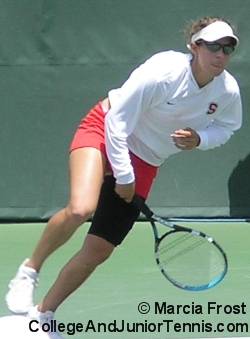 Anne Yelsey









College Planning Made Easy...
Check out the Monthly Guide to College Tennis Planning





























Return to:
College And Junior
Tennis Homepage