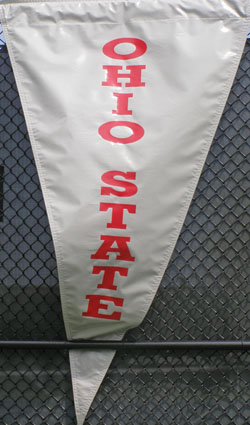 Sunday, April 27, 2008
Final Day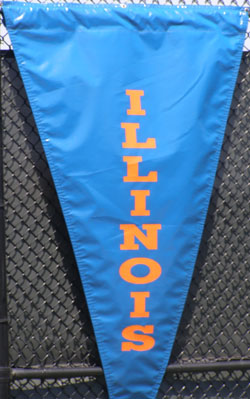 The Ohio State Buckeyes proved their seeding today as they fought hard and long to defeat the Fighting Illini for their third straight Big Ten Men's Championship. As has been the case in the previous three meetings of these two tennis powerhouses, it was quite the battle.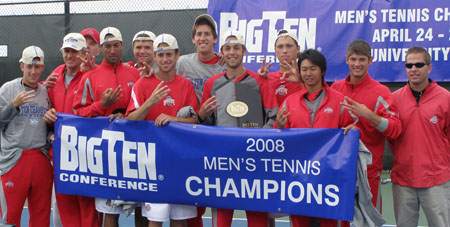 It was still chilly outside, but the wind had finally calmed down and it was the first day that the tournament was played fully outdoors. Camera crews were everywhere for next week's airing on the Big Ten Network. Though everyone was thrilled about the impending broadcast, there were times when it seemed as if the announcers were broadcasting rather loudly in the players' ears! Of course, as (very cold) spectators it's sometimes easier to notice distractions than players and these two teams were each pretty focused on winning. That was apparent from the first serve.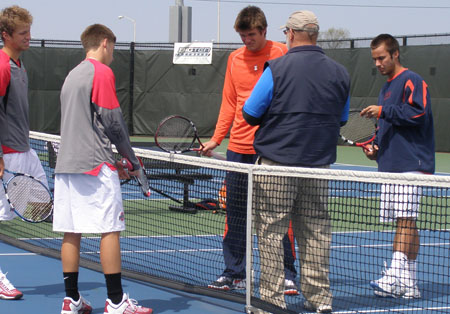 It's been all about doubles for me lately (my book on American Doubles will be out in just a few weeks) and there was some spectacular doubles on the courts of the University of Iowa Sunday. I was positioned in front of the No. 1 matchup between two of the country's finest teams and Steven Moneke/Bryan Koniecko (OS) vs. Billy Heiser/Ryan Rowe (I), was one to watch. There were points where the ball never hit the ground as the four serve and volleyers played it at net. That match (thought Illinois was down 4-1 at one point) stayed even to the end at an unfinished 7-7 while the other courts went to the Illini for the first point of the match.

With the momentum of the doubles point, the Illini came on hard and fast with Waylon Chin taking the first set at No. 6 over Drew Eberly. Billy Heiser followed his teammates lead. Though Roy Kalmanovich fell in the first to Balazs Novak, it appeared that the University of Illinois was leading on most of the courts. They certainly had the loudest crowd, including some of their renowned "Net Nuts" dressed in Orange and Blue. It seemed, however, that the Ohio State Buckeyes were finding their own power a bit more slowly. At No. 3 singles, Marc Spicijaric's 4-1 lead was suddenly a 5-5 match. And the close points between Ryan Rowe and Bryan Koniecko at the first position were heading the way of the Buckeye.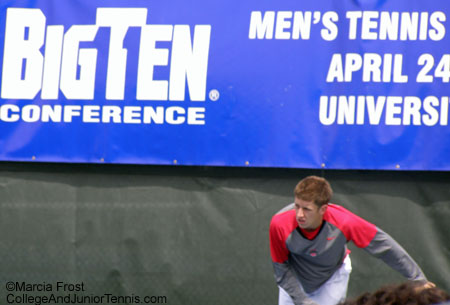 It was actually Bryan Koniecko who took the first singles point. After a one break difference gave him the first, he was unstoppable in the second. The Illini quickly came back into the lead as Billy Heiser eliminated Shuhei Uzawa in two quick sets, and then there was a long break before another point was to be one as the battle became fierce and the games slowed down.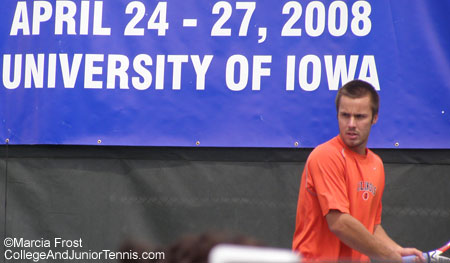 In addition to the 50 degree temperature, the other negative to being outside was that it was impossible to see all six courts at once. I ran back and forth, trying to catch as much as possible. I stayed put for awhile to see a fantastic match between Roy Kalmanovich and Balazs Novak. The points seemed to go on forever and just when you thought freshman Roy was gone (like at 3-6,0-3), he would get back in it. It didn't seem enough as Balazs took the second 7-5 and the match was tied at two all. It was on to the other end of the complex that Waylon Chin, who had lost the second set, was taking it the distance to get the Illini back in the plus column. It took a tiebreaker, but he did it. With two matches remaining, the score was 3-2.
The two final matches were on opposite sides so the crowd divided. At No. 2 singles, Ruben Gonzales and Justin Kronauge had been going at it for hours. Though Ruben had let the dominating Illini crowd take him to a tiebreak finish in the first, he couldn't hold the second as Justin hit winners faster than he could get to for a 6-1 set. The third could have been anyone's through a back and forth, but it was Justin Kronauge who held the break and we were back to an even match score.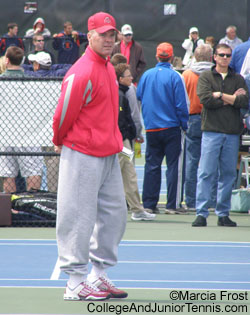 Marc Spicijaric had been struggling since the beginning and Steven Moneke took advantage of every moment. They were the last match standing in the third set. It was 4-3 and it could have gone either way, but it was Steven who took the set and the third consecutive trophy for Ty Tucker's team.
It was once again a highly competitive and exciting Big Ten Championship. There is nothing better to get you ready for the NCAAs as these teams will be back at it again in Tulsa. Last year, after Ohio State won the Big Ten Championships Illinois took them out at the NCAAs. History may repeat itself as the Buckeyes head for that elusive NCAA crown. The draw will be announced this week and we'll see if these two teams will have a chance to do it all over again.
Until Next Year,
Marcia Frost

Stories & Photos from Day Three
Stories & Photos from Day Two
Men's and Women's Big Ten Final Results & Awards
FINALS

(1) Ohio State 4, (3) Illinois 3
Bryan Koniecko (OS) defeated Ryan Rowe (I), 6-4,6-2
Justin Kronauge (OS) defeated Ruben Gonzales (I), 6-7(4),6-1,6-4
Steven Moneke (OS) defeated Marc Spicijaric (I), 5-7,6-1,6-3
Billy Heiser (I) defeated Shuhei Uzawa (OS), 6-2,6-3
Balazs Novak (OS) defeated Roy Kalmanovich (I), 6-3,7-5
Waylon Chin (IL) defeated Drew Eberly (OS), 6-1,3-6,7-6(4)
Steven Moneke/Bryan Koniecko (OS) vs. Billy Heiser/Ryan Rowe (I), 7-7 Did Not Finish
Ruben Gonzales/Marc Spicijaric (I) defeated Drew Eberly/Justin Kronauge (OS), 8-4
Brandon Davis/Waylon Chin (I) defeated Matt Allare/Shuhei Uzawa (OS), 8-5


We search millions of flight and hotel combinations, to get the best deals. Yes! Getaways makes booking your next vacation as easy as it can get - BOOK TODAY at Yesgetaways.com!
---

Monthly Guides to
College Tennis Planning
Available in Kindle, Print & EBook
for H.S. Seniors
and H.S. Juniors
---
---
---
CHECK OUT OUR
TENNIS BOOKSTORE
---
---
---
---
---
---
---
Return to:
College And Junior Tennis