Thursday, January 5, 2006-Day Five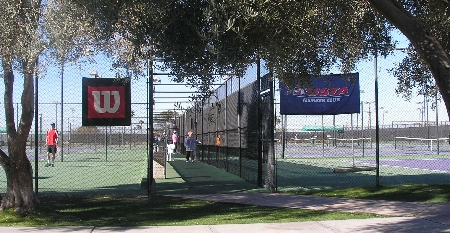 It was boys' day at the tennis courts of the Hilton El Conquistador Resort. After spending a few days watching mostly the girls it was time to see exactly what the 18 & 16 year old boys were doing -- and I was not disapointed.
In the Boys 18s, eleventh seeded Frideric Prandecki finished his match against Blaze Schwartz faster than I could get over to the court at 6-1,6-2 while most of the other players were in the first set. (It was still a great tournament for the unseeded Blaze, who had eliminated the No. 8 seed.). The match was very different between No. 3 Jack Levis and Jordan Rux. I walked away with Jordan barely losing the first set (4-6) and commanding the second (6-2), only to come back and find out that Jack had won it 6-3 in the third. It was also a terrific first set between seventh-seeded Peter Rispoli and Ahmed Ismail, who had already caused two upsets this tournament. Unfortunately, for Ahmed, they were his last as he was cramping in the second and, despite a timeout with the trainer, could not get back into it in the second.
It was an intense power match between Jack Moye and Bozhidar Ktsarov. The crowd gathered to watch these two in the third set as it was anyone's guess who would take it (James took a breaker in the 1st, Bozhidar dominated the 2nd, 6-0). It was actually so quiet that you could hear a pin drop (or a ball bounce) until the 7-5 finish for the unseeded Bozhidar.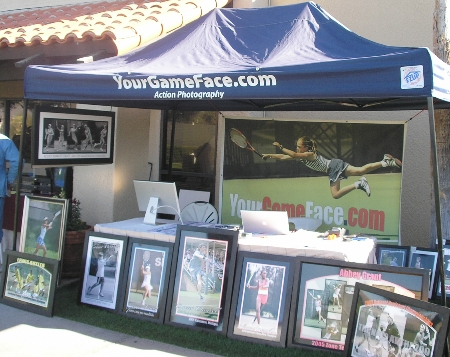 Things were not much calmer in the Boys 16s. It was definitely a fight as No. 1 Cameron Ahari and No. 7 Dillon Pottish had some great points in their quarterfinal match. It was the lower seed who prevailed, 7-5,6-2. Ryan Harrison, who I've watched winning through the 12s nationals, is now growing up and proved that size doesn't matter as the No. 3 seed took out the much taller Isamu Tachibana. The latter, seeded five, didn't make it easy though, and the two went on through close as can be to 3-2, but then Ryan too the rest of the games to win it 7-5,2-6,6-2.
I really thought the match was close when I watched the hard-hitting No. 6 Dan Couzens (right) and Patrick Whitner. It just goes to prove that only a few points can make a difference in tennis because this match I thought looked so close finished with Patrick on top 6-1,6-1. The fourth quarterfinal in the boys 16s was not played as tenth-seeded Max Stevens withdrew with an injury and No. 4 Jason Smith moves on.
The No. 1 seeded Sekou Coker Bangoura has hung on in the boys 14s draw without even being pushed to a third set. He will face No. 4 Shane Foster tomorrow. The other semi will be between No. 3 Zachary Weiss and No. 10 Nelson Vick. Fellow New Yorker Zach Morris pulled yet another upset in the Boys 12 draw today as the unseeded player took out No. 1 Michael Krueger to earn a place in the semis against No. 5 Michael Chamerski. No. 3 Joseph Digiulio and No. 2 Ross Guignon are at the other end of that draw.
Tomorrow I will be at the El Conquistador Country Club where the Girls 12 final between unseeded Rio Kitagawa and second-seeded Layla Sanders will take place, as well as the third place playoff and consolation final in that age group. I hope to also catch some of the other girls in their semifinal action. The Girls 16s draw continues to be a mystery and is now down to three out of four unseeded players. It's anyone's guess who will win that won, but Rebecca Marino (the doubles winner) has already taken out the No. 12, No. 1 and No. 8 seeds!
Until Tomorrow,
Marcia Frost
Above: Lloyd & Melissa from YourGameFace.com are here at the Copper Bowl taking some incredible pictures for posters and collages.
click on a photo to enlarge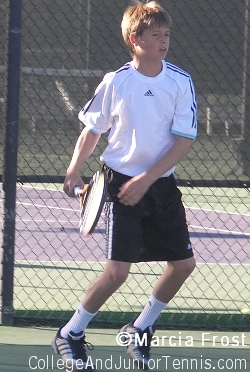 Ryan Harrison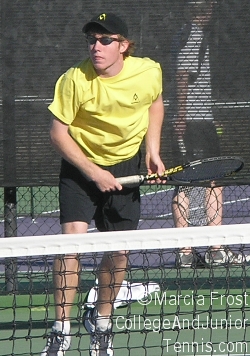 James Moye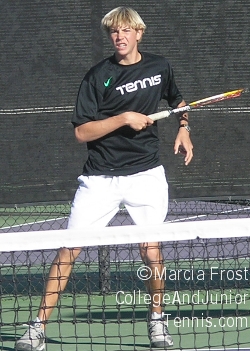 Jordan Rux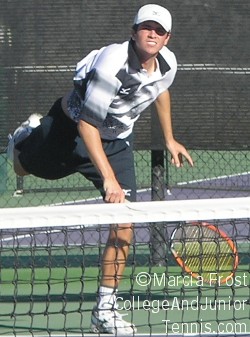 Bozhidar Ktsarov
Dillon Pottish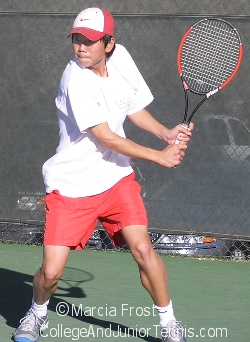 Isamu Tachibana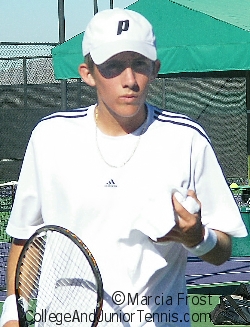 Peter Rispoli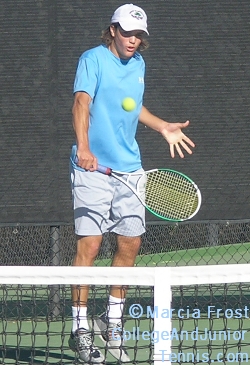 Jack Levis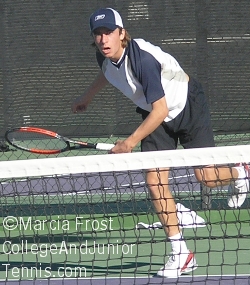 Patrick Whitner
Monthly Guides to
College Tennis Planning
Available in Kindle & Print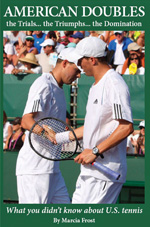 ---

Monthly Guides to
College Tennis Planning
Available in Kindle, Print & EBook
for H.S. Seniors
and H.S. Juniors
---
---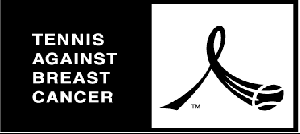 ---
---
Return to:
College And Junior
Tennis Homepage