Like many other people here, this is my first trip to the Easter Bowl. Though it is toward the end of the tournament, it is still a bit overwhelming with all the players, parents and coaches. It is the excitement in the air that really hits you right away as strong as the 95 degree heat.
I managed to catch a number of matches yesterday and found the mood to be different on each court. Polina Zaretzer, the No. 3 seed, was overcome by Stephanie Harris in a tough match. Polina, who is hindered by a stress fracture, could not get past the hard hitting No. 25 seed for a 6-4,3-6,6-0 loss. Another top-seed who had a tough time of it was Boys' 18 No. 4 James Wan. That match was full of controversy between the players (and among the spectators). The mood was set as a linesman was requested in just the first game. The arguing continued throughout the match as the No. 25 Bricenco took it, 7-5,6-2.
Top-seed Sukhwa Young managed to hold off the challenge from No. 13 Luke Shields, 6-7(4),6-2,6-2, while the No. 1 in the Boys' 16 could not. Timothy Neilly took Justin Montgomery to a third set and a loss through the afternoon heat. In the Girls' 14s, No. 2 Brintney Larson could not get it together enough to defeat No. 4 Mary Gambale and No. 1 Katrina Tsang earned her place in the finals after dropping Julia Cohen in a match that looked closer than the 6-3,6-4 score.
Thursday brings finals in the Girls 14s, 16s and Boys' 14s, as well as semifinal action in the other division.
by Marcia Frost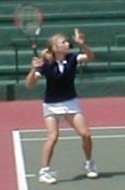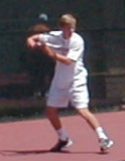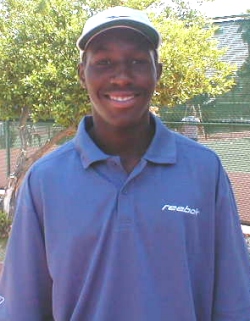 Stephanie Harris, Luke Shields and Timothy Neilly
Catrina Thompson, Kristen Cargill and Brett Ross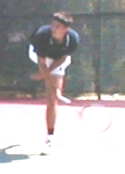 James Pade
Brintney Larson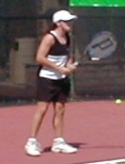 Mary Gamble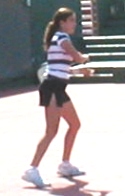 Julia Cohen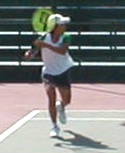 Katrina Tsang