The first final of the day was by far the longest. It took Katrina Tsang and Mary Gamble over three hours to complete the title match for the Girls' 14 Singles. Through points that lasted what seemed like an eternity, the match played out dramatically closer than the 6-3,6-3 score Mary took it with.
Another tough match was the Boys' 14 Singles final between Dylan Arnold and Marcus Fugate. Though Marcus clearly dominated the first set and took it 6-3, Dylan fought back and captured the second, 2-6. It was a battle in the third set to the finish, but Marcus pulled it out, 6-4.
Brintney Larson is going home with a much heavier suitcase. The 14 year old left with three awards today -- 4th Place Singles, 1st Place Doubles and Girls' 14s Sportsmanship. Britney was not the only player to leave the Riviera Resort & Racquet Club with more than one prize. Other multiple winners include Lee Singer, who succombed to dehydration yesterday when he was only one point away from winning, today took the 3rd Place Playoff over Carsten Ball as well as the Boys' 14 Sportsmanship.
In the Girls' 18s semifinal, there was a very close three-setter between the No. 5 & 6 seeds Theresa Logar and Iris Ichim. It was Theresa who prevailed in that one, 6-1,3-6,6-3. At the same time, both Cohen siblings were on the court. Julia took the Girls' 14 3rd place over Brintney Larson, while Josh bowed to Douglas Stewart, 6-4,6-2. In the other Boys 18 semifinal, the Nestor Briceno eliminated top-seeded Sukhwa Young.
The Girls' 16 3rd Place was given to Melissa Mang after Polina Zaretser withdrew to give her wrist a rest, but the Girls' 16s finals were not to be missed. The last final of the day was one of the most exciting. Nicole Leimbach, the top-seed, and Stephanie Harris, one of the talented surprises of the tournament, played an exciting three-setter to a cheering crowd. Though Nicole took home the gold ball -- as well as the Sportsmanship award -- it was hard to predict a clear winner.
by Marcia Frost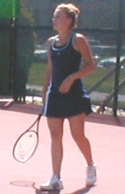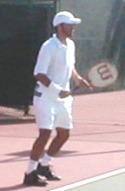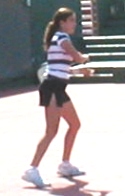 Irish Ichim, Josh Cohen and Julia Cohen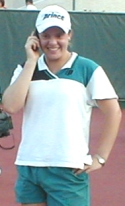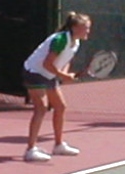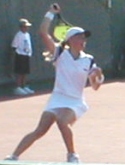 Nicole Leimbach, Theresa Logar and Stephanie Harris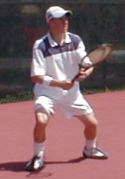 Lee Singer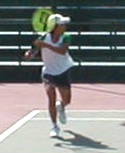 Katrina Tsang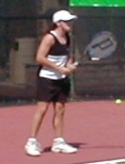 Mary Gambale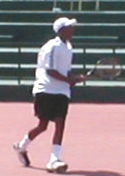 Marcus Fugate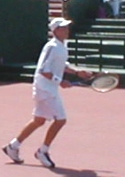 Dylan Arnold