USTA/ITA NATIONAL TEAM
INDOOR COLLEGE CHAMPIONSHIPS
NCAA DIVISION I
Men-University of Virginia - Women-University of Wisconsin
February 12-15, 2010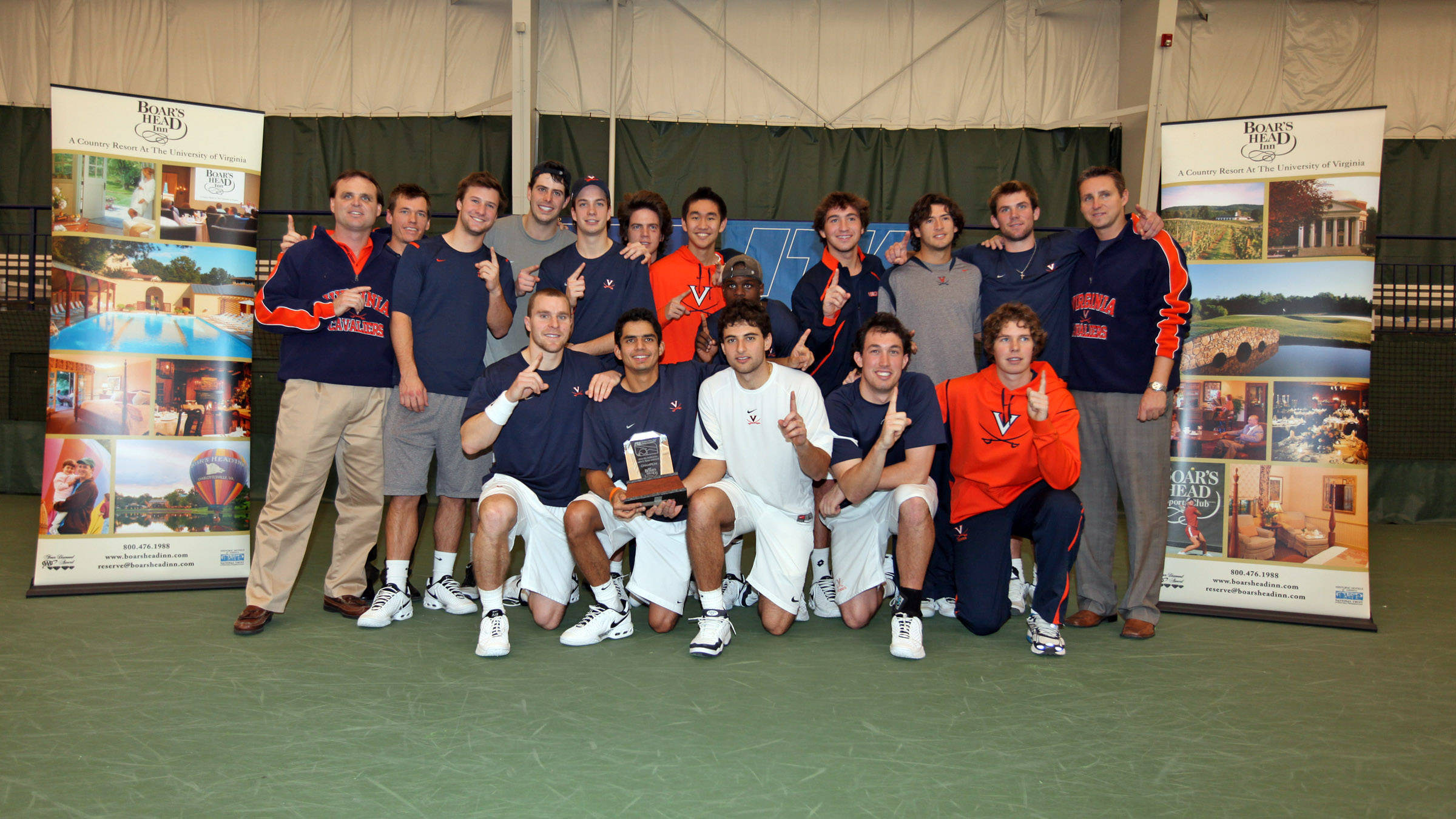 It may be a new decade, but the teams in the trophy circle of the ITA National Indoor Team Championships have not changed. The University of Virginia captured their third straight trophy in front of their home crowd, while the Northwestern women won their second in a row at the nearby University of Wisconsin.
Virginia had the homecourt advantage and they used it for consistent play throughout the ITA Men's Indoor Team Championship. The first two rounds were shutouts for the Cavaliers over Alabama and Georgia. In the semifinals, Ohio State did manage to get a point on Virginia, from freshman Dino Marcan.
The Virginia men had to work a bit harder in the finals. The second seeds had No. 5 Tennessee come right at them, taking the doubles point. Though they did manage to get four straight singles for the title, most of the matches were close and the unfinished ones were in third sets. Cavalier Sanam Singh was the tournament's Sportsmanship Award winner.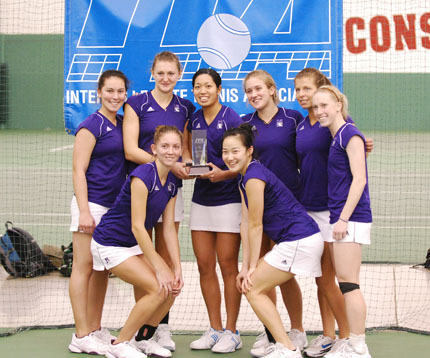 The road to the finals was a bumpy one for the Northwestern women, and they had a surprise team waiting for them in the finals. Round one was the only uneventful one as the Wildcats took out Tennessee, 5-1. Next up was the Florida Gators, with Northwestern squeaking through 4-3 as when Elena Chernyakova pulled out a three-setter at No. 6. The semifinal match also came down to the wire, with the same tight score over California.
In the finals of the ITA Women's Team Championship, second-seeded Northwestern found an unseeded North Carolina team. The Tar Heels were having a great event, first eliminating No. 4 Georgia (4-3), then beating No. 5 Baylor (5-2), and finally upseting top-seeded Duke-the defending NCAA champions-4-3. It was the end of the road for North Carolina, as Northwestern beat them in a very close 4-2. The Wildcats' Lauren Lui took home the event's Sportsmanship Award.
Men's Finals
(2) Virginia 4, (5) Tennessee 1
Michael Shabaz (V) defeated John-Patrick Smith (T), 6-4,6-4
Sanam Singh (V) vs. Boris Conkic (T), 6-4,5-7, Did Not Finish
Jarmere Jenkins (V) vs. Rhyne Williams (T), 5-7,6-4,1-1 Did Not Finish
Drew Courtney (V) defeated Tennys Sandgren (T), 6-3,3-6,6-3
Houston Barrick (V) defeated Matteo Fago (T), 6-2,6-4
Lee Singer (V) defeated Davey Sandgren (T), 6-2,7-5
Smith/D.Sandgren (T) defeated Courtney/Shabaz (V), 8-1
Williams/Conkic (T) defeated Barrick/Jenkins (V), 8-2
Singh/Singer (V) vs. T. Sandgren/Fago (T), 4-4 Did Not Finish
Women's Finals
(2) Northwestern 4, North Carolina 2
Maria Mosolova (N) defeated Katrina Tsang (NC), 7-6,3-6,6-1
Samantha Murray (N) defeated Sanaz Marand (NC), 4-6,6-2,6-0
Jelena Durisic (NC) defeated Kate Turvy (N), 6-2,7-6,6-2
Lauren Lui (N) defeated Zoe De Bruycker (NC), 6-3,6-4
Sophie Grabinski (NC) defeated Brittany Wowchuk (N), 6-4,6-2
Stacey Lee (N) vs. Shinann Featherston (NC), 5-7,7-6,3-2 Did Not Finish
Chernyakova/Lui (N) defeated Grabinski/Marand (NC), 8-6
Tsang/Featherston (NC) defeated Mosolova/Wowchuk (N), 8-4
Murray/Turvy (N) defeated Ffriend/Hamm (NC), 8-5
For more stories, results and photos, also visit Zoo Tennis and the ITA.
---

Monthly Guides to
College Tennis Planning
Available in Kindle, Print & EBook
for H.S. Seniors
and H.S. Juniors
---
---
CHECK OUT OUR
TENNIS BOOKSTORE
---
---
---
---
---
---
Return to:
College And Junior
Tennis Homepage