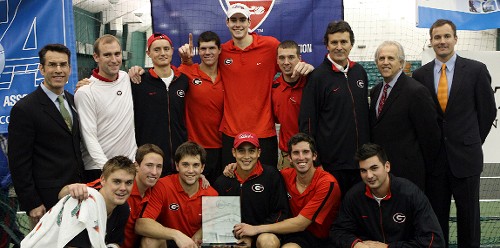 What can you say about a team with a No. 3 doubles team that won the U.S. Open Junior Championships and went undefeated at No. 5 & 6 singles throughout the tournament? With freshmen Jamie Hunt & Nate Schnugg (pictured far right) at the bottom of the lineup, John Isner at the top and talented Luis Flores, Travis Helgeson and Matic Omerzel in between, it would have been hard to imagine Georgia not winning the USTA/ITA Men's National Team Indoor Championship. It was the second title in as many years for the Bulldogs as they now celebrate winning 38 out of the last 39 matches (the one loss was at the NCAA finals to Pepperdine).
They may have lost in the finals, but it was still a great tournament for finalists Ohio State. The Buckeyes made their first ever Indoors final after defeating UCLA on Sunday in an incredible nailbiter. It was also a wonderful experience for first time participants Boise State. Coach Greg Patton's team has had their best season yet and one of their own, Luke Shields, took home the tournament's Sportsmanship Award.
It's still a long way until the NCAAs in Athens and it will be an interesting road for the 16 participating teams that competed in Chicago as 15 will try to see if they can get ready to beat the Bulldogs on their home turf.
Top: Winning Georgia team with Midtown Tennis Club General Manager Mike Mahoney (far left) and University of Illinois Coach Brad Dancer (far right).
Left: Coach Greg Patton, Luke Shields & Jon Vegosen. Photos by Kenny Kim.
DAY FOUR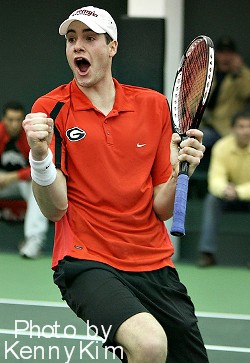 Finals
Georgia (1) 4, Ohio State (2) 0
John Isner (G) -- pictured right -- defeated Bryan Koniecko (OS), 6-3,6-4
Steven Moneke (OS) vs. Luis Flores (G), 6-2,4-3
Travis Helgeson (G) vs. Devin Mullings (OS), 6-4.,3-4
Chris Klingemann (OS) vs. Matic Omerzel (G), 6-4,6-1
Nate Schnugg (G) defeated Justin Kronauge (OS), 6-4,6-3
Jamie Hunt (G) defeated Drew Eberly (OS), 6-3,6-1
John Isner/Luis Flores (G) defeated Drew Eberly/Justin Kronauge (OS), 8-4
Matic Omerzel/Travis Helgeson (G) defeated Drew Eberly/Justin Kronauge (OS), 8-4
Jamie Hunt/Nate Schnugg (G) vs. Bryan Koniecko/Steven Moneke, 7-6 Did Not Finish
Also Check Out Stories & Photos on...
Monthly Guides to
College Tennis Planning
Available in Kindle & Print
Create an Amazon Wedding Registry
Return to:
College And Junior
Tennis Homepage