USTA/ITA NATIONAL WOMEN'S TEAM
INDOOR COLLEGE CHAMPIONSHIPS
NCAA DIVISION I
University of Wisconsin - Madison, Wisconsin - February 5-8, 2004
Stanford shut out Georgia to pick up a record seventh title at the 2004 USTA/ITA National Women's Team Indoor Championships. The previous record was held by Florida. Stanford's Amber Liu (pictured right) received the USTA Sportsmanship Award while teammates Lauren Barnikow, Theresa Logar and Emilia Anderson went undefeated for the entire tournament. The team has achieved an 88-3 record during Coach Lele Forood's four year leadership.
Finals
(1) Stanford (below) 5, (2) Georgia 0
Amber Liu (S) vs. Agata Cioroch (G), Did Not Finish
Alice Barnes (S) defeated Shadisha Robinson (G), 6-0,6-3
Erin Burdette (S) vs. Evgenia Subbotina (G), Did Not Finish
Lauren Barnikow (S) defeated Natalie Frazier (G), 6-2,6-4
Theresa Logar (S) defeated Jitka Schofeldova (G), 6-0,3-6,6-4
Emilia Anderson (S) defeated Alex Smith (G), 6-1,6-0
Barnikow/Burdette (S) defeated Cioroch/Robinson (G), 9-7
Barnes/Liu (S) defeated Schonfeldova/Subbotina (G), 8-8 Did Not Finish
Anderson/Yelsey (S) defeated Wink/Frazier (G), 8-5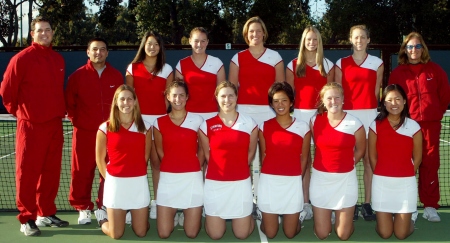 Create an Amazon Wedding Registry
Return to:
College And Junior
Tennis Homepage