Saturday, November 4th, 2006-Day Three


The bar was raised today on the quality of college tennis as the best of the week were out to prove they earned that honor at the ITA National Indoors.
I was among those the last few days who said Ben Kohlloeffel looked unbeatable. Today he almost proved us all wrong. The first set for the UCLA junior and Oklahoma State's Ivan Puchkarov remained on serve until Ben broke for 5-3. Although he had to work a lot harder than he had the rest of the tournament, he took the set at 6-3 and it looked like there would be no problem from that point. I actually left to watch the women when I heard that the second set had gone to Ivan with the same 6-3 score. The third was on serve to reach a tiebreaker. The breaker went back and forth with two match points for Ivan before Ben came back and took it 9-7. It was a close one, but it was his.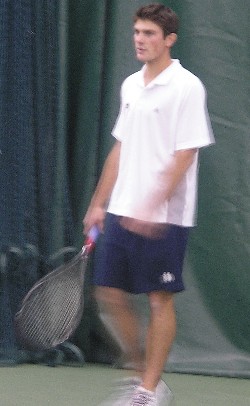 It looked to be another three hour marathon as the battle of Stephen-Steven took place on court three. It was Notre Dame's Bass against Ohio State's Moneke. Both unseeded and both hungry. The first first set was tight and long, full of crowd-pleasing points. Both players seemed to get to everything and just when the crowd thought the point was over, it wasn't. The first break came for Notre Dame's Stephen and he served for one set point before it was deuce and a break for Ohio State. From there the Buckeye took the next two games for a 7-5 first.
Five sets of tennis yesterday -- three of them tiebreakers -- took their toll on Stephen Bass (right) as the Notre Dame senior lost steam in the second set. Steven Moneke became Ohio State's hometown hero with a 6-3 set win in the semifinal. Whether or not he can beat the top-seeded Ben Kohlloeffel remains to be seen, but there will be no doubt that he will have the larger fan base at the Racquet Club of Columbus.
The day was a mixed bag for William & Mary's Megan Moulton-Levy. First she battled through a tough doubles match with partner Katarina Zorcic. Notre Dame's Brook Buck & Kelcy Tefft didn't make it easy, but they got out 8-6 to face Ana Cetnik & Anna Sydorska in tomorrow's final. The afternoon, however, didn't go as well for Megan. Fresno Pacific's Jelena Pandzic took complete control of their semifinal match and despite some great net play by Megan, she had it at 6-2,6-1.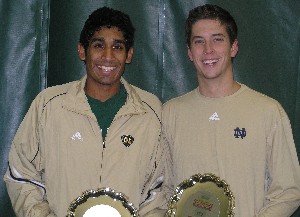 ITA All-American Champions John Isner & Luis Flores have the opportunity to make it two for two tomorrow as they go for the ITA's second major doubles final. The top-seeded Georgia duo will face Middle Tennessee's Marco Born & Andreas Siljestrom. The consolation doubles title went to Notre Dame's Sheeva Parbhu & Ryan Keckley (pictured right). Notre Dame has a chance at a second consolation final tomorrow as Catrina & Christian Thompson will go against California's Suzi Babos & Zsuzsanna Fodor. (Ironically the teams were the No. 1 and No. 2 seeds respectively in the main draw.) Zsuzsanna will also play the consolation singles final, against Stanford's Celia Durkin. Arnue Brugues of Tulsa will meet LSU's Ken Skupski for the men's backdraw.
Though odds still put Miami's Audra Cohen as the favorite, this is the first time an NAIA-schooled player (read more about this below) has made it to the finals of the ITA Indoors. Should Jelena Pandzic win it would surely bring the tournament to new ground. As for the men's final, it will be very exciting to witness NCAA Champion Ben Kohlloeffel vs. unseeded hometown hero Steven Moneke.
Until Tomorrow,
Marcia Frost

Florida Coach Andy Jackson and Georgia Coach Manny Diaz enjoy a quiet non-competitive moment
The Jelena Pandzic story is an interesting one. After an incredible freshman year at Fresno State that included a trip to the NCAA finals, Jelena was ruled ineligible to play any further by the school in February of 2005. The ruling came upon discovery that she had played the summer after her NCAA appearance in a German professional league. The talented Croatian then went down the road to the brand new tennis program at Fresno Pacific where she led the team to the championship finals. At the NAIA Fresno Pacific school there are not as stringent regulations as there are at NCAA sport colleges. She ended up back playing against her former NCAA I peers only because of the wildcard she won at the ITA Small College Championships.
For more insight into the ITA National Indoors, check out Colette Lewis' Zoo Tennis