March 2002
The Port Washington Winter Classic was held February 7th-20th at the Port Washington Tennis Academy. This year's event featured an exciting group of juniors who braved the construction for some terrific tennis. The following matches were played in the final round:
Boys' 18-Konstantin Trofimovich defeated Christian Perez, 6-1,6-1
Girls' 18-Jill Markowitz defeated Amy Roche, 6-2,7-6(3)
Boys' 16-William Fleder defeated Drew Sutton, 3-6,6-4,6-1
Girls' 16-Lauren Sadaka defeated Ana Mungo, 6-4,6-1
Boys' 14-Alex Aksanov defeated Denis Nayberg, 6-0,4-6,6-1
Girls' 14-Nadejda Demidenko defeated Katie Rybakova, 6-2,6-3
Boys' 12-Nicholas Pescuma defeated Robert Sorrel, 6-2,6-0
Girls' 12-Stacey Lee defeated Skylar Kono, 6-3,6-2

* * *
Tomas Berdych of the Czech Republic picked up two ITF singles titles in February -- the International Bavarian Junior Challenge and the Czechpol Energy Cup.

* * *
At the 14th Czech International Junior Indoor Championship, Daniel Lustig of the Czech Republic and Elise Tamela of the Netherlands won the singles titles. Daniel defeated Michael Koning of the Netherlands in the finals while Elise eliminated Oxana Lyubtsova of the Ukraine. Doubles titles went to Koning/Bas Van Der Valk and Kirsten Flipkens/Lina Stanciute. Koning/Van Der Valk also won the doubles title a the LTA International Junior Tournament at Bisham Abbey where Elise Tammela added another title (doubles).

* * *
Salome Devideze of Georgia took the singles and doubles (with Maria Jose Argeri) crowns at the Uruguay Bowl. Martin Vilarrubi of Uruguay was also a two-time winner afte he took the doubles with Marcel Felder.

* * *
There was a lot of action in the Mid-Atlantic Section during February. In the 18 and under Challenger, unseeded Martin Black beat Elliott Bisnow (also unseeded) in the final, 6-0,6-2, while top-seeded Jessica Vanderdys took the girls event when she defeated o. 3 Katerina Lozanova, 6-3,6-0. In the 16s Challenger finals, Ryan Mostrom defeated John Lanier, 6-3,7-6(2) and Jamie Caplan defeated Cathy Nimitz, 6-0,6-7(5),7-5. In other MAS play, Joey Atas took the Boys' 18 Indoor Hardcourt Tournament. Ellah Nze won the Girls' 14 and under Championships and Ryan Lissner was the winner at the Boys' 12 Mid Atlantic Championship.

* * *
If you have information to be included in Junior News
Contact Us: E-Mail: Marcia@MarciaFrost.com
FAX: (516) 796-2854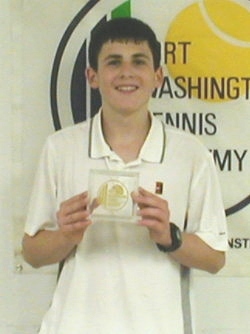 William Fleder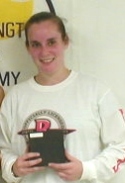 Jill Markowitz
Alex Aksanov
Lauren Sadaka
Nicholas Pescuma
Nadejda Demidenko
Stacey Lee