Top juniors Amber Liu and Shadisha Robinson created upsets at the first annual Apple & Eve Long Island Classic, a USTA Professional Circuit event. Amber defeated the seventh-seeded Mi-Ra Jeon of Korea, 2-6,6-3,6-2 while Shadisha overpowered the number five seeded Mashona Washington, 6-2,2-6,6-4. (Click here for more on the Apple & Eve.)

* * *
Two newcomers to the ITF Junior Circuit picked up back-to-back titles in July. Michaela Krajicek and Jimmy Schneider, both from the Netherlands, each won the top prize at the ITF Leeuwenbergh Open and the Hillegom ITF International Youth Tournament. Michaela is only thirteen years old.

* * *
The Czech Republic's Eva Birnerova picked up her first win of the year at the European Closed Junior Championships. Eva defeated Petra Cetkovska in the final, 7-5,6-2. In the boys singles, Ivo Minar upset Tomas Berdych, 6-4,6-2. Doubles trophies went to Teimuraz Gabashvili/Alexander Pavlioutchenkov and Tatiana Golovin/Anais Laurendon.

* * *
At the German Open, Jarmila Gajdosa stopped 14-year old qualifier Angelique Kerber from taking her tournament upset list all the way to the finals. Jarmila also took the doubles with partner Andrea Hlavackova. Another unseeded player was in the boys singles final and Goel Monfils managed the upset and overtook Marcus Bayer, 6-1,2-6,7-5. The Dutch pair of Romano Tatuhey and Bram Ten Berge, also unseeded, were the boys doubles winners.

* * *
Jason Pinsky defeated Joey Atas, 6-3,7-5, to win the Boys' 18 Mid-Atlantic Section Championship. Lauren Archer knocked off Blakeley Griffith, 6-3,6-4, for the Girls' 18 crown. In the Girls' 14s, it was Maria Martinez over Marisa Schonfeld, 2-6,6-3,6-3.

* * *
* * *
Note: We have begun publishing winners from the Eastern Section tournaments. Photos and listings will be updated at the Eastern Section Page. All winners will be posted when the information is received.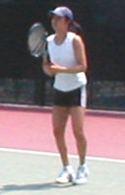 Amber Liu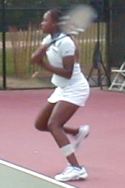 Shadisha Robinson
Eva Birnerova