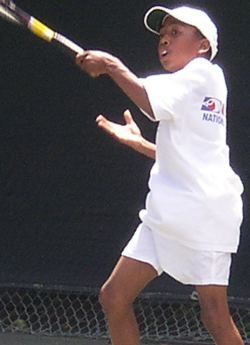 Boys' 11 Singles
Finals
Russell Bader (1) defeated Evan King (2) -- pictured right -- 6-2,6-0
Third Place Playoff
Justin Rossi defeated Nick Chappell, 6-2,6-4
Semifinals
Russell Bader (1) defeated Nick Chappell, 6-0,6-0
Evan King (2) defeated Justin Rossi, 6-1,6-4
Quarterfinals
Russell Bader (1) defeated Nhien Le, 6-0,6-1
Nick Chappell defeated Alex Yermanos, 7-5,6-2
Justin Rossi defeated Alex Houck (3), 6-2,3-6,6-3
Evan King (2) defeated Aaron Pollack, 6-0,6-1
First Round
Russell Bader/Austin, TX (1) defeated Nikolas Marino/San Diego, CA, 6-0,6-1
Nhien Le/Cary, NC defeated Peter Sienko/Williamston, MI, 6-2,3-6,6-4
Nick Chappell/Indianapolis, IN defeated Dean Pryles/Duluth, GA, 6-1,6-2
Alex Yermanos/Encinitas, CA defeated Dane Webb/Richardson, TX, 6-4,7-5
Justin Rossi/Novi, MI defeated Zachary Chu/Dallas, TX, 6-2,6-4
Alex Houck/Knoxville, TN defeated Mikey Zablan/Irvine, CA, 6-1,6-3
Aaron Poliak/Dallas, TX defeated Antonio Alda/Round Rock, TX, 6-1,6-0
Evan King/Chicago, IL defeated Pradeep Attaluri/Fort Worth, TX, 6-0,6-0
Girls' 11 Singles
Finals
Morgan Basil (1) defeated Micah Hermsdorf (2), 6-3,6-3
Third Place Playoff
Lacey Smyth (3) defeated Hideko Tachibana, 6-1,6-2
Semifinals
Morgan Basil (1) defeated Hideko Tachibana, 6-0,6-3
Micah Hermsdorf (2) defeated Lacey Smyth (3), 6-1,6-2
Quarterfinals
Morgan Basil (1) defeated Mia Lancaster, 6-1,6-2
Hideko Tachibana defeated Melissa Arthur (4), 6-1,6-4
Lacey Smyth (3) defeated Emily Pietruszynski, 6-1,6-2
Micah Hermsdorf (2) defeated Natasha Phillips, 6-4,3-6,7-5
First Round
Morgan Basil/St. Petersburg, FL (1) defeated Laura Pick/Alburquerque, NM, 6-0,6-0
Mia Lancaster/Richardson, TX defeated Julia Fellerhoff/Lanham, MD, 6-1,6-2
Melissa Arthur/Concord, MA defeated Emma Lewis/Anchorage, AK, 6-4,6-4
Hideko Tachibana/Austin, TX defeated Leah Garrison/Lanham, MD, 6-2,6-2
Emily Pietruszynski/Austin, TX defeated Devon Sutherland/Charlotte, NC 6-2,6-3
Lacey Smyth/Oceanside, CA (3) defeated Anila Rao/Palos Park, IL, 6-2,6-0
Natasha Phillips/Boca Raton, FL defeated Casey Johnson/Plano, TX, 4-6,6-2,6-3
Micah Hermsdorf/Spring, TX (2) defeated Kim Szokol/Winnetka, IL, 6-1,6-1
Boys' 10 Singles
Finals
Emmett Egger (1) defeated Ashok Narayana (3), 2-6,6-3,6-1
Third Place Playoff
Robert Stineman (2) defeated Bert Vancura, 6-3,6-3
Semifinals
Emmett Egger (1) defeated Bert Vancura, 6-3,4-6,6-2
Ashok Narayana (3) defeated Robert Stineman (2), 6-3,6-2
Quarterfinals
Emmett Egger (1) defeated Seun Deleawe, 6-0,6-2
Bert Vancura defeated Warren Wood, 6-2,6-1
Ashok Narayana (3) defeated Ace Matias, 6-1,6-3
Robert Stineman (2) defeated Buddy Givens, 6-1,6-1
First Round
Emmett Egger/Issaquah, WA (1) defeated Winston Lin/Williamsville, NY, 6-0,6-2
Seun Deleawe/Grand Prairie, TX defeated Alex Howard/Alpharetta, GA, 6-2,6-2
Warren Wood/Del Mar, CA defeated Ryan Miller/Norcross, GA (4), 6-3,7-6
Bert Vancura/New Hyde Park, NY defeated Jeremy Efferding/Dallas, TX, 6-0,6-1
Ace Matias/Torrance, CA defeated Austin Smith/Cumming, GA, 6-2,6-1
Ashok Narayana/Houston, TX defeated Noah Bragg/Brookline, MA, 6-0,6-3
Buddy Givens/Buckhead, GA defeated Wade Heerboth/Tucson, AZ, 6-7(9),6-4,6-2
Robert Stineman/Winnetka, IL (2) defeated Jordan Roach/Austin, TX, 6-2,6-1
Girls' 10 Singles
Finals
Katie Klyczek (2) defeated Hailey Johnson, 6-2,6-4
Third Place Playoff
Jasmine Minor defeated Nicole Flower, 6-2,6-4
Semifinals
Hailey Johnson defeated Jasmine Minor, 1-6,7-6,6-1
Katie Klyczek (2) defeated Nicole Flower, 2-6,6-2,6-3
Quarterfinals
Jasmine Minor defeated Mariam Zein, 7-5,6-1
Hailey Johnson defeated Whitney Kay, 4-6,6-4,7-6(1)
Nicole Flower defeated Jessica Lawrence (3), 6-0,6-4
Katie Klyczek (2) defeated Gabriella Phillips, 6-4,6-0
First Round
Jasmine Minor/Mundelein, IL defeated Karen Forman/Del Mar, CA (1), 6-3,6-3
Mariam Zein/Missouri City, TX defeated Kelsey Primis/Cumming, GA, 3-6,6-3,6-3
Hailey Johnson/Bonsall, CA defeated Kelly Poggensee-Wei/Lake Villa, FL, 6-3,6-3
Whitney Kay/Alpharetta, GA defeated Amanda Materre/Missouri City, TX, 6-1,6-0
Nicole Flower/Columbus, OH defeated Yanni Dzoan/Fremont, CA, 7-6(4),7-5
Jessica Lawrence/Lake Worth, FL (3) defeated Sade Oba/Missouri City, TX, 6-1,6-0
Gabriella Phillips/Parkland, FL defeated Karolina Kecki/Sacremento, CA, 6-4,6-1
Katie Klyczek/Munster, IN (2) defeated Adriana Wojakowska/Colorado Springs, CO, 6-3,6-2
Boys' 9 Singles
Finals
Mitchell Polnet defeated Ryan Andrada, 6-4,6-3
Third Place Playoff
Danny Mack (2) defeated Alex Scheinman, 6-4,6-3
Semifinals
Ryan Andrada defeated Alex Scheinman, 6-2,6-3
Mitchell Polnet defeated Danny Mack, 7-5,6-4
Quarterfinals
Ryan Andrada defeated Thomas Pura (1), 6-1,6-3
Alex Scheinman defeated Dennis Garcia, 7-5,6-2
Mitchell Polnet defeated Maxx Lipman, 6-2,6-2
Danny Mack (2) defeated Russell Naumann, 7-5,6-2
First Round
Thomas Pura/Bedford Hills, NY (1) defeated Mitchell Krueger/Aledo, TX, 6-1,6-3
Ryan Andrada/Visalia, CA defeated Josh Goodman/Weston, FL, 6-0,6-2
Dennis Garcia/Corpus Christi, TX (4) defeated Alexandre Maillard/Guaynabo, PR, 6-3,6-0
Alex Scheinman/Los Angeles, CA defeated Ramy Bekhiet/Bordentown, NJ, 6-3,6-1
Mitchell Polnet/Churchville, PA defeated Kade Kager/Flower Mound, TX, 6-2,6-3
Maxx Lipman/Nashville, TN defeated Connor Farren/San Ramon, CA (3), 6-3,7-6(3)
Russell Naumann/San Antonio, TX defated James TenBroeck/Minden, NV, 6-0,6-2
Danny Mack/Lakeland, FL (2) defeated Will Adams/Indianapolis, IN, 7-5,6-2
Girls' 9 Singles
Finals
Blair Shankle (1) defeated Anna Mamalat (2), 6-1,6-3
Third Place Playoff
Julia Jones defeated Grace Min, 6-4,6-3
Semifinals
Blair Shankle (1) defeated Grace Min, 6-0,6-0
Anna Mamalat (2) defeated Julia Jones, 6-4,6-0
Quarterfinals
Blair Shankle (1) defeated Jessica King, 6-0,6-1
Grace Min defeated Breaunna Addison, 4-6,6-2,6-4
Julia Jones defeated Jarret Fisher, 6-3,6-2
Anna Mamalat (2) defeated LaNeshay Cooksey, 6-1,6-2
First Round
Blair Shankle/Boerne, TX (1) defeated Janesha Anthony/San Bernardino, CA, 6-0,6-0
Jessica King/Clarks Summit, PA defeated Mary Meyers/Shreveport, LA, 6-0,6-2
Breaunna Addison/Spanaway, WA defeated Whitley Stout/Mansfield, TX, 6-0,7-5
Grace Min/Lawrenceville, GA defeated Karyn Guttormsen/Kenosha, WI, 6-2,6-4
Julia Jones/St. Petersburg, FL defeated Kaysie Hermsdorf/Spring, TX, 6-0,6-1
Jarret Fisher/Skokie, IL defeated Sarah Gealer/Los Angeles, CA (3), 6-1,6-2
LaNeshay Cooksey/Ontario, CA defeated Jacquie Greyserman/Short Hills, NJ, 6-2,4-6,6-1
Anna Mamalat/Philadelphia, PA defeated Ryan Brown/Spicewood, TX, 6-0,6-0
Boys' 8 Singles
Finals
Thai Kwiatkowski (1) defeated Victor Brown (2), 6-1,6-3
Third Place Playoff
Jose Gracia defeated Alexander Monsegue, 6-2,5-1 retired/injured
Semifinals
Thai Kwiatkowski (1) defeated Alexander Monsegue, 6-3,2-6,6-0
Victor Brown (2) defeated Jose Gracia, 6-3,6-4
Quarterfinals
Thai Kwiatkowski (1) defeated Jack Murray, 6-0,6-3
Alexander Monsegue defeated Miguel Alda (4), 6-0,6-1
Jose Gracia defeated Mackenzie McDonald, 7-5,6-3
Victor Brown (2) defeated Strong Kirchheimer, 6-3,6-0
First Round
Thai Kwiatkowski/Charlotte, NC (1) defeated Travis Martin/Los Angeles, CA, 6-0,6-0
Jack Murray/Northville, MI defeated Brenham Wong/Plymouth, MN, 6-0,6-4
Miguel Alda/Round Rock, TX (4) defeated Austin Stark/Lakeland, FL, 6-1,6-1
Alexander Monsegue/Los Angeles, CA defeated Nicholas Crystal/Waccabuc, NY, 6-4,6-4
Mackenzie McDonald/Piedmont, CA defeated McCaline Roy/Clute, TX, 6-1,6-0
Jose Gracia/Delray Beach, FL defeated Yale Goldberg/Beachwood, OH (3), 6-2,6-3
Strong Kirchheimer/Cary, NC defeated Ian Clare/Sachse, TX, 3-6,6-1,6-2
Victor Brown/Rancho Cucamonga, CA (2) defeated Gabriel Glinsey/Chicago, IL, 6-3,6-0
Girls' 8 Singles
Finals
Hayley Carter defeated Abbey Grant (2), 6-2,6-3
Third Place Playoff
Samantha Crawford defeated Dorothy Tang (3), 6-4,6-2
Semifinals
Hayley Carter defeated Samantha Crawford, 6-4,6-0
Abbey Grant (2) defeated Dorothy Tang (3), 6-2,6-2
Quarterfinals
Samantha Crawford defeated Nicki Johnson (1), 6-3,6-1
Hayley Carter defeated Jamie Loeb (4), 6-1,6-2
Dorothy Tang (3) defeated Taylor Perkins, 7-6(5),6-4
Abbey Grant (2) defeated Tori Trylovich, 6-0,6-0
First Round
Nicki Johnson/Plano, TX (1) defeated Sree Rao/Palos Park, IL, 6-0,6-2
Samantha Crawford/Marietta, GA defeated Alexandra Bourguignon/Renton, WA, 6-0,6-0
Jaimie Loeb/Ossining, NY (4) defeated Delaney Schroeder/Abilene, TX, 6-2,6-0
Hayley Carter/Columbia, SC defeated Christina Makarova/San Diego, CA, 6-1,6-1
Taylor Perkins/Montgomery, AL defeated Alyssa Austin/Frisco, TX, 6-2,7-5
Dorothy Tang/Arcadia, CA (3) defeated Kirsti Funari/Helotes, TX, 6-1,6-0
Abbey Grant/Marietta, GA (2) defeated Kamilia Kecki/Sacramento, CA, 6-1,6-0
ROAD TO THE 2003 "LITTLE MO NATIONALS"
by Carol Weyman
The "Road" begins this spring with a "Little Mo" Sectional tournament held in each of the seventeen sections for boys and girls. After the Sectional tournaments have been completed, the eight (8) quarterfinalists from each age division will advance to the "Little Mo" Regionals in the summer. There are four regional "Little Mo" tournament sites: Alpharetta, Georgia (East); Dallas, Texas (South); San Diego, California (West); and Homewood, Illinois (North).
After the completion of the Regional "Little Mo" tournaments, the four (4) semifinalists from each age division will advance to the prestigious "Little Mo" Nationals in Austin, Texas from October 25-27, 2003. The "Little Mo" Nationals will have a prestigious draw of 16 players in each age division and the winner will be crowned "Little Mo" National Champion. The "Little Mo" Nationals is the only event in the country which offers the opportunity for a youngster to become a National Champion in Boys & Girls 8, 9, 10, 11 & under.
The popular "Little Mo" tournament, in its 27th year in Texas, is named in memory of its tennis champion namesake, Maureen Connolly, who was known as "Little Mo". In 1953, she was the first woman to capture the elusive Grand Slam by winning the Australian Championships, French Championships, Wimbledon, and U.S. Championships in the same calendar year. She was only eighteen years old when she accomplished that magnificent feat. From that time on, Maureen was known as the incomparable "Little Mo". This year, we are honoring Maureen for her 50th anniversary of her Grand Slam win (1953-2003). In July 1954, "Little Mo" injured her leg in a horseback riding accident which ended her tennis career.
Get low monthly rates from the only national not-for-profit vision care company. VSP puts members first.










College Planning Made Easy...
Check out the Monthly Guide to College Tennis Planning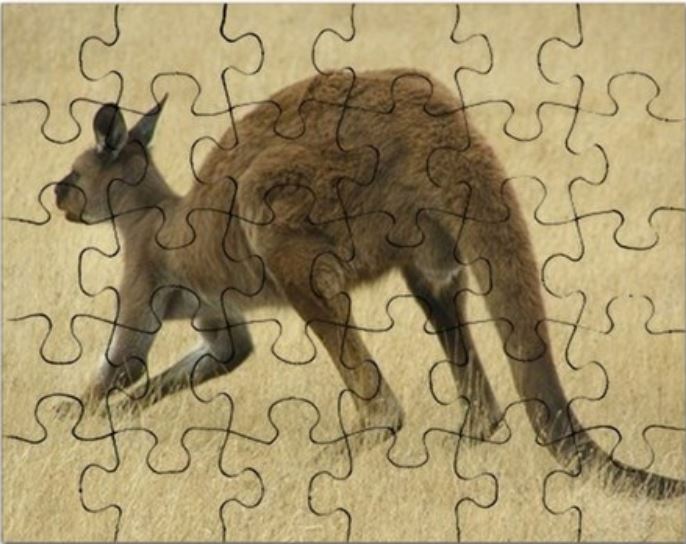 Create an Amazon Wedding Registry
Unlock an extra 10% Off + FREE shipping on your first order
Monthly Guides to
College Tennis Planning
Available in Kindle & Print
The Mental Athlete
See A Review












Join Fabletics & Get
2 Pairs High Quality Leggings for $24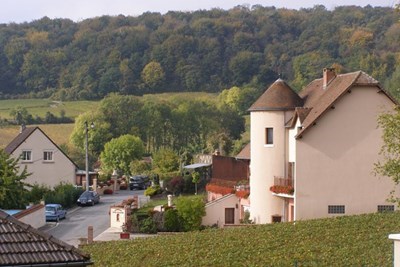 Save up to 30% on your hotel on your next upcoming trip!!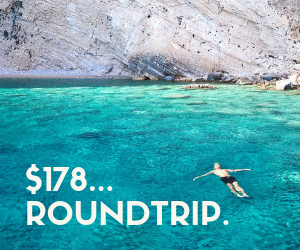 Return to:
College And Junior
Tennis Homepage