2008 USTA NATIONAL CHAMPIONSHIPS-GIRLS 18s
Berkeley Tennis Club and the Claremont Resort & Spa
Berkeley, California - August 2-10, 2008
Wednesday, August 6, 2008-Day Five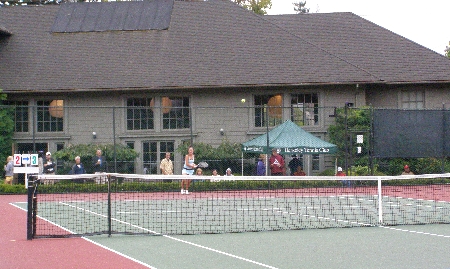 It's a long road from Kalamazoo to Berkeley, but I'm up for the adventure as I head from the Boys' 18s & 16s to the Girls' 18s. The competition is just as fierce -- with the same U.S. Open main draw wildcards at stake. I am looking forward to the cooler temperatures and lower humidity as I start my full coverage on Thursday. In the meantime, here's what's been going on...
Heading into the round of 16, only one of the top seeds is missing from the singles draw, leaving Krista Damico and Alexa Guarchi as the lone unseeded players. Alexa had earned her place with a win over No. 15 Mallory Burdette in the third round. As for Krista, she actually didn't earn the upset, it was Rachel Kahan who had defeated No. 6 Allie Will.
There are lots of exciting matchups on the schedule for Thursday. I am especially looking forward to watching Lauren McHale (16) vs. Mallory Cecil (8) and Julie Boserup (13) vs. Jamie Hampton (7). In addition to Lauren, there are four other players I watched growing up in the East (including top seed Gail Brodsky) so it's great to see how these girls have progressed.
In the doubles draw (which co-Tournament Director Jen Pitzen told me was so popular this year they couldn't place everyone), all the top seeds remain with No. 1 Gail Brodsky & Mallory Cecil leading the pack.
Until tomorrow,
Marcia Frost
Click Here For The Official USTA Nationals Girls 18 Website
Check the new TripAdvisor for great deals on hotels