Thursday, August 7, 2008-Day Six


This is my sixth year covering the Girls' 18 Nationals. Even though the site changed last year from San Jose to Berkeley, everything is all too familiar. The welcoming tables of endless food and snacks for workers and players, Tournament Directors Andrea Norman and Jen Pitzen constantly mingling with the girls and parents, as well as the endless spectators wondering around the courts remembering the players they have watched for years.
I started out in front of the number one seed Gail Brodsky and No. 9 Sloane Stephens. Gail took command of the first set for an early break and held until 5-2. There was a bit of a comeback from Sloane, who took the next two games, and then it was the top seed's set. The second was a reversal of the first, though there were breaks back and forth. Every game got longer in the third set with a near endless match point before Gail took it 6-4. During this time Kristie Ahn (12) came and went on the court with Krista Damico as her unseeded run ended at 6-2,6-0. It was a similar situation for the only other non-seed, Alexa Guarachi, as No. 4 Irina Falconi took her out, 6-3,6-2.
Even seventh-seeded Jamie Hampton wasn't quite sure what happened in her 6-1,6-0 loss to Julia Boserup, but we both agreed that the 13th seed played incredible and she was more in the match than the score would indicate. This was also the case in No. 5 Christina McHale's 6-2,6-4 victory over Nicole Gibbs (10), which was filled with crowd-pleasing points. I did not get to see much of No. 3 Coco Vanderweghe and No. 14 Brooke Bolendar, but it was a fairly quick 6-2,6-4 to the higher seed. The same was the case in second-seeded Asia Muhammad's 6-2,6-1 over Olivia Janowicz (17).
There is no doubt that the match of the day belonged to Lauren McHale (16) & Mallory Cecil (8). While sister Christina played a few courts down, Lauren and Mallory battled it out until the end. Though the first set was a fairly quick 6-2 for Lauren, it was not a sign of things to come as the very first game of set two went on forever. It continued at that rhythm into a tiebreaker, which Mallory took 7/4. In the third, despite the long games continuing, the higher seed kept it going for 6-3.
At the end of the matches, I sat down for an hour for quite a doubles match and great conversation with a top doubles player. Stanford junior Lindsay Burdette was on hand to support sister Mallory as she and partner Sloane Stephens played Bianca Sanon & Manuela Velasquez. The Burdettes are doubles legends around here, with eldest Erin (who also went to Stanford) owning a doubles title with Megan Bradley and Mallory already having picked one up with Lindsay. The youngest Burdette and her partner are seeded five and they faced some incredible doubles points from the talented duo of Manuela & Bianca before winning 3-6,6-0,6-2.
It was a sunny, cool day full of great friends and great tennis. It is a different world from the boys at Kalamazoo -- not better, not worse, just different. The old Claremont Resort on the top of the hill is in the background of every match and the new presence of the USTA's General Manager Patrick McEnroe overlooking all of the matches was just as strong. At the end of the day, he joined top tennis journalist Joel Drucker for an informal "fireside chat" (though there was no fire), as everyone gathered to hear more about him and his visions. The new boss of U.S. tennis development stayed until the last question was answered and the last photograph taken.
Friday is quarterfinal day at the Nationals and I'm excited about the matchups -- Gail Brodsky vs. Kristie Ahn , Irina Falconi vs. Christina McHale, Mallory Cecil vs. Coco Vanderweghe and Julia Boserup vs. Asia Muhammad.
Until tomorrow,
Marcia Frost
Click Here For The Official USTA Nationals Girls 18 Website
Click On A Photo To Enlarge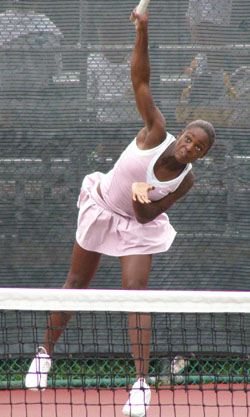 Sloane Stephens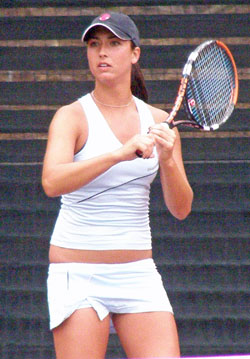 Krista Damico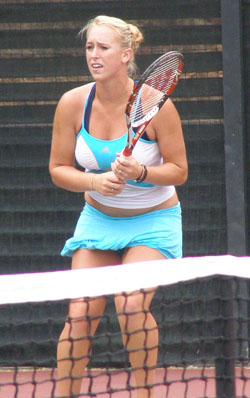 Alexa Guarachi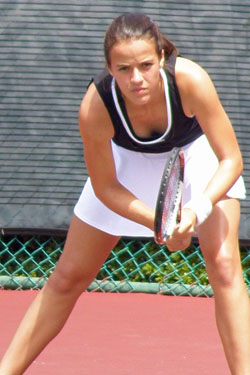 Nicole Gibbs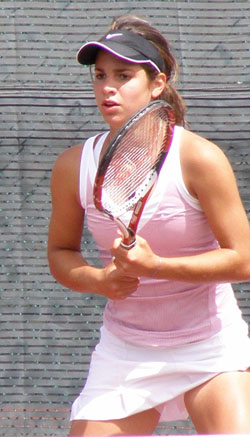 Lauren McHale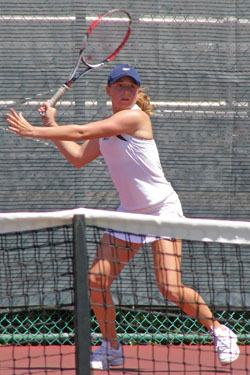 Brooke Bolender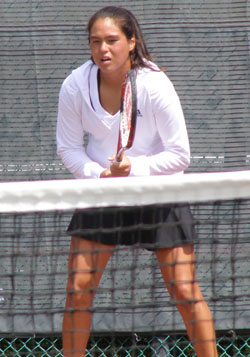 Jamie Hampton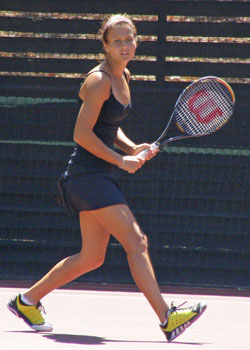 Olivia Janowicz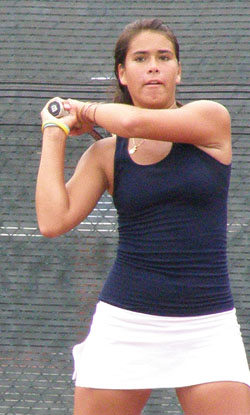 Manuela Velasquez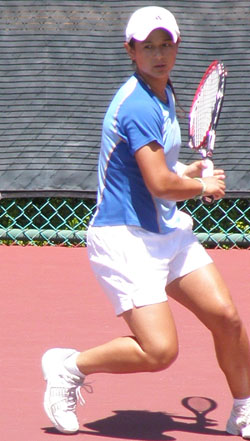 Hanna Mar
We search millions of flight and hotel combinations, to get the best deals. Yes! Getaways makes booking your next vacation as easy as it can get - BOOK TODAY at Yesgetaways.com!
---