USTA NATIONAL OPEN CHAMPIONSHIPS
November 22-27, 2000
The following players from each of the National Open Championships receive entry into the USTA Supernational Hardcourt Championships in December:
Singles Main Draw Semifinalists;
Singles Consolation Finalists;
and Doubles Finalists.
Since there were four championships in each division of the National Open producing quite a lot of results, we are posting the semifinals, finals and third place playoff (where played) for each, as well as consolation finals. Click Here For Full Draws.
Laurel Hill Swim & Tennis Club
BOYS' 18
SINGLES
Finals-Zachary Pasanen (5) defeated Ross Wilson (6), 6-7,7-6,7-5
Semifinals-Zachary Pasanen (5) defeated Stephen Rozek (3), 6-3,7-5; Ross Wilson defeated William Chappell (9), 6-1,2-6,6-2
Consolation Finals-D.J. Geats vs. James Pade, not played
DOUBLES
Finals-Michael Brown/Ruben Gonzales defeated William Chappell/Cameron Greenwood (5), 7-5,3-6,6-1
Semifinals-Michael Brown/Ruben Gonzales defeated Timmy Ryan/Shaul Yecheskel, 6-3,6-1; William Chappell/Cameron Greenwood (5) defeated Thomas Bagnato/Lucas Green (2), 6-2,6-2
Shadow Valley Tennis Club - Maumee, Ohio
GIRLS' 18
SINGLES
Finals-Julie Smekodub (1) defeated Dora Vastag (2), 6-4,6-4
Third Place Playoff-Lauren Archer (12) defeated Susan Johnson (14), 6-3,6-1
Semifinals-Julie Smekodub (1) defeated Susan Johnson (14), 6-3,6-0; Dora Vastag (2) defeated Lauren Archer (12), 6-2,6-1
Consolation Finals-Kara Guzman vs. Jessi Robinson, not played
DOUBLES
Finals-Ashlee Davis/Debra Streifler (3) defeated Jessica Jones/Jessi Robinson (2), 2-6,7-6,6-3
Semifinals-Ashlee Davis/Debra Streifler (3) defeated Mandy Caldemeyer/Lindsey Strauss, 6-1,6-3; Jessica Jones/Jessi Robinson (2) defeated Hadley Miller/Anna Volberg, 6-2,7-6
Roger Scott Tennis Center - Pensacola, Floridas
BOYS' 18
SINGLES
Finals-Jason Mallaiah (6) defeated Paul Ramy (2), 6-3,6-7(6),6-2
Third Place Playoff-Brent Saiontz (3) defeated Noah Tyler (9), 3-6,6-1,6-2
Semifinals-Jason Mallaiah (6) defeated Noah Tyler (9), 7-6(3),6-4; Paul Ramy (2) defeated Brent Saiontz (3), 6-4,6-4
Consolation Finals-Nathaniel Emge vs. Hunter Emmott, not played
DOUBLES
Finals-Nathaniel Emge/Hunter Emmott defeated Ty Esler/Tyson Ramsay, 6-3,7-6(5)
Semifinals-Ty Esler/Tyson Ramsay over P.J. Passalacqua/Julien Stokes by default; Nathaniel Emge/Hunter Emmott defeated Robert Fair/Richard Turner, 7-6(4),6-2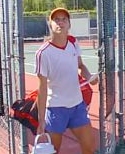 GIRLS' 18
SINGLES
Finals-Story Tweedie-Yates (2) -- pictured right -- defeated Cory Avants (1), 2-6,6-2,6-4
Third Place Playoff-Kelly Nelson (4) defeated Alexandra Smith (3), 6-3,6-1
Semifinals-Cory Avants (1) defeated Alexandra Smith (3), 6-4,6-0; Story Tweedie-Yates (2) defeated Kelly Nelson (4), 6-4,6-2
Consolation Finals-Masha Bajramovic vs. Ashley Cowart, not played
DOUBLES
Finals-Jennifer Dent/Kelly Nelson defeated Leah Dioquino Esmero/Ashley Kroh (2), 0-15 retired/ill
Semifinals-Jennifer Dent/Kelly Nelson over Courtney Flezzani/Morgan Flezzani by default; Leah Dioquino Esmero/Ashley Kroh (2) defeated Molly Cade/Nancy Peaden, 7-5,1-6,6-3
Brookhaven Country Club - Dallas, Texas
BOYS' 18
SINGLES
Finals-Bryan Wooten (2) defeated Eric Stuart (3), 6-3,6-4
Semifinals-Eric Stuart (3) defeated Jeffrey French, 6-4,6-2; Bryan Wooten (2) defeated Hans Plukas, 6-4,6-4
Consolation Finals-Pramod Dabir defeated Tommy Garrison, 6-3,2-6,6-4
DOUBLES
Finals-Zachary Hood/Paul White defeated Stefan Parker/Gregory Pollack, 6-2,7-6(4)
Semifinals-Stefan Parker/Gregory Pollack defeated John Nallon/Bryan Wooten (1), 6-4,3-6,7-6(5); Zachary Hood/Paul White over Zachary Malmgren/Reid Strand (2), withdrew/injured
GIRLS' 18
Finals-Nicole Leimbach defeated Christyn Lucas, 6-3,6-3
Semifinals-Christyn Lucas defeated Jamie Peisel (3), 6-2,6-4; Nicole Leimbach defeated Lara Burgarello (2), 6-3,6-2
Consolation Finals-Kristi Roemer defeated Laura Ahmes, 7-6(5),6-3
DOUBLES
Finals-Lindsay Bryan/Jamie Peisel (1) defeated Laura Ahmes/Evan Epps, 7-5,6-1
Semifinals-Lindsay Bryan/Jamie Peisel (1) over Evelyn Stevens/Alyson Tyson by default
Los Caballeros Racquet & Sports Club - Fountain Valley, California
BOYS' 18
SINGLES
Finals-Scott Stewart defeated Eric Wallace (6), 5-7,6-2,6-2
Third Place Playoff-Chris Surapol (5) defeated Ashwat Sarohia (7), 6-3,6-2 Semifinals-Eric Wallace (6) defeated Ashwat Sarohia (7), 7-5,6-1; Scott Stewart defeated Chris Surapol (5), 7-5,6-2
Consolation Finals-Derrick Bauer defeated Francisco Zepponi, 7-6,6-3,7-5
DOUBLES
Finals-Jesse Ferlianto/Ashwat Sarohia (2) defeated Kevin McQuaid/Chris Surapol (1), 6-1,6-3
Semifinals-Kevin McQuaid/Chris Surapol (1) defeated Joel Kielbowicz/Ryan Stotland (3), 6-7,6-2,7-5; Jesse Ferlianto/Ashwat Sarohia (2) defeated Benito Hidalgo/Dean Wallace (4), 6-0,6-1
Nellie Gail Ranch Tennis & Swim Club - Laguna Hills, California
GIRLS' 18
SINGLES
Finals-Anne Yelsey defeated Brooke Borisoff (1), 6-7(2),6-4,6-4
Third Place Playoff-Tracy Lin over Arpi Kojian, withdrew/injured
Semifinals-Brooke Borisoff (1) defeated Arpi Kojian (4), 7-5,6-0; Anne Yelsey defeated Tracy Lin, 7-6,6-1
Consolation Finals-Lauren Perl defeated Joanna Kao, 7-6(6),6-3
DOUBLES
Finals-Erika Sauer/Anne Yelsey defeated Preethi Mukundan/Lauren Perl, 6-1,2-1 retired/ill
Semifinals-Preethi Mukundan/Lauren Perl over Megan Biorkman/Moe Moe Myinttun; Erika Sauer/Anne Yelsey defeated Annabelle Naja Janairo/Lisa Lester, 6-1,6-2
---