Wednesday, July 6th, 2005-Final Day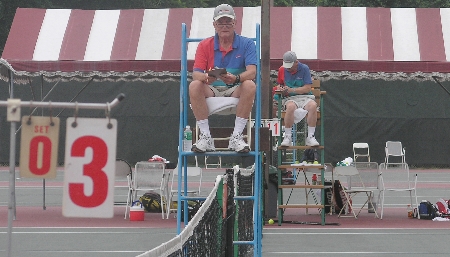 Umpire Art Imdorf watches over the boys final.

The final day of the National Open Championships went as smoothly as the first. The only surprise was the two unseeded players in the girls final and they certainly proved that they deserved those spots.

Shoko Okuda and Camile Jania (right) had fought their way through the draw of top ranked players to earn their final spots and neither wanted to give up now. The two played through three hours of exciting games. Shoko's speed was her weapon as she ran down shot after shot for points that seemed endless. Camille, on the other hand, displayed some beautiful volleying which was her advantage in this match.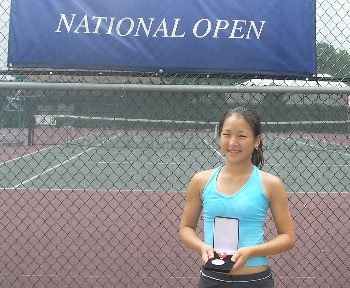 It was Shoko Okuda (left) who won the first set in a 8-6 tiebreaker. It appeared that she had a slight advantage as she claimed the majority of points, but Camile never waivered and kept up the net play. She forced Shoko to run until she ran out of steam. The third set belonged to Camille -- though Shoko kept up pretty well -- and she took the gold, 6-7(6),6-4,6-2.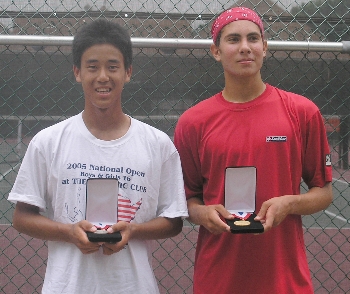 Adam El Mihdawy (pictured far right) had no doubt what he wanted to go home with -- the boys singles title. He went out to court one and took charge over Sho Matsumoto (pictured right), commanding the first set 6-0 in just twenty minutes. After Sho shook his head in amazement, he sat down for a break and came back swinging. The tables were turned as Adam lost point after point and was suddenly down 3-0. The No. 2 seed was not going down and he turned his game up a notch and turned things back. Amazingly, after losing three games he won the next six and took home the trophy.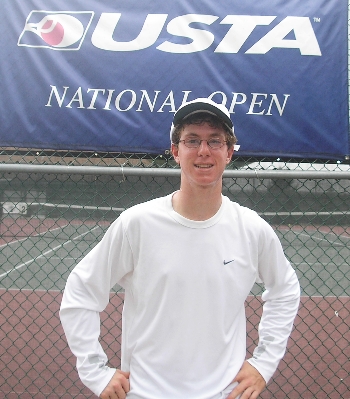 The boys third place playoff (Stacey Lee won the girls playoff by Jackie Wu's default) was nothing short of a battle. There were long points and high tempers as Joshua Graves (pictured left) and Ryan Lissner went at it. Though the score showed clear winners in each set, it did not appear that way as the games went from deuce to deuce. Joshua finally pulled it out with a 2-6,6-1,6-3 win. He was also the tournament's boys sportsmanship winner.


The boys fifth place playoff (consolation finals) was uneventful compared to the match next door, but Benji Kendall and Eliot Plotkin (pictured right) gave it their all. I was rather surprised to see the that the final score was 6-1,6-3 because the match looked closer.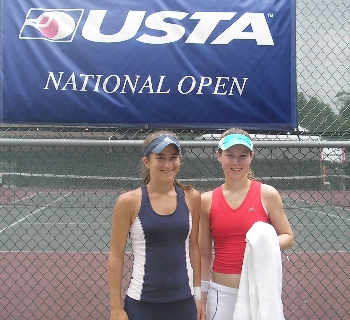 In the main draw it was Marissa Schonfeld (pictured far left) who commanded the match for a 6-1,6-4 lead, but Emily Fraser (pictured left) wasn't about to let that happen again. Today she came out swinging and didn't stop until she had taken fifth place, 6-1,6-0, and evened their tournament record. Emily was also the girls sportsmanship winner.

As the tournament came to a close I only had one regret about the National Open at the Atlantic Club -- not enough time to enjoy the Jersey shore. Next year I will have to plan to stay a little longer to fit it in along with some of the nation's best junior tennis.
Until next year,
Marcia Frost