Thursday, December 29th-Day Three
Until today, play at the National Open Championships has moved along as expected with few surprises -- until today. It was a day of long matches and upsets, leaving some unexpected players in the final fours.
There's only one unseeded player left in the women's semis. Nikola Hubnerova earned her way there today after defeating Gajane Vage (6-3,6-2) and Ana Skafar (6-2,7-5). It was actually Ana, a pro who played for Lees-McRae, who pulled the upset in that section when she eliminated No. 10 Allison Adamski of St. Johns, 2-6,6-2,6-1.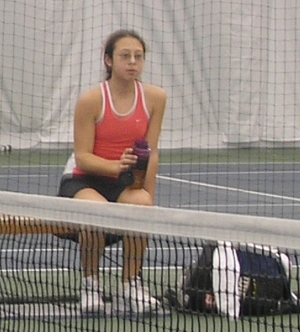 I watched Fordham's Dominique Liguori take command over local teen Kristin Norton (right), though Kristin's strokes and will did impress the crowd. Dominique took that one 6-4,6-2, but the No. 3 seed was blanked by No. 5 Julia Koulbitskaya of UPenn later in the day.
The National Tennis Center's own Agnes Wiski (a University of Tennessee grad) made her way through the round of 16 against 16 year old Kei Kinoshita and then past another junior, Sarah Leonard. The match with Kei was not without controversary over line calls and close games. There seems to be a lot of that going around, which is why I was so impressed with the Dasha Cherkasov and Gail Brodsky match. The second-seeded latter was by far the match dominater, finishing 6-1,6-4. However, the match was without incident and the two came off laughing and smiling like teenagers should. Gail went on to defeated another local teenager, Sarah Summerfield, 6-3,6-3, in the quarters.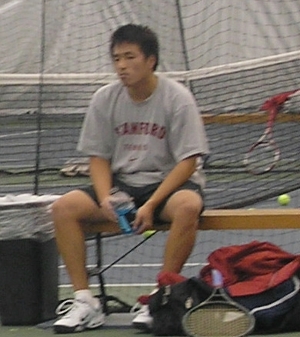 There is no doubt that the real excitement of the day was in the men's singles. My pick is certainly Stanford's James Wan (left) vs. University of Indiana grad Ryan Recht. I had never seen Ryan play and it was well worth the wait. It took fifth-seeded James awhile to warm up, starting Ryan with a 3-0 lead. He continued to stay on top, 4-1, 5-3, but James got it together to fight back the powerful serve and actually won the set at 7-5. The second set looked like it was going in the same direction as the first at 5-2, but Jame's comeback was short lived and he lost the set. The third went on too close to call with Ryan having the edge to the tune of 5-7,6-4,6-4.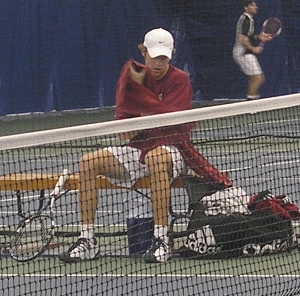 It's not surprising that Ryan Recht (right) was pretty worn out after his match with James Wan, but he did put up a fight against Cory Parr before going down, 6-4,7-6(5). The (questionably) unseeded Wake Forest freshman had earlier beat Kevin McDuffee in a match too quick for me to make it over to. I'm guessing that will not be the case tomorrow when Cory faces the No. 1 seeded Nikita (a.k.a. Mykyta) Kryvonos. The top player went through Harvard's Scott Deneberg in the morning (7-5,6-2) before facing Bryan Koniecko in the afternoon. I didn't see the first match, but the second saw some good points between the local nineteen year old pro and the Ohio State freshman. The match, however, was quicker than predicted, ending 6-2,7-5. Bryan also had an interesting morning. His match with Princeton's Sratha Saengsuwarn (No. 15) started out very close with some incredible points. It remained close until 3-2, when Sratha (below) called for a trainer. He took the maximum timeout and returned to play, but it was not the same and he dropped, 6-2,6-2.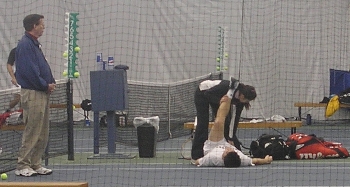 In the bottom half of the draw, it will be Jonathan Pastal (No. 7) against unseeded Bart Scott. Notre Dame's Eric Langenkamp made it through his morning match against Joshua Raff quite easily, but couldn't repeat it in the afternoon against Jonathan. His seventh-seeding held to a 6-1,3-6,6-2 win. Bart Scott, the 2002 doubles winner here, had a tough first match against Harvard's Brian Wan, 3-6,7-6,6-4, but found the afternoon with Erik Graves an easier 6-3,6-3. Though the Wan brothers lost tough singles matches today, they are still alive in doubles.

It's certainly going to be an interesting final day at the National Open Indoor Championships. I wouldn't even begin to predict what might happen, especially since this is the National Tennis Center -- home to the US Open land of surprises.

Until Tomorrow,
Marcia Frost
---
Return To 2005 National Open Index
Monthly Guides to
College Tennis Planning
Available in Kindle & Print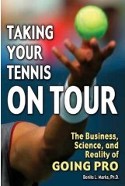 See a review of this book
Return to:
College And Junior
Tennis Homepage